Vanguard understands that the clearest starry nights aren't found in the city but rather off the beaten path where unknown conditions arise. Their tripods are designed to handle anything mother nature throws at them while still rewarding landscape astrophotographers with stellar photos.
Their Vanguard Alta PRO 263AB is proof of this, being an ultra-stable tripod with adjustable features at every corner to accommodate any situation you might find yourself in. From soft ground to hard surfaces to funky angles and windy conditions, this tripod has you covered.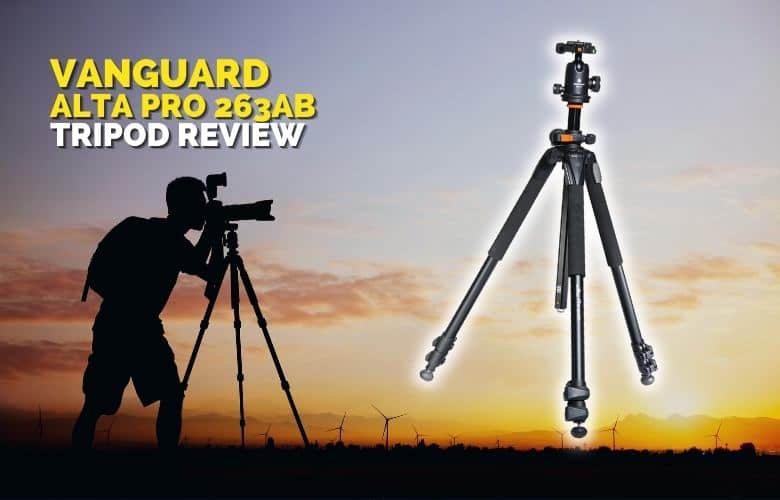 Vanguard Alta PRO 263AB
Vanguard Tech Specs
Max Load: 15.4 pounds | Weight: 5.38 pounds | Min Height: 6.25 inches | Max Height: 68.13 inches | Material: Aluminum | Leg Sections: 3 | Feet: Rubber pads with retractable spikes | Folded Length: 28.13 inches
Pros
Center column rotates 180° from vertical
Budget-friendly
Lots of adjustability
Low minimum height
Cons
Vanguard Alta PRO 263AB: Things To Consider Before Buying One
Will It Support My Gear?
A maximum load capacity of 15.4 pounds allows the Vanguard Alta PRO 263AB to hold a decent amount of gear. Even with your DSLR and the widest lens for starry landscapes, this Vanguard will handle the weight.
The head base attachment has interchangeable ⅜ and ¼ screw heads, which support all but the most uncommon types of cameras. Having this flexibility also means you don't have to change ball heads just because you purchase a new camera.
Will It Be Stable?
The Vanguard Alta PRO 263AB is a bit heavier than similar tripods, but the extra weight lends itself to extra stability. The aluminum frame is known for being sturdy and can stand firm in the event of some unexpected wind.
This model comes with retractable spiked feet for stability in different environments. For harder surfaces, the rubber feet cause friction to keep the tripod in place. For soft dirt, putting on the spiked feet will allow the Vanguard to remain anchored to the ground.
Is It Easy To Set Up?
Speed can be the name of the game when the perfect starscape presents itself, and the Alta PRO 263AB comes ready to play. Each leg has quick-flip leg locks as well as a one button press to change angles.
The center column itself spins from 0° to 180° with the push of a button to give you all the adjustability you need for that ideal shot. The ball head features a quick attach/release mechanism to further reduce setup time.
Features and Benefits
Thick Legs
An impressive inch thick leg diameter helps this tripod stand stoically in conditions that would have other tripods bending at the knees. In addition to their thickness, these aluminum legs bring the tripod's center of gravity down, reinforcing stability and resistance to wind.
Adjustable Center Column
The Vanguard Alta PRO 263AB really stands out when it comes to adjustable features, and its crowning achievement is the center column. While most tripods have a fixed-angle center column and few allow the center column to drop to a horizontal position, this tripod goes one step further.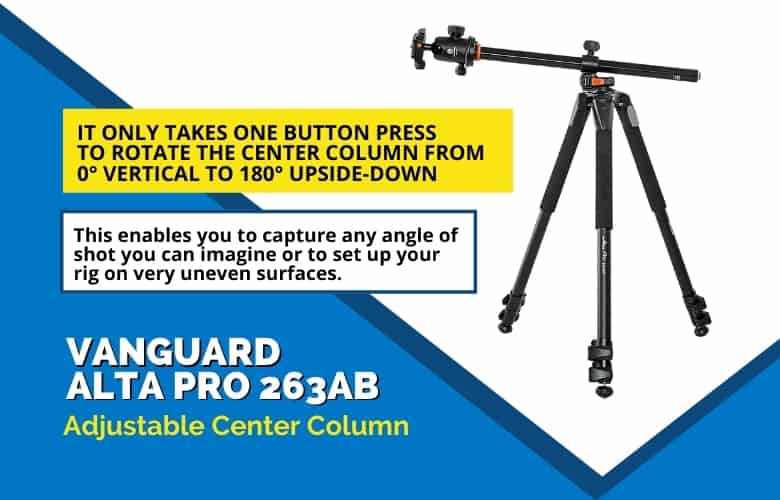 It only takes one button press to free the center column to rotate anywhere from 0° at vertical to the 180° upside-down position (or any position between the two). This allows you to capture any angle of shot you can envision or gives you the flexibility to set up your rig on very uneven surfaces.
Ball Head
The Vanguard comes with a magnesium alloy ball head designed both for stability and to reduce shock from vibrations. Because the center column is so adjustable, this ball head comes with two different bubble levels to ensure your snaps are at just the right angle.
The ball head has a fluid-free range of motion with a fine-tuning mechanism for those last-minute microscopic adjustments. A quick attach/release plate on the ball head makes camera setup as easy as can be.
Feet
Rubber feet work well for many different surface types, but epic cosmic panoramas happen outside, often off the beaten path. For photos that require setups in softer terrain, the Vanguard Alta PRO 263AB also has spiked feet.
Most tripods require time to physically change from one foot type to the other. This tripod has quick-extending spikes from the default rubber feet to penetrate the ground and offer added stability when it's needed most.
Vanguard Brand Overview
Is Vanguard a Good Company?
The Vanguard brand has 35 years of history making tripods. Through those last three and a half decades, the company has expanded its presence to countries all over the globe. With a heavy focus on tripods, ball heads, and cases, the group is able to drive innovation through high-quality products.
Where Are Their Tripods Manufactured?
Vanguard's global design and manufacturing headquarters are located in Myanmar in the heart of Southeast Asia. Their influence has led the company to set up offices worldwide, with a majority of their manufacturing coming out of China.
Alternative Vanguard Tripods
Vanguard doesn't shy away from impressive tripod models. See how a few of their other models compare to the Alta PRO 263AB.
Vanguard Alta PRO 263AB Vs. Vanguard Alta PRO 283CT
Thanks to a carbon fiber frame, the Vanguard Alta PRO 283CT is a lighter take on the Alta PRO 263AB's design. The stronger material also allows for a few more pounds of load for the tripod to hold.
The Alta PRO 283CT doesn't have quite the range of motion that the 263AB does and has longer to set up twist locks. While carbon fiber is strong, in this case it doesn't offer the same stability that the aluminum model does.
---
Vanguard Alta PRO 263AB Vs. Vanguard Alta PRO 263AP
While most of the features of these two tripods remain the same, the Alta PRO 263AP tripod showcases a pan head instead of the AB's ball head.
This adjustment makes the 263AP a bit heavier while increasing the folded height roughly half an inch and lowering the max load capacity by a few pounds. The change also adds a leg section while extending the maximum height about an inch.
Ball heads and pan heads serve specific purposes, so it's worth weighing these pros and cons to see which makes the most sense for your situation.
---
Vanguard Alta PRO 263AB Vs. Vanguard VEO 2 265AB
The Vanguard VEO 2 265AB is a lightweight aluminum tripod with a similar leg diameter to the Alta PRO and has interchangeable feet for soft or hard surfaces. The five section legs require a bit more effort to set up but still offer the same level of adjustability.
The VEO 2 stands nearly ten inches shorter at its maximum height, but it does fold up nicely for portability's sake.
---
Conclusion
Finding the perfect landscape astrophoto can be an adventure in itself. Once you've found that location, it doesn't make sense to leave the quality of your stellar photos to the conditions around you.
The Vanguard Alta PRO 263AB gives you the ability to grab shots from any angle while meeting the demands of any unforeseen scenario. What's more, it's one of the more reasonably priced tripods out there, which makes it all the more worthwhile as an investment.