Humidity can cause all sorts of problems with your camera gear. If you want to store all your astrophotography equipment in a safe and organized manner and also keep it protected from dust, moisture, and fungal growth, then investing in an electronic dry cabinet may be a wise investment.
Also known as dehumidifying cabinets, these storage units are tightly sealed and use their own humidity control systems to keep your cameras, lenses, or binoculars away from humidity levels that are too high or too low, and that could cause costly damage to your optics, sensors, electronic as well as mechanical parts.
The FORSPARK Camera Dehumidifying Dry Cabinet (8W 100L) is the best example of a dry cabinet with a very high home storage capacity. But as you'll soon see down below, there are also less expensive cabinets and smaller ones that are even suitable for traveling.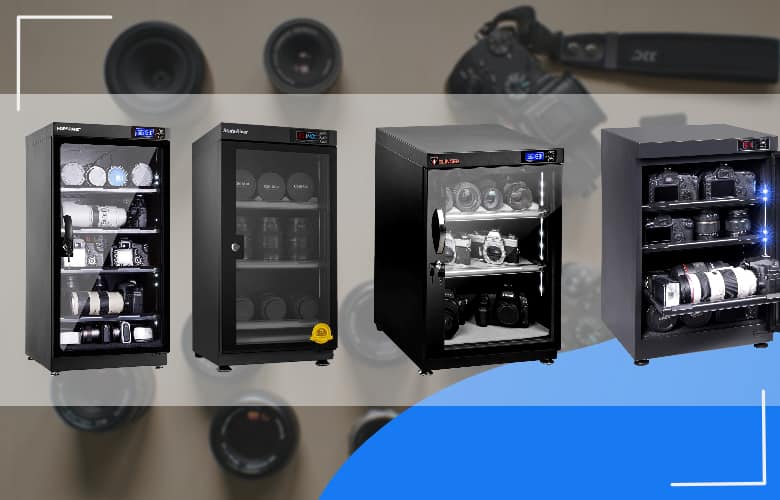 Our Best Electronic Dry Cabinets At A Glance
List of the best camera dehumidifying dry cabinets
---
1. FORSPARK Camera Dehumidifying Dry Cabinet 8W 100L
Best electronic dry cabinet
Dimensions: 11.42 x 12.6 x 16.54 inches | Weight: 40.5 pounds | Capacity: 100 liters | Material: Stainless steel and tempered glass
The FORSPARK Dry Cabinet 8W 100L is the ultimate choice for anyone who owns an extensive collection of cameras, lenses, binoculars, or spotting scopes and wants a well-built and extremely reliable dehumidifying cabinet to store them and keep them protected.
Thanks to its 100-liter capacity and adjustable shelves, it has enough room to hold everything from a professional DSLR camera, telephoto lenses, or even a full-blown telescope. It also uses a combination of stainless steel construction and a magnetic door with tempered glass and a built-in lock to keep your gear as secure as possible.
Being constructed so well means that this dry cabinet also keeps a tight seal around your equipment, giving it better power efficiency and lowering your electric bills. It also has a power-saving mode which requires only 8 watts of power to work. It's also very silent, meaning that it can be placed in an office without distracting you from working on other things.
To top it all of, the FORSPARK Dry Cabinet 8W 100L also features Rapid Dehumidification technology, which essentially means that it doesn't take very long for it to reach your desired humidity conditions.
You can be sure that your gear is quickly protected after returning from your photo trips where the humidity levels are over 55% or under 35%.
Pros
Extremely high capacity
Relative humidity range from 25% to 60%
Silent and reliable operation
Excellent power efficiency
Magnetic door with a built-in locking mechanism
Cons
May be too big for some people
Not the most affordable dry cabinet
---
2. T.A.P 88L Digital Control Dehumidify Dry Cabinet
Second best electronic dry cabinet
Dimensions: 28 x 18 x 18 inches | Weight: 28.6 pounds | Capacity: 88 liters | Material: Metal and toughened glass
The T.A.P 88L Dry Cabinet is our second best dehumidifier of choice due to its great storage capacity and the ability to customize it with its adjustable shelves.
Using it in its default configuration, with all the shelves attached, will allow you to store a couple of DSLR bodies, several prime lenses, a telephoto lens, and a flash unit all at the same time while keeping them nicely organized and scratch-free thanks to the included foam inserts.
You can also rest assured that the cabinet will remain silent in its operation and that the built-in LED lights won't be too bright and hard on the eyes in a dimly lit or dark room. It can also reach a relative humidity level of 25%, which is great for protecting any of your batteries or battery banks.
Pros
High storage capacity
Offers a total of three adjustable shelves
Excellent relative humidity range of 25% to 70%
Very silent
Low power consumption
Cons
Takes a little more space in a room than your average dry cabinet
---
3. Ruggard Electronic Dry Cabinet (80L)
Best value for money electronic dry cabinet for telephoto lenses and scopes
Dimensions: 25.8 x 23.3 x 17.1 inches | Weight: 29.5 pounds | Capacity: 80 liters | Material: Steel and glass
The Ruggard Electronic Dry Cabinet is a great choice for anyone looking for a decently big dry cabinet that's wide enough to fit anything from a bright aperture telephoto lens to a spotting scope or a mid-range telescope. Also, it doesn't cost as much as top-tier offerings.
It does come with only one shelf, but the good thing about it is that it's removable and can be set in many different height positions, and is also paired with a protective foam insert.
So is the bottom of the cabinet, so you can be sure that your gear doesn't slide around and remains safely in place. The cabinet itself is also pretty compact for the capacity it offers, so it can easily fit in a smaller room and be placed somewhere in a corner or on a table.
Pros
Respectable capacity
Secure door with a lock
Low power consumption
Silent in operation
Wide enough to fit most professional spotting scopes and telescopes
Cons
Could offer more precise readings of its relative humidity
Has only one shelf
---
4. SLINGER Electronic Dry Cabinet (85L)
Best value for money electronic dry cabinet for large DSLR bodies and binoculars
No products found.
Dimensions: 24.5 x 16.1 x 15.4 inches | Weight: 27.8 pounds | Capacity: 85 liters | Material: Metal
The SLINGER 85L Electronic Dry Cabinet manages to provide a lot of storage space in a form that won't take much room. It will enable you to fit a number of different camera bodies, prime and short zoom lenses, a pair of binoculars, or even a telephoto lens if you set it up the right way.
Two removable and adjustable shelves will give you a great deal of flexibility in organizing your camera gear and making it easy to access it quickly when you need it.
You will also have a fair amount of control over the relative humidity levels inside the dry cabinet to protect any of your sensitive gear from fungus and condensation while also enjoying low power consumption if the cabinet has to be powered on all the time.
Pros
Very good capacity
Quiet in operation
Offers two adjustable shelves
Relative humidity range from 25% to 60%
Great power efficiency
Cons
May be too narrow to store some spotting scopes and telescopes
---
5. StateRiver Electronic Dry Camera Cabinet
Best budget electronic dry cabinet
Dimensions: 13.7 x 9 x 7.9 inches | Weight: 10.58 pounds | Capacity: 21 liters | Material: Metal
If you're a photographer on a tighter budget, battling a humid climate, but still want a durable cabinet to store all of your gear, then the one from StateRiver will meet your needs and protect your camera and astro lenses very well.
It's capable of holding a full-frame DSLR and a couple of lenses, but it isn't ideal for telephoto lenses or things like spotting scopes for telescopes, and that's something to keep in mind.
What it lacks in capacity, it more than makes up with its ability to keep proper humidity levels to keep fungus away from your lenses or the mechanical parts on your camera starting to malfunction because of low humidity levels outside, since they can be as dangerous as high levels.
Pros
Portable and easy to carry around
Affordable price point
Humidity range adjustment from 25% to 60%
Very easy to use
Also available in 55-liter capacity
Cons
Smaller than average capacity
---
Smaller Cabinets
6. FORSPARK Camera Dehumidifying Dry Cabinet 8W 30L
Best small electronic dry cabinet
Dimensions: 16.54 x 11.42 x 12.6 inches | Weight: 16 pounds | Capacity: 30 liters | Material: Toughened glass and metal
Anyone looking for a high-quality smaller dry cabinet should look no further than the 8W 30L from FORSPARK. It does the best job at combining good storage capacity with portable dimensions that make it a sensible solution for travel and smaller offices or apartments.
It will allow you to store your camera gear on two different levels and remove the included shelf if you want even more room for larger items like a drone, spotting scope, or a pair of larger binoculars. You will also be able to fit a full-frame DSLR pair with a bright aperture telephoto lens inside of it.
The LED display on the front will allow you to get a clear reading of the relative humidity level inside the cabinet, which can be set in a range from 25% to 60%. So, you can be sure that your gear will remain safe from dust and fungus even in very high humidity environments.
Pros
Offers good capacity for its size
Low power consumption
Humidity adjustment range from 25% to 60%
Easy to operate
Can easily fit in any room and be carried around if necessary
Cons
Not the most affordable smaller dry cabinet
---
7. Eirmai Digitally Controlled Dehumidifying Dry Cabinet (20 Liters)
Second best small electronic dry cabinet
Dimensions: 13.5 x 10 x 9.5 inches | Weight: 13.67 pounds | Capacity: 20 liters | Material: Steel
The Eirmai Dehumidifying Dry Cabinet is the type of smaller dry cabinet that will appeal to anyone looking for a highly portable option that can be easily transported around, doesn't cost a lot, but still has enough storage capacity for professional-level gear.
Its 20-liter capacity is certainly modest when compared to larger dry cabinets, but it's still enough to fit a large DSLR and two lenses or a mirrorless camera, a prime lens, and a telephoto lens. Additionally, a foam insert is included at the bottom of the cabinet to protect the items inside and keep them scratch-free and in good condition.
The Eirmai Dry Cabinet is also silent in operation and doesn't produce any heat, making it one of the most subtle cabinets on the market. Due to its low power consumption, it can also be used inside a boat or a camper and not get in the way thanks to its compact size.
Pros
Great value for money
Small, lightweight, and easy to transport
Offers relative humidity going from 25% to 60%
Quick and easy to use
Silent in operation
Cons
Smaller than average storage capacity
---
Dehumidifying dry cabinet buying guide
What to look for in an electronic dry box
Capacity
Most electronic dry cabinets have a storage capacity between 20 and 100 liters, so you've got a lot of choices when it comes to deciding which one is the right for you.
If you have a lot of valuable photo gear, it is always a good choice to pick one that can hold all of it, since a dry cabinet also does a great job simply doubling as a storage unit that can help you keep all your cameras, lenses and flashes nicely organized.
If you travel a lot, it's a good idea to pick one of the smaller 20 or 30-liter ones, which are much easier to transport and to fit inside a trunk of a standard car but will still allow you to keep a big DSLR body and a couple of lenses inside.
Adjustable shelves
An essential feature to have in a dry cabinet if you own many different types of gear. A mirrorless camera and some prime or zoom lenses may fit in stock shelf configurations, but a professional DSLR, bright aperture telephoto lenses, or even a drone will certainly require more space and some adjustment to be made to the height of the shelves.
Humidity control
All electronic dry cabinets have a setting called Relative Humidity (or sometimes simply called RH). It's something you'll need to adjust depending on the type of items you decide to store inside of it since different photo gear require different humidity conditions to be adequately protected.
When it comes to photography and astrophotography gear, you will only have to remember two different Relative Humidity settings. Storing a camera, a lens, a telescope, or a pair of binoculars will require an RH of 45% to 55%. In comparison, your camera batteries or external battery packs will be protected the most with an RH of 35% to 45% since they are even more sensitive to moisture.
FAQ – Common questions about electronic dry cabinets
What is a dry cabinet used for?
A dry cabinet is a storage unit meant to protect all your photo gear from humidity-related issues. Spending time in a humid climate and not protecting your gear can cause condensation and water droplets, mold, fungus, and dust to appear, thus hindering its performance or even causing issues with sensitive electronic parts.
Is a dry cabinet necessary?
It all depends on how humid the climate is where you live or spend your time while storing your gear on your shelf, a cupboard, or a drawer.
Humidity higher than 55% will create an environment where it's likely that fungus will appear in dark places where you usually store your gear and be especially problematic for any glass elements, such as your telescopes or lenses. It is tough to remove once it forms and will have an impact on the image quality your gear is capable of producing.
Humidity lower than 35% can also have adverse effects on your gear, especially on any moving parts that require lubrication, since it can dry the oil between those moving elements making them wear out more quickly and causing mechanical issues. So, in a nutshell, always be aware of the humidity levels of your surroundings.
What is the best humidity to store a camera?
Any humidity level between 35% and 55% will be fine and ensure that your camera doesn't suffer from any humidity-related problems. It's not a bad idea to check which setting will waste the least amount of power on your particular dry cabinet, so you can lower your electricity bill if you keep your cabinet powered on all the time.
What kind of photography gear can I store inside?
There's no limit to what type of photography gear you can store inside an electronic dry cabinet, as long as it's capable of reaching a relative humidity level of 35% to 55%, has adjustable shelves and enough capacity to store all of your gear.
Since some dry cabinets can reach a capacity of 100-liters, you can imagine that they will be capable of holding a large telephoto lens, a professional DSLR, or even a full-fledged telescope.
Conclusion
So, if you're ever on the lookout for an ultimate storage solution for your camera gear, an electronic dry cabinet is the way to go. Not only will it keep your camera bodies and lenses nicely organized, but more importantly, it will protect them from harmful effects brought on by high humidity and allow them to remain in perfect working condition for a long time.
The FORSPARK Camera Dehumidifying Dry Cabinet 8W 100L is the best example of a dry cabinet that brings enough storage space to hold a pro-level DSLR, long telephoto lenses, a drone, or a telescope. This cabinet can consistently and reliably maintain its relative humidity level while also using very little energy, and remaining very quiet is always a plus.
Still, it may not be everyone's cup of tea due to its high price point and large dimensions. For that reason, we've also provided you with a good selection of more affordable dry cabinets, as well as smaller ones that can easily be moved around, which makes them perfect for traveling.