Getting to a remote location to set up all of your astro gear for a night of star watching means having to walk in pitch-black darkness, and a simple LED flashlight just won't cut it in those situations.
A handheld spotlight is an excellent source of lighting that can cover and light up the whole vicinity while you're trekking through the dark. They're perfect for being on the go at night, as they're portable enough to fit in any backpack and very easy to use. Most importantly, they also do a great job of lighting up the darkness in the distance.
The GearOZ Rechargeable Handheld Spotlight is the best example of how a well thought out handheld spotlight should look like, and for that it earns our highest recommendation.
You should also check out the rest of our list to see other great handheld spotlights that the market offers, especially if you value things like price, portability, or brightness output.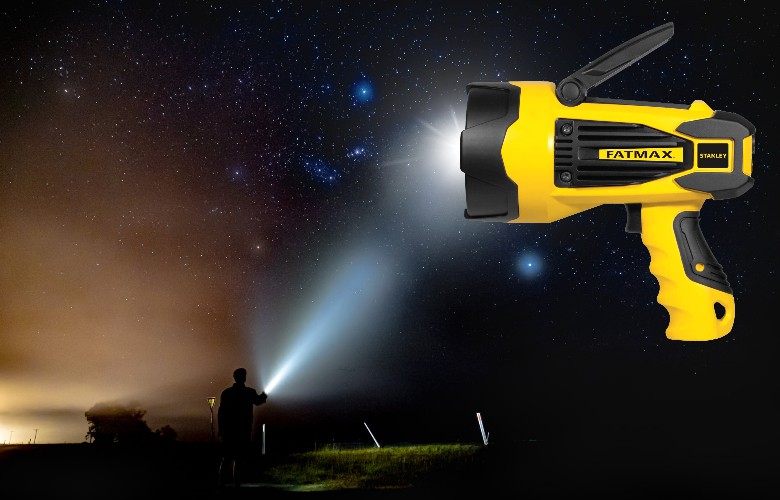 Our Best Handheld Spotlights At A Glance
List of the best handheld spotlights on the market
---
1. GearOZ Rechargeable Handheld Hunting Spotlight
Best handheld spotlight
Dimensions: 8.03 x 7.17 x 3.23 inches | Weight: 28 ounces | Power type: 4800mAh Lithium Ion | Maximum brightness: 1000 lumens
The GearOZ Rechargeable Handheld Spotlight is a rare example of a spotlight that does such a good job of combining sleek durable design with an impressive feature set. It feels as good to hold as it feels good using it.
This is all thanks to its rugged and precision-crafted aircraft aluminum body and an ergonomic handle, allowing your fingers to wrap around it comfortably and naturally. It will enable you to safely grip the spotlight despite being heavier than other less premium ones.
Besides great build quality and the addition of water resistance, it also brings an excellent maximum brightness output of 1000 lumens, a high capacity 4800mAh battery, 5 different lighting modes, and both the green and red attachable lenses to help you get more subtle illumination and to preserve your night vision.
Pros
Extremely well built
Great brightness output
Incredible 1000 yard working distance
Great battery life
Has many lighting modes and includes green and red adapters
Cons
Higher than average price
Slightly heavier than your average handheld spotlight
---
2. Streamlight Waypoint Rechargeable Spotlight (with Red Filter)
Second best handheld spotlight
Dimensions: 6.75 x 7.14 x 3.62 inches | Weight: 24.32 ounces | Power type: Lithium Ion | Maximum brightness: 1000 lumens
The second best handheld spotlight on our list is the Streamlight Waypoint Spotlight, a rugged, long-lasting, and bright source of light that will be a useful addition to your gear no matter if you're an outdoors enthusiast or an astrophotographer.
Firstly, it comes equipped with a powerful 1000 lumens bulb with several brightness levels that can go as low as 35 lumens. This means that you'll be getting a lot of control over the battery life and make it last as long as 60 hours on one charge.
The spotlight is also very rugged, made from an unbreakable polycarbonate body, and includes a rechargeable battery with a 50,000 hours life span. A separate red light attachment is also included and will allow you to protect your eyes from any added strain while you're trying to adjust your night vision going from dark to light and the other way around.
Pros
Excellent battery life
Very good brightness output of 1000 lumens
Great build quality
Includes a red light filter
Easy to operate
Cons
High price point
No battery bank feature
---
3. Gwendool Rechargeable LED handheld spotlight
Best value for money handheld spotlight
Dimensions: 11.3 x 4.8 x 4.8 inches | Weight: 24.8 ounces | Power type: 8000mAh Lithium Ion | Maximum brightness: 8000 lumens
If your main goal is to find a powerful handheld spotlight and you don't mind having a spotlight that's a little bulky and doesn't feature a red light function, the Gwendool LED handheld spotlight is the one you should be after.
It uses a total of four Cree LED chips to achieve its impressive top brightness of 8000 lumens, allowing you to illuminate any subject at a distance of up to 3280 feet. There are also lower brightness modes for those occasions when you want to preserve battery power.
The built-in rechargeable battery pack has a high capacity of 8000mAh, which supports the spotlight's very high brightness output and also provides your smartphone or other smaller devices with some juice since it also supports USB charging.
Pros
Excellent maximum brightness
Great value for money
Capable of charging other USB devices
Waterproof
Up to 10 hours of runtime
Cons
No red light feature
Bulky design
---
4. YIERBLUE Rechargeable spotlight
Second best value for money handheld spotlight
Dimensions: 8.23 x 7.24 x 4.29 inches | Weight: 26.4 ounces | Power type: 18650 Lithium Ion | Maximum brightness: 6000 lumens
The Yierblue Rechargeable spotlight is another great choice for anyone looking for a very bright handheld flashlight that also features very good battery life and the ability to charge other USB devices.
It manages to squeeze out an excellent brightness level of 6000 lumens and a focused beam that can reach distances as far as 2600 feet, all thanks to its dual Cree LED lights. There are also three brightness settings available, with the third one being a flashing SOS mode, perfect for signaling your position to someone if you find yourself lost in the darkness.
The Yierblue spotlight also offers a useful sidelight function, which turns it into a camping lantern and allows it to be useful in those situations when you need to observe something at a closer distance, or you just need a lighting source to illuminate the inside of your tent or a part of the campsite.
Pros
Great value for money
Offers very high levels of brightness
Very good battery life of over 20 hours
Good build quality
Includes a separate tripod stand
Cons
Not waterproof
Could be more compact
---
5. AlpsWolf Double-sided light Spotlight
Best budget handheld spotlight
Dimensions: 7 x 5.2 x 4 inches | Weight: 22.6 ounces | Power type: 10000mAh Lithium Ion | Maximum brightness: 1200 lumens
The AlpsWolf Double-sided Spotlight is the best light of its kind that manages to provide a very solid feature set that will appeal to beginner adventurers and night photographers. The lack of red light mode makes it less ideal for astrophotography, but still a great starting point while you're learning about your new hobbies.
Its 45 chip LED light tops out at a brightness of 1200 lumens, a more than respectable number that will allow you to illuminate anything in your vicinity or even in the distance as far as 2624 feet. There's also a large 10000mAh battery on board to keep that light shining for up to 20 hours.
Lastly, the AlpsWolf Spotlight comes with a unique feature of its own, and that's the inclusion of two separate spotlights, one on each side of the device. One side acts as a regular handheld spotlight, while the other provides an illumination that is more akin to a traditional flashlight, a great feature when it comes to working in tight spaces or at closer distances. 
Pros
Capable of reaching good brightness levels
Great battery life
Large 10000mAh battery will allow you to recharge multiple USB devices
Respectable build quality coupled with water resistance
Offers a lot of different lighting modes
Cons
No constant RED light mode, only blinking SOS
Not the most compact handheld spotlight out there
---
6. STANLEY SL5HS Rechargeable Ultra Bright LED Spotlight
Second best budget handheld spotlight
Dimensions: 5.25 x 6.5 x 2.75 inches | Weight: 10.4 ounces | Power type: 4x AA | Maximum brightness: 400 lumens
The Stanley SL5HS Ultra Bright LED is the most affordable handheld spotlight on our list, making it perfect for anyone looking for an ergonomically shaped and easy to operate light source while also having a limited budget or just looking for their very first spotlight.
This handheld spotlight features the familiar "gun-shaped" design, making it very comfortable to hold in your hand, even after prolonged periods. Its low weight of only 10.4 ounces also plays a big role in its ergonomics. It's also simple to operate, with just one trigger button for powering it on and a trigger lock button on its side.
The 400 lumens of maximum brightness it's capable of is good enough for close and medium distances and help it achieve a very respectable run time of 13 hours due to its lower power usage. The spotlight is powered by affordable and easily replaceable AA batteries and has a useful LED indicator to warn you when it's time to get new ones.
Pros
Extremely lightweight construction
Uses regular and easily replaceable AA batteries
Easy to use and comfortable to hold
Very respectable battery life of up to 13 hours
Cons
Its brightness output could be higher
Average build quality
---
7. AlpsWolf Rechargeable LED Spotlight
Best lightweight handheld spotlight
Dimensions: 7.8 x 7.36 x 4.06 inches | Weight: 13.4 ounces | Power type: 2 x 18650 Lithium Ion | Maximum brightness: 800 lumens
Suppose you're looking for a relatively powerful and lightweight handheld spotlight, and you want it to be as compact as possible without sacrificing necessary functionality. In that case, the AlpsWolf Rechargeable LED Spotlight should be your first choice.
The first thing that makes it stand out from the rest of the portable spotlight is a powerful array of T6 LED bulbs, which enable it to reach a peak brightness level of 800 lumens, plenty enough to illuminate even those subjects that are far away from you. There are also six different lighting modes included and an additional side lantern that can also act as a red light.
This handheld spotlight is also waterproof and drop resistant and can also act as a power bank for your other portable USB devices, thanks to its dual removable 18650 lithium batteries. So, you can always carry a couple of spare batteries in your backpack and increase its run time even further, making it great for longer astrophotography trips. 
Pros
Respectable brightness output
Extremely lightweight and water-resistant
Red light mode
Includes many different lighting modes
Cons
Could offer a more ergonomic shape
---
8. ENERGIZER LED Spotlight
Best rugged handheld spotlight
Dimensions: N/A | Weight: N/A | Power type: Lithium-Ion | Maximum brightness: 600 lumens
The simply named Energizer LED Spotlight is an easy to use and incredibly rugged handheld spotlight that you would want to have with you on any of your most demanding adventures, especially if you want one that won't take up too much room in your backpack.
Energizer promises an almost indestructible body capable of surviving drops from as high as 22 feet, which is the same as dropping it from a two-story building. Water-resistance is also on board to protect it from rain and snow, just don't immerse it directly in water and you'll be fine.
You should also have no problems illuminating your environment with this spotlight since it brings a decently high peak brightness of 600 lumens and two intensity settings. You'll also be able to charge it almost anywhere thanks to its USB port and use it as a stationary lighting source thanks to its built-in stand.
Pros
Very easy to use
Water-resistant
Decently high maximum brightness output
Great build quality
Maximum working distance up to 339 yards
Cons
May be a little bulky for some
No battery bank feature to charge other USB devices
---
9. Zohi 1500 Lumen Rechargeable Spotlight
Best waterproof handheld spotlight
Dimensions: 7.72 x 7.05 x 4.17 inches | Weight: 26.4 ounces | Power type: 4400mAh Lithium Ion | Maximum brightness: 1500 lumens
There's no doubt about the fact that the Zohi 1500 Lumen is one of the most waterproof handheld spotlights on the market and one that you'll appreciate having in your camera bag if you spend a lot of time in rainy environments and also deals with any type of underwater photography or videography. 
We're not saying that you immediately carry it with you in any kind of sea or ocean depths because it wasn't designed for that purpose. It's capable of surviving in water that's up to 3 feet deep, but it also offers a high level of protection when it comes to drops and shock damage, so it's a well built handled spotlight no matter how you look at it.
It also offers a very high brightness level of 1500 lumens and can illuminate subjects at a distance of up to 500 yards. It can also charge other USB devices with its 4400mAh lithium-ion battery and has a built-in storage compartment for your USB cable.
Pros
Impressive water resistance
High durability
Very good maximum brightness output
Easy to use and to hold
Includes a separate red filter
Cons
Not very compact and has some weight to it
---
10. STANLEY FATMAX SL10LEDS Rechargeable LED Spotlight
Best high brightness output handheld spotlight
Dimensions: 9 x 4 x11 inches | Weight: 32.8 ounces | Power type: Lithium Ion | Maximum brightness: 2200 lumens
If you're looking for a well built high brightness handheld spotlight and you want it to retain the ergonomic advantages of a pistol-like design, the Stanley Fatmax SL10LEDS is the one you should check out before any other spotlight on the market.
The SL10LED may not be the lightest handheld spotlight out there, but it is still very portable and easy to handle thanks to its traditional shape and design. The added weight is also here because of its great build quality and that large 10W 2200 lumens LED element on its front. Its rechargeable lithium-ion battery will give you a respectable total run time of 7 hours.
You will also be able to choose between two different brightness levels and attach a red lens on top of the spotlight, which immediately makes it a great choice for night sky photographers. If you decide that the SL10LEDS is the right spotlight for you, you should also check out the official LTGEM EVA Hard Case that was designed especially with it in mind.
Pros
Easy to operate
Great maximum brightness output
Includes an additional red colored lens
Easy to recharge thanks to the inclusion of both the AC and DC power adapters
Good build quality
Cons
Some may find it to be a little too heavy
Not water resistant
---
Handheld spotlight Buying guide
What to look for when buying a portable handheld spotlight
Power type
Most handheld spotlights on the market offer rechargeable batteries, be it the ones built-in or replaceable. Some can be recharged via their USB port and be plugged into a battery bank or the wall power plug, and some also are plugged into your car's cigarette lighter and charge that way.
The benefit of having a rechargeable spotlight with a built-in battery is that it can often act as a power bank, allowing you to charge other lower-powered USB devices like your smartphone or a smartwatch. They also tend to have the best run time on a single charge.
Handheld spotlights with removable batteries will allow you to carry as many extra batteries as you want so that you can extend their run time by a lot, but they won't be of much help when it comes to powering your other devices.
Is it waterproof?
Some of you will certainly find themselves in poor weather conditions while camping or taking night sky photos, and thus, having a waterproof handheld spotlight will become a must.
There are two types of water protection you should be aware of when it comes to handheld spotlights. A majority of them can handle moisture and rainfall, but some of them can also be submerged up to 1 meter or deeper in the water, making them great for fishing purposes or underwater photography.
Lumens brightness
Simply put, lumens are used to measure the intensity of the light coming from any lighting source. It will tell you how powerful a handheld spotlight is and how much of your surroundings it will be able to illuminate.
Run time
An equivalent to battery life, since we are talking about battery-powered devices. Run time on handheld spotlights can vary quite a lot and depends on many different factors like power consumption of their LED or halogen bulbs, battery pack sizes, and the brightness level they are running at.
You can expect to get a couple of hours of run time on most spotlights on their maximum brightness, but lowering it a bit can increase that time close to 10 hours and in some cases, more than that. It's up to you to find your own balance between battery life and light intensity.
Attachable red lens available?
This is an important function to look for in a handheld spotlight if you're interested in any form of astrophotography.
These kinds of attachments will change the color of the light from white to red and help you preserve night vision, meaning that it will be easier for your eyes to adjust, going from darkness to light and the other way around.
How many lumens is a good spotlight?
It all depends on the subject's distance or the landscape you want to illuminate with your handheld spotlight. Most spotlights start at a lumens value of 100 and can go all the way to 8000 lumens and sometimes even higher.
If you're working indoors and in tighter spaces, even a spotlight that goes as bright as 300 lumens will be enough for your needs. For general outdoor use, you won't need more than 1000 lumens of brightness. Spotlights that go above that value will allow you to get a very long and focused beam to light anything in the distance, sometimes as far as 1000 yards.
Conclusion
So, to summarize, a handheld spotlight does a great job of precisely illuminating anything that's near you or in the distance, making it one of the most versatile portable lighting solutions on the market.
We've decided that the GearOZ Rechargeable Handheld Hunting Spotlight is the best handheld spotlight out there. The reason for that is its extremely durable aluminum construction, high brightness output, a comfortable design, and the inclusion of attachable red and green colored filters.
However, if you're looking for an affordable handheld spotlight, one capable of even higher brightness output, or one that can even work underwater, the rest of the spotlights on our list are here to help you fulfill your particular needs.