Astrophotography usually requires us to multi-task during the night. From setting up your scope, polar aligning, making camera adjustments, and more.
Now imaging trying to do all that with one hand while holding a flashlight in the other… things get a little tricky.
That's why a red light headlamp should be part of your toolbox as it allows you to light up your area while keeping your hands free for important tasks.
But not any light will do, you'll need a red light to maintain your night vision while photographing or observing the night sky.
We've reviewed the best red light headlamps for astrophotographers, the Zebralight H502pr topped our list thanks to being a dedicated red headlamp, but there are others that performed well also.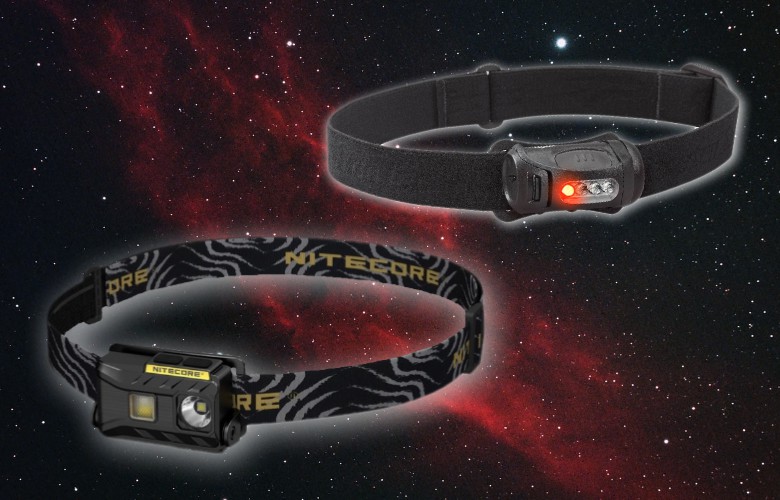 List Of The Best Red Light Headlamps For Astronomy
---
1. Zebralight H502pr Photo Red AA Flood Headlamp
Best Dedicated headlamp for astrophotographers
LED Color: Red (Cree Red XP-E Photo Red)
Beam Type: Flood (120-degree spread)
Brightness (Lumens): 0.003-100
Dimmable Light Modes: Yes
Battery Type: 1 x AA battery
Waterproof Rating: IPX7
Runtime: High(1) 0.9hours | Med(1) 7.5 hours| Low(1) 4 days
Weight: 1 oz | 29g
The Zebralight H502pr still stands as one of the most popular (and practical) headlamps for nighttime astronomers.
So what makes this so great for astrophotography users in the field?
Firstly, it's a dedicated red light ("Red" Cree led light). While many are dual white/red lights, meaning you need to select which color, or worse, cycle between them, the Zebralight is a fixed Red only light that lights up your work area on a night's photo shoot.
So you won't need to put tape over the white lens if you had to cycle through, yes I've done that before.
Then there's the vast amount of adjustable brightness settings (nine in total). Each of the three primary selectable light levels (Low, Medium, and High) has three programmable levels of brightness each.
So while there are three selectable brightness stages, times that by three levels of programmable brightness (3 main X 3 selectable), and you have a total of nine different brightness levels you can work with. Enough for any situation of night photography.
As for the light beam itself, it throws out a very useful floodlight, meaning you can comfortably look at your star chart, make adjustments to your camera or scope, and not need to continually move your head around to direct the light.
Powered by a single AA battery, it's runtime is surprisingly impressive. Of course, if you run it continuously at full brightness (100 lumens), then it will only last about an hour, but at its lowest (0.003 lumens) it's said to last up to 2.8 months.
Side note about the runtime tests: Sanyo 2000mAh Eneloop AA batteries were used for tests to determine how long each brightness level would last.
Weight is another factor to consider, and the Zebralight H502pr is tiny at only 2.76 inches and only 1oz in weight for the lamp itself. 2.8oz for the lamp, AA battery, and the supplied headband combined. So you'll be able to do a whole setup, shoot and pack up without noticing it's there.
So overall, if you want a great dedicated astro light, it's hard to go past the Zebralight H502pr.
Pros
Dedicated Red light – no chance of accidentally selecting a bright white
Waterproof to IPX7 (2 meters)
Dimmable light – Bright enough for setup, Dim enough to continually work in the field
Electronic switch – no need to press hard to cycle light settings
Cons
Customer service can be a little slow
Is a little pricey compared to other headlamps
---
2. Nitecore NU25 360 Lumen Triple Output
Best multipurpose headlamp
LED Color: White, Red & Warm White
Beam Type: Wide & Flood
Brightness (Lumens): 1-360 White | 0.9-13 Red | 20 Warm White
Dimmable Light Modes: Yes
Battery Type: built-in rechargeable battery
Waterproof Rating: IP66
Runtime: 16 hours
Weight: 1.9 oz | 54g
Let's get one thing out of the way with NU25 headlamp, it's not really a 360 lumens headlamp. While it is capable of 360 lumens, it's only in very short bursts of 30 seconds. So in reality, it's really a 190 lumens headlamp.
Asides from the lumens confusion, it's a pretty capable headlamp when out in the field. It has three selectable lamps you can choose from, depending on what you need to do…, setup, making adjustments while photographing, or packing up.
The main lamp is a bright high-powered white LED light. While not practical for astronomy, it comes in useful while setting up and packing up on site. 3 Brightness settings are available with the white (Low, Med, and High).
The second light is what they call an auxiliary red light, it's a red flood beam that is useful for preserving your night vision if you need to make any adjustments on your tracking mount or camera. This time only two selectable light settings are available (Low and high).
Something to take note is at the lowest setting for the red light, the brightness is 0.9 lumen, which for astro work at night is enough to see what you're doing without ruining your night vision.
The third light is a warm white, again a flood beam. This light is excellent for doing closeup work where you need a little extra light.
Nitecore decided to design the NU25 with a builtin rechargeable battery. You won't need to continually buy extra batteries for this.
Just make sure you keep the Nitecore NU25 charged before you head out. It shouldn't be too hard though, as you can quickly charge it via its micro-USB charging connector, so you could even charge or top up while driving.
Alternatively, a useful design of this headlamp is the ability to use it while being charged, so if you bring along a power bank while you're camping, hiking, or capturing the starry night, you can charge it on the go.
Pros
Built-in Rechargeable battery – quick recharge time
Three selectable lights – White, Red and Warm White
Great battery life
Battery power indicator – So you can tell how much power is remaining
Selectable light modes – Low and high red mode and more
Cons
Advertised 360 lumens is only for short bursts – Really a 190 lumens light
Could do with more selectable red light options
---
3. VITCHELO V800 Headlamp Flashlight with White and Red LED Lights
Best Budget Headlamp
LED Color: Red and White
Beam Type: Direct
Brightness (Lumens): 168
Dimmable Light Modes: White: Yes, Red: No
Battery Type: 3 x AAA batteries
Waterproof Rating: IPX6
Runtime: 120 hours on low light
Weight: 2.08oz | 60g
One thing they got right with the VITCHELO V800 is designing it with two separate buttons on the headlamp. Meaning there is a dedicated button for the white, and another for the red.
If you don't know why this is a big deal, then let me explain. There are other dual-color headlamps that require you to cycle through the selectable lights, so if your eyes have adjusted to the night vision and you cycle through to bright white by accident… say goodbye to your adapted night vision eyes for quite a while.
The angle of the light is also adjustable, starting from straight ahead, it has four selectable angles up to 45 degrees down, which is a nice option to be able to point the light downward without having to continually look down.
One thing that should be noted, while the Vitchelo V800 Headlamp has four selectable stages of white light (Low, Med, High, and Blinking), there are only two options for the red light (High and Blinking).
Overall, this is a great budget headlamp that gives you quite a lot for the price.
Pros
3 x AAA batteries included – Start using it straight away
Separate buttons for the white and red lights
Lifetime warranty – Have yet to test this out though
Padding on the battery compartment so it's more comfortable to wear
Cons
Only 4 adjustable tilt angles
The headband could have been a little bigger
Battery compartment could pop open when adjusting the tilt
---
4. Black Diamond Storm Headlamp
Best waterproof headlamp
LED Color: White, Red, Green, and Blue
Beam Type: Direct and Flood
Brightness (Lumens): White 350 | Red, Green, Blue (unknown)
Dimmable Light Modes: Yes
Battery Type: 4 x AAA batteries
Waterproof Rating: IP67
Runtime: 40 Hours (High)
Weight: 3.9 oz | 110g
If you like a feature-packed headlamp, then the Black Diamond Storm is for you. This is another one of those headlamps that can be used for your astronomy trips, but also comes with four different selectable color lights (white, red, green, and blue), so you can easily use it for other purposes. Making it a great multipurpose headlamp.
The red light itself can be set to various intensities, from full brightness, all the way down to a very dim light. So you won't ruin your night vision once your eyes have adjusted to the dark.
One thing that has been mentioned about the Back Diamond Storm, is it can be a little complicated to use at first. Sure it's only a torch, how difficult can it be?
Well, it only has a single button, which depending on the "type" of button press: single press, double press, press and hold, and triple press allows you to either select the color of the light or the brightness level you want.
Having said that, it does remember your last setting so you won't need to cycle through your settings again when you need to reuse it.
Some features worth mentioning are you can check the power meter, so you can see how much power is remaining in the batteries and also has a useful locking feature so that you won't turn the headlamp on by accident in your bag.
Pros
4 selectable colors (White, Red, Green, and Blue) – makes it a versatile headlamp.
Adjustable tilt
Remembers your last settings, easy to resume
Locking feature, so you can't accidentally turn it on
Cons
Can be confusing to use (single button controls everything)
Need to cycle through the colors to get to red light.
Light is a little narrow
---
5. NITECORE NU32 550 Lumen LED Rechargeable Headlamp with White and Red Beams
Runner up multipurpose headlamp
LED Color: White, Red & Warm White
Beam Type: Wide & Flood
Brightness (Lumens): White 1-550 | Red 9 | Warm White 19
Dimmable Light Modes: White-Yes | Red-No
Battery Type: built-in rechargeable battery
Waterproof Rating: IP67
Runtime: 17 hours (White-High)
Weight: 3.51oz | 99.5g
The NITECORE NU32 headlamp is an upgraded model of the NU25 we reviewed above. While both are similar in features, this model is slightly heavier but emits a brighter light. So which one you prefer will depend on your specific user needs.
Just like it's other model, NITECORE'S advertised highest lumens level is only a temporary "turbo" mode, limited to 30 seconds to avoid overheating. The NU32's standard high beam is a respectable 190 lumens.
Designed with two buttons, one for white light and one for the red light. This is a great design feature because it eliminates the chance of accidentally selecting white if you had to cycle through the lights. Thus say goodbye to your night vision for about half an hour if you did.
Probably the one thing I didn't like about this headlamp is the lack of variables for the red light. It only has a choice of two light modes, a single red light mode (9 lumens) or flashing red light (for emergencies).
The red light is still good for astro work but would have liked to see some lower lumens modes, especially when doing some closeup adjustments on a camera setup.
Pros
Built-in rechargeable battery (3.7V 1,800mAh)
Power indicator so you can tell how power is remaining
Lockout mode, prevents accidental activation
Dual-switch, one for white and one for red
Cons
Rechargeable battery is not removable
Lacks adjustments in red light mode
---
6. Streamlight STR61706-BRK Bandit Headlamp White/Red
Best lightweight headlamp
LED Color: White and Red (COB-Chip on Board, impervious to shock)
Beam Type: Diffused light
Brightness (Lumens): White 35-180 | Red 10-45
Dimmable Light Modes: Yes
Battery Type: Built-in rechargeable battery
Waterproof Rating: IPX4
Runtime: Red-High 2.5 hours | Red-Low 10 hours
Weight: 1.3 oz | 36.8g
If you're looking for a lightweight and portable headlight, then Streamlight has created exactly what you need.
The Streamlight brand has been around since 1973. In that time, they've listened and created a range of headlamps that suit specific needs without the bloat of unnecessary features to bog it down.
So for us astrophotographers, the Streamlight 61706 Bandit is a great choice, you'll hardly notice you're wearing this shockproof headlamp out in the field.
It's easy to use, controlled by a single button that selects either high or low light mode (need to hold it down for 1.5 seconds to eliminate accidental presses).
When it comes to the power source, this headlamp comes with a built-in battery (450 mAh Lithium Polymer) that takes approximately 2 ½ hours to fully charge. It has a visual indicator during charging to tell if it's still charging (red) or fully charged (green).
It also has a low battery indicator built-in, it'll blink when there are about five minutes left of battery power so that you won't be left out in total darkness.
Overall, this is a great little portable light, probably one of the lightest ones we've seen (and smallest), if you're looking for something that outputs a nice and wide diffused red light, is small and will fit in your pocket, or even as a backup headlamp then you should pick up the Streamlight.
Pros
Diffused wide beam – lights up the area, not a spot
Rechargeable – Charges quickly via USB
Extremely compact and lightweight
Great for map reading
Cons
No lock mode to prevent accidentally turning on
Has a Micro USB charging port – USB-C would have been preferred
---
7. Princeton Tec Byte Tactical Headlamp
Best for preserving night vision
LED Color: White and Red
Beam Type: Wide & Flood (combined)
Brightness (Lumens): White 15-100 | Red 1-3
Dimmable Light Modes: Yes
Battery Type: 2 AAA batteries
Waterproof Rating: IPX4
Runtime: White-High 5 hours | Red-High 60 hours
Weight: 2.25 oz / 64g
Another one from the small and lightweight category, the Princeton Tec Byte Tactical Headlamp is one to seriously consider if you're looking for something simple and straightforward that'll get the job done.
There's no fancy features or gadgets here, simplicity is where it's at with this tactical headlamp. A single button controls everything.
It has four selectable light modes, white and red LED light, with a high and low mode for each color.
One of the big reasons I like this Princeton headlamp is they have designed it so that it is almost impossible to accidentally select the white light first.
When you press the button, red is the initial color that turns on. The only way to bypass it and start with white is to press and hold the button down.
This is great if you've spent several hours out in the field, or backyard, getting your eyes acclimatized to the dark and don't want to ruin your night vision with an accidental burst of white light.
The Byte Tactical also has a digital lockout, so no accidental button presses. Simply hold the button for five seconds to activate the lock.
Battery life is great as well, especially if you're using the red beam only. The only downside is the red light distance range is not the best compared to some of the other headlamps. It's great for working or finding things close around you though. Just don't expect to see in the far distance with it.
Pros
Simple to use and lightweight
Made in the USA
5-year warranty
Batteries included
Cons
Red light is low, not useful for seeing in the far distance
---
Other Red Light Headlamps Worth Mentioning
---
Red light headlamp buying guide
Why use a headlamp over a flashlight?
Any type of astro set up during the night always requires constant maintenance and upkeep. Trying to adjust your shutter speed, adjust your polar alignment, and getting your focus sharp are all tasks that ideally need two hands to accomplish the task.
While flashlights have their purpose, a headlamp excels by giving you the light you need in the dark while keeping your hands free and allowing you to make any adjustments you need without having to hold a torch in one hand.
A good example is if you were trying to read a chart or map, a headlamp would light up your area you're trying to see while allowing you to hold and use your map properly.
Why is red light important for astronomy and night photography?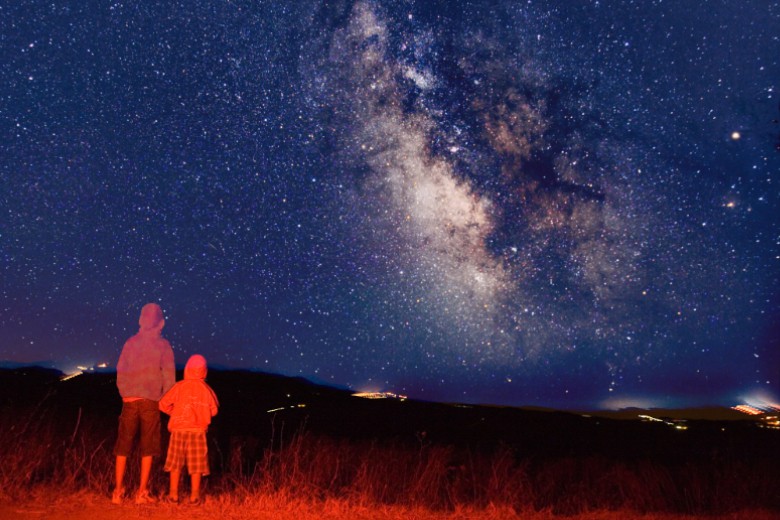 As the light falls, our eyes become adapted to the night. You will have noticed this if you've even been out on a night photo shoot or even camping, after a while, everything during the night becomes brighter and more vivid during the night.
That's because your eyes become highly sensitive to the dim night sky, but even after being exposed to a very short amount of bright light, your eyes become overexposed.
Once that happens, it takes up to half an hour or more before your eyes regain their dark adaptation and get back to nocturnal dark sensitivity.
But, if you use a red light, your dark adaptation won't be affected because your eyes are less sensitive to the red light. You can use red throughout the night to light your working areas without the worry of losing your night vision.
Another bonus about red lighting is it won't attract bugs as much during the night, and depending on the time of the year, that can make the difference between staying a few hours more or packing up for the night.
What to look for in a red light headlamp
Below are some criteria you should be looking at when trying to decide on which is the best red light headlamp to buy.
Button Size
Does it have one button or two? Maybe three? Is there any chance you might accidentally press the wrong button and switch on the white light by accident?
Ideally, something that will be simple to use that we can operate without having to take it off our heads every time to look at it. That'll defeat the purpose of being hands-free.
Also, most of the time it gets cold during the night and we are usually wearing gloves, so look for a headlamp that can function preferably while wearing gloves.
Brightness (lumen output)
So how many lumens do I need for a headlamp? most headlamps (or any lighting really), will boast about how "bright" they are and advertise how many lumens they output.
None of them really promote how "Dim" they are, and that is really what we are looking for. Under the starry night, we don't need the brightest, we actually need a headlamp that can dim to the lowest level so we can comfortably work throughout the night without affecting our night vision.
Selectable Light Modes
Selectable Red
Look for a headlamp that allows you to select or start with red lighting when you turn it on without having to cycle through white or other colors first.
Cycling through to get to red leaves you open to accidentally selecting white and ruining your eyes dark adaptation for at least half an hour.
White should be there, only if we choose to use it, as it does come in useful at the end of the night for packing up and looking for dropped parts.
Choose a dimmable red headlamp
Ideally, pick a headlamp that has dimmable levels of red. Having red lighting alone is a good start, but some headlamps are too bright, even in red mode.
A key feature is to see how dim it can go, and an extremely low level at that. If your headlamp has the ability to remember your current setting and turn back on at your previous dim level, it is ideal.
Adjustable Strap
Often overlooked, a strap needs to be comfortable and adjustable also. This may seem obvious, but some cheap headlamps either don't stay where you adjusted them or just don't adjust period.
Waterproof
You won't be photographing in the rain, well not with expensive gear like telescopes, laptops, star trackers, mounts, and the rest of your astro gear. 
But throughout the night when the temperature drops, dewing causes several problems, so one that is waterproof is a good choice.
Powering Your Headlamp: Rechargeable or batteries
This is a personal choice here, there is no right or wrong in whether you want a rechargeable or battery operated headlamp.
Rechargeable means you'll never need to spend money on additional batteries, and some rechargeable headlamps have quite a large power source that they can last much longer than their battery cousins.
Disposable batteries mean you can bring extra with you for your astronomy trip, and if your headlamp does go flat, a quick swap of your batteries and you'll be back up in no time—something you can't do with a rechargeable.
I usually just put my headlamp on charge before I go on a trip, even just to top it up, and I haven't had an issue yet with it letting me down.
Run time (Battery life)
Usually isn't too much of an issue for astrophotographers, as we will run the headlamp on the lowest "dim" setting most of the time during the night.
But it is something to look at because if you need to run your lighting at its "brightest" setting, for setting up or packing up, for example, some will only last 30 minutes before going flat.
Weight
Weight is another consideration as you'll be wearing it on your head for the majority of the night. The last thing you'll want is something big, bulky, and heavy, as it would continuously be a nuisance while you contort your head at weird angles to make sure your polar alignment is correct.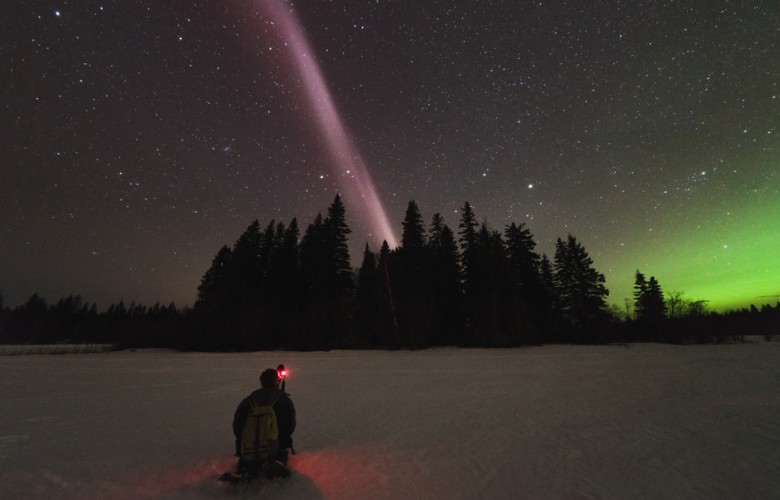 Quick Recap Of The Best Red Light Headlamp For 2023
Conclusion
There you have it, hopefully, this article has shed some light (pardon the pun), on finding a suitable red headlamp.
With so many to choose from, finding a dedicated red headlamp is not as common as you may think, and that is why we rated and chose the Zebralight H502pr as our top pick.
With nine different brightness levels, from a bright 100 lumens, all the way down to 0.003 lumens, there is a light setting for any night photography setup.
All that is left now is to get back to focusing on your astrophotography and let the headlamp light up your night.