Every astrophotographer planning to take some stunning photos of the Orion constellation, The Crab Nebula, or the California Nebula during winter time has to find a way to keep their hands warm during the cold hours of the night, and that's where the photography gloves come into play.
These are the warmest types of gloves around and also the most durable and resistant to the elements like the wind, rain, or snow. They also always tend to work with touchscreens in one way or another and have grippy surfaces on their palms to keep your gear safer.
The Vallerret Markhof Pro 2.0 Winter Photography gloves are the best of its kind and will give you the best experience when the weather gets especially tricky. However, if you're looking for something more affordable or lightweight, we invite you to take a look at our list of best photography gloves out there.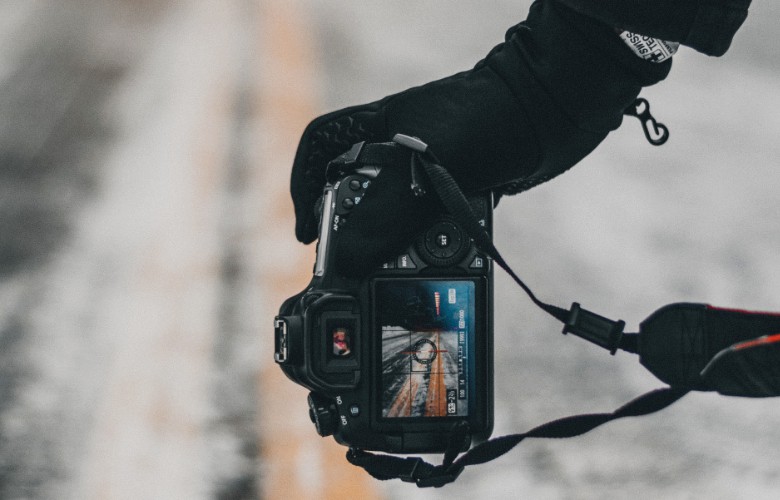 List of the best photography gloves
---
1. Vallerret Markhof Pro 2.0 Winter Photography Gloves
Best photography gloves
Dimensions: 10.91 x 5.08 x 2.09 inches | Weight: 5.61 ounces | Brand: Vallerret | Material:Merino Wool, Goat Wool
If you want to get yourself a pair of gloves that are rugged, warm and will provide you with a very good grip for those times when you're holding a camera, then the Vallerret Markhof Pro 2.0 will be your best choice.
Being made of famous merino wool, you can be sure that they will keep your fingers safe from the cold and allow you to operate your camera and change your lenses even after prolonged periods of spending time outdoors.
If you need more precise control over your devices, especially if they have a touchscreen, you will be able to uncover the tops of the thumb and index fingers, so you don't have to take the entire gloves off. These tops also have magnets on them so they will stand out of your way instead of dangling around.
Pros
Very warm thanks to being made from merino wool
Compatible with touchscreens
Durable and comfortable design
Built-in storage pocket
Provide a nice grip
Cons
Its size chart could be more precise
Heavier than your average winter gloves
---
2. Vallerret Ipsoot Winter Photography Gloves
Second best photography gloves
Dimensions: 10.83 x 4.49 x 3.07 inches | Weight: 6.74 ounces | Brand: Vallerret | Material: 100% Merino Wool
The Valleret Ipsoot Winter Photography gloves manage to offer a fine balance between good insulation, flexibility, and resistance to the elements. They combine the familiar merino wool with special insulating material to provide enough warmth for those demanding winter months.
The water protection is here to ensure that your hands don't get wet if you come in contact with any rain or snow. The textured material on the palms will help you grip your camera more firmly if it accidentally comes in contact with any kind of moisture.
If you suddenly need to interact with your smartphone or the touchscreen on any modern DSLR or a mirrorless camera, just reveal the tips of your index fingers and thumbs and you'll be able to do everything from twin dial operation when changing your aperture and shutter speed to pinch and zoom action on a touch-sensitive screen.
Pros
Offer a nice amount of warmth
Compatible with touchscreen devices
Water-resistant
Have grippy material on their palms
Built-in accessory pocket
Cons
High price point
Will be a little too bulky for some
---
3. Heat 3 Smart Gloves
Most rugged photography gloves
Dimensions: 12 x 6 x 1 inches | Weight: 8 ounces | Brand: Heat | Material: Goat Leather, Synthetic
The Heat 3 Smart Gloves is another example of how a well designed pair of gloves looks like. Their design does come with a high price tag, but if you're the kind of photographer who values features and resistance above anything else, you won't mind it that much.
They are made from a combination of goat leather and synthetic materials, meaning that they are both rugged and flexible enough to fit snugly around your hands. The built-in mitten flap is a great addition to use when you're just traveling around and want some extra cold protection.
That flap can also be folded and held in place with magnets while you're using your fingers to change the settings on your camera or adjust the positioning of your tripod before taking a photo of the night sky. There's also a small zippered pocket on the front for smaller accessories like keys, coins, or a credit card.
Pros
Wind and water-resistant
Integrated zippered pocket
Built-in mitten flap for even more warmth
Compatible with touchscreens
Robust design
Cons
Will be a little pricey for some people
Heavier and bulkier than your average pair of gloves
---
4. FRDM Free Fit Midweight Photography Gloves
Best value for money photography gloves
Dimensions: 11 x 4 x 1.5 inches | Weight: 4.8 ounces | Brand: FRDM | Material: Synthetic Fabric, Silicone
If you don't consider yourself a full-blown professional photographer, but rather it's a hobby you tackle often and it's not rare that you spend time in lower temperatures, then you'll certainly appreciate what the FRDM Midweight Photography Gloves have to offer for their price.
The main build material used here is the synthetic fabric, which is common for winter gloves in this price bracket. You won't be getting top-notch durability or insulation, but you still won't have to worry too much about damaging them or not feeling your fingers while you're outside.
They are also nicely optimized to provide you with a firm grip for your camera or give you a quick way to interact with your smartphone or a tablet thanks to the silicon materials on the palms and the tops on the index and thumb fingers being foldable. These gloves also offer a decent amount of water and wind protection, which is a nice bonus.
Pros
Good value for money
Offers decent amount of warmth
Compatible with touchscreen devices
Not too bulky, so they are fairly comfortable
Water and windproof
Cons
Not suitable for extremely cold weather
Not as durable as higher-end gloves
---
5. Promaster Knit Photo Gloves
Second best value for money photography gloves
Dimensions: 6 x 8 x 6 inches | Weight: 4.2 ounces | Brand: Promaster | Material: Synthetic Fabric
If you're looking for a pair of good photography gloves and you don't want to spend too much money, then you should definitely check out the Promaster Knit Photo Gloves. They aren't equipped with many fancy features like more expensive gloves, but are still a good value.
Made entirely from synthetic fabric, they are decently warm, durable enough for most types of uses, and will even handle some light rain or snow. Just don't use them during heavy rainfall or if the temperatures are too low. They also offer a nice balance between weight and size and thus, quite comfortable.
The index finger and the thumbs all have magnets in them and can be folded back when necessary. The material on the tip of the index fingers also responds to touch screen inputs, so you won't have to worry about changing the settings on your smartphone or any modern camera while you're still wearing the gloves.
Pros
Good value for money
Compatible with touchscreen devices
Not too heavy
Comfortable to wear
Offer decent amount of grip
Cons
Suited only for mildly cold weather
Not as wind or waterproof as more professional models
---
6. PGYTECH Photography Gloves
Best waterproof photography gloves
Dimensions: Up to 7.87 x 3.93 inches | Weight: Up to 4.69 ounces | Brand: PGYTECH | Material: 70% Polyester, 12% Nylon, 18% PU
If your style of photography or the environments you find yourself in often go hand in hand with rain or generally being near water, then the PGYTECH Photography Gloves will give you excellent water resistance while also not costing too much money.
They aren't too heavy nor too big, so you will certainly find them comfortable to wear and will give you even more control over your hands than other warmer but bulkier options. If you were planning to use them with any kind of touchscreen device, you will be happy to know that they also have conductive caps as well as foldable thumbs and index fingers.
Now, let's talk about water resistance since it's the main selling point of these gloves. It's achieved with the use of HIPORA professional liner and water repellent surface. The HIPORA stands for waterproof and breathable fabric made in South Korea that relies on three different layers to give it its advanced properties.
Pros
Comes in three different sizes
Great value for money
Excellent water resistance
Compatible with touchscreens
Comfortable to wear
Cons
Not the warmest gloves around
No built-in accessory pocket
---
7. Hi Clasmix Winter Touchscreen Gloves
Best budget photography gloves
Dimensions: 10.51 x 5.04 x 1.46 inches | Weight: 2.86 ounces | Brand: Hi Clasmix | Material: Synthetic Fabric
The Hi Clasmix Winter Touchscreen Gloves are the best budget photography gloves on the market. If you want to keep your hands warm in mild winter conditions while you're spending time on your first astrophotography adventures, then these are the gloves for you.
As you would expect from their low price point, they are made from standard synthetic fabric. So, they don't offer a ton of warmth but are neither too bulky nor too heavy, meaning that you'll have more control over your gear while you're wearing them.
What's interesting is that Hi Clasmix has managed to fit some impressive features in these gloves considering their low cost, such as compatibility with touchscreen devices, anti-slip palm surfaces, white reflective strips on the front as well as wind and waterproof materials.
Pros
Affordable price point
Available in five different sizes
Compatible with touchscreens
Offer some level of water and wind protection
Slip-resistant
Cons
Not suited for the coldest weather
Not the most durable gloves out there
---
8. Under Armour Men's No Breaks Softshell Gloves
Second best budget photography gloves
Dimensions: 11.6 x 5.7 x 2.6 inches | Weight: 6.4 ounces | Brand: Under Armour | Material: 94% Polyester, 6% Spandex
If you're on a tighter budget but not willing to accept a lot of trade-offs when it comes to insulation or build quality, then the Under Armour Softshell Gloves may just be what you're looking for when it comes to photography gloves.
Made from a decently thick combination of polyester and spandex, they are as warm as they are comfortable to wear. The UA Storm finish will ensure that your hands will stay dry and warm during rainfall or when the cold winds begin to brew.
What's particularly impressive about these photography gloves is that they can be used with your smartphone or your camera's touchscreen with the use of all ten fingers, thanks to the special material that's been placed on them. So you will never have to sacrifice any warmth on such occasions.
Pros
Good price point
Water and wind-resistant
Fully compatible with touchscreens
Reflective design makes them more visible in the dark
Decently rugged construction
Cons
A little weighty
No foldable fingertips
---
9. Palmyth Flexible Photography Gloves
Best lightweight photography gloves
Dimensions: 12.2 x 5.3 x 1.3 inches | Weight: 3.21 ounces | Brand: Palmyth | Material: Synthetic Fabric
The Palmyth Flexible Photography Gloves may not be the warmest or most durable gloves around. Still, they are an excellent choice for anyone whose priority is compactness, portability, comfort, and resistance from the elements.
They also don't cost a lot, which should be a bonus for any kind of photographer no matter their budget. Made from synthetic fabric in three different layers, they offer decent insulation and are also comfortable to wear, like you would expect from a pair of lightweight photography gloves.
The top of the gloves has a water repellent surface and a windproof softshell, while the bottom features an anti-slip silicone surface to help you get a better grip on any of your cameras or lenses. The middle and index fingertips as well as the tips on the thumbs, can all be revealed so you can operate your smartphone without having to take the gloves off.
Pros
Available in four different sizes
Decently warm despite being lightweight
Water and wind-resistant
Quite comfortable
Compatible with any touchscreen device
Cons
Not great for extremely cold temperatures
Only averagely durable
---
10. Freehands Men's Stretch Thinsulate Gloves
Second best lightweight photography gloves
Dimensions: 1 x 5 x 6 inches | Weight: 2.4 ounces | Brand: Freehands | Material: Synthetic Fabric, Silicone
The Freehands Stretch Thinsulate Gloves should be on top of your list if you want a pair of good quality photography gloves that are warm and resistant, but more importantly, very lightweight and not too expensive.
With a total weight of only 2.4 ounces, they will never burden your hands after long periods of using them, even if you're spending hours outside taking many long exposure photos or searching for a perfect shooting location.
Their synthetic fabric also offers wind and water protection and enough insulation for colder autumn nights or winter days. You will also be able to operate your smartphone or precisely control your camera while you're wearing them thanks to the foldable tips on index fingers and the thumbs.
Pros
Good price point
Wind and waterproof
Compatible with touch-sensitive screens
Lightweight and comfortable
Decently warm considering their low weight
Cons
Only optimal for moderately low temperatures
Not very durable
---
How To Pick The Right Photography Gloves
What to look for when buying photography gloves
Thermal insulated
What makes the best photography gloves so warm even when the cold becomes fierce and tries to ruin your perfect day reserved for taking photos? Well, it's the amount of insulation they have.
It usually consists of multiple layers of different materials and works by trapping the air inside the gloves, so the amount of thermal energy remains high and thus, your hands remain warm. The best gloves out there also have a layer of breathable material, so your hands don't become too sweaty from all the accumulated heat. 
For even extra warmth and comfort, you can also add an additional glove liner which you wear inside of your photography gloves. Works especially well during the harsh cold winter months on a long astrophotography session.
Waterproof
Since photography gloves are specially designed with harsher conditions in mind, most of them will include at least some level of water protection so your hands remain dry even after a rainfall or if they come in contact with any snow. It is usually done with the help of water repellent materials and special coatings.
Can use a touchscreen
In this modern day and age when even our cameras have touch-sensitive screens, it is a very desirable thing to have photography gloves that will allow you to interact with your camera or a smartphone in that way without the extra hassle of having to take the gloves off beforehand.
There are two ways the glove manufacturers have managed to tackle and solve this problem.
Most photography gloves come with foldable tips for index fingers and the thumbs so that you can touch and operate your screen freely. Others have a more elegant solution with special conductive wires inside the fingertips that react to touchscreens just like your fingers would.
Lightweight construction or maximum warmth
When picking the right photography gloves, you will have to be fully aware of the environments you'll spend most of your time in while taking photos and how demanding they are in terms of weather conditions, the vegetation, and the terrain.
If you're doing a lot of climbing or mountaineering or you're simply not interested in spending time in the harshest cold possible, then you should look for photography gloves that are more lightweight, have thinner materials, and will give you more control over your movements.
However, if you are constantly dealing with snow, rainfall, and very low temperatures, forget the size, thickness, and weight of the gloves and look for ones that offer the best quality materials and the best amount of insulation.
Quick Recap Of The Best Photography Gloves
Conclusion
Now that you have all the information necessary to pick the best photography gloves suitable to your own needs, the time has come for you to obtain a pair of them and finally embark on that trip you've been planning for weeks or months and take some nice photos of the night sky and all of its wonders.
If you simply want the best photography gloves out there, then the Vallerret Markhof Pro 2.0 Winter Photography gloves will be most suitable for you because of their great insulation properties, build quality, and the helpful addition of a small accessory pocket. For everyone else, there's the rest of the products on our list, each of them a great pair of gloves in their own right.