Any kind of photographer working in harsher and colder conditions is already aware of the necessity and usefulness of having a pair of gloves with them, but some of you probably haven't heard of glove liners, which serve a slightly different purpose.
While they're basically gloves themselves and can be used on their own, they are much more useful when combined with your regular gloves since they can provide you with additional warmth or even feel better on the skin thanks to their thinner materials.
The Smartwool Merino Wool Liner Gloves are the best around and are the most capable at doing their job and serving their purpose, but as always, we have prepared a list of different glove liners for you to choose from and form your own opinion of which ones will serve you the best.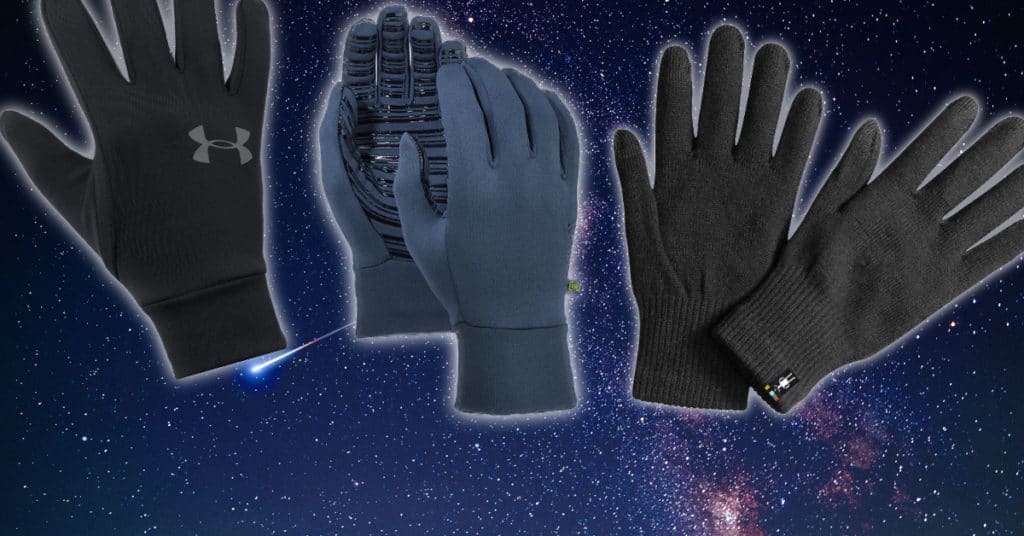 List of the best glove liners
---
1. Smartwool Merino Wool Liner Gloves
Best glove liners for photography
Dimensions: 12 x 9 x 2 inches | Weight: 2.2 ounces | Brand: Smartwool | Material: 46% Merino Wool, 46% Acrylic, 8% Elastane
The Smartwool Merino Wool is one of the warmest glove liners money can buy. The reason for that is that one of their main building materials is the famous merino wool, which is praised by many for its quality and the warmth it adds to any piece of clothing.
So you can be rest assured that your hands will remain warm and well protected even under extremely cold conditions if you combine the Smartwool liners with another pair of regular gloves.
If you decide to use them by themselves, you'll also be happy to know that they support touchscreen input with the index and thumb fingers so you can adjust settings on your smartphone or camera easily and even pinch to zoom while viewing your photos.
Pros
Very warm thanks to the merino wool
Lightweight
Compatible with touchscreens
Machine washable
Windproof
Cons
Fingers could be too long for some people
---
2. Under Armour Liner 2.0 Gloves
Second best glove liners for photography
Dimensions: 7.87 x 5.91 x 1.97 inches | Weight: 10.58 ounces | Brand: Under Armour | Material: 87% Polyester, 13% Elastane
The Under Armour Liner 2.0 Gloves are the second best gloves of their type that can currently be found on the market. Made almost entirely out of polyester, they aren't very warm by themselves but will provide excellent protection when combined with other gloves.
They are comfortable to wear and flexible thanks to the added elastane materials. You will also be able to safely put them in the washing machine without the fear of damaging them. The added rubber materials are also here to allow you to better grip your equipment.
The gloves are also compatible with touchscreens, so you will be able to quickly take off your main gloves and operate your smartphone or your camera. Under Armor has also added a smooth outer finish to give you more protection from the snow and the rain.
Pros
Machine washable
Snow and rain resistant
Compatible with touchscreens
Comfortable to wear
Offer a nice amount of grip
Cons
Not very warm on their own
---
3. Browint Silk Glove Liners
Best budget glove liners for photography
Dimensions: 8 x 3.5 x 0.8 inches | Weight: 0.63 ounces | Brand: Browint | Material: 100% Mulberry Silk
If you've already invested a lot in your main camera gear and you have a thin budget reserved for accessories or you are simply a beginner photographer, the Browint Silk Glove Liners present themselves as a very good choice and manage to offer a lot of value.
The first thing great about them besides their price is that they're lightweight and comfortable to wear thanks to being made entirely from silk. This does mean that their durability is also affected because of the silk material, so you'll need to be more careful while working with them.
It's also important to mention that they are machine washable, so keeping them in good shape shouldn't be too much of a hassle. Their biggest flaw is that they are not officially compatible with touchscreen devices, which may not be an issue for you at all if you're used to operating your camera with the help of its physical controls anyway.
Pros
Extremely lightweight
Affordable price point
Machine washable
Comfortable to wear
Come in a number of different sizes
Cons
Not compatible with touchscreens
Don't add a whole lot of warmth
---
4. FRDM Vigor Lightweight Liner Gloves
Best lightweight glove liners for photography
No products found.
Dimensions: 5.43 x 5 x 0.16 inches | Weight: 1.59 ounces | Brand: FRDM | Material: Elastane, Polyester
The FRDM Vigor Liner Gloves manage to offer a pretty nice balance between lightweight design and warmth. The traditional polyester material combined with elastane will ensure that the gloves fit comfortably on your hand and feel nice and snug on your skin.
These liners are also compatible with any touchscreen device thanks to their ability to uncover the tips of your pointing fingers and thumbs but will also allow you to operate your camera or astro lens with more precision if they're the only gloves you're wearing.
The proof that a lot of thought went into designing them is also the addition of grippy texture on the most strategic parts of the palms, so even if you manage to get the gloves wet, you won't have to worry too much about accidentally dropping any of your gear.
Pros
Very lightweight
Compatible with touchscreens
Offer a nice amount of grip
Quite warm considering how lightweight they are
The ability to reveal the tips of the thumbs and pointing fingers is a nice bonus
Cons
---
5. Terramar Thermasilk Liner Gloves
Second best lightweight glove liners for photography
Dimensions: 10.98 x 3.82 x 0.55 inches | Weight: 1.02 ounces | Brand: Terramar | Material: 95% Silk, 5% Spandex
The Terramar Thermasilk Liner Gloves focus on two things, lightweight design and comfort. Their main aim is to give your hands additional warmth while you're wearing regular gloves while being more comfortable to wear than the inner material found in most gloves.
That's all accomplished thanks to the combination of silk and spandex materials, with the latter giving them more elasticity than 100% silk gloves could. This also means that you shouldn't expect top build quality or durability, which is always a downside of using silk as the main material.
On a more positive note, the liners themselves are also easy to clean and maintain and also breathable, so they won't feel too warm if the temperature rises and your hands start to get sweaty. Also, keep in mind that these liners aren't compatible with touchscreens, in case you were planning to buy them to use with your smartphone.
Pros
Very lightweight
Machine washable
Comfortable to wear
Very breathable
Cons
No touchscreen support
Could be more durable
---
6. Burton Men's Powerstretch Glove Liner
Best grippy glove liners for photography
Dimensions: 12.3 x 7.1 x 1.7 inches | Weight: 2.28 ounces | Brand: Burton | Material: 100% Polyester
If you're often using your photography gear in conditions where you're having problems working with it because your gloves get wet or dirty and it's also cold outside, then the Burton Men's Powerstretch Glove Liner will be a great option for you.
The entire palms on the gloves themselves are covered in a slip-resistant surface, which will enable you to safely grip your camera or lenses when you're taking it out of your bag or removing it from a tripod after a particularly wet day.
The main polyester material the gloves are made of is also flexible and breathable and will offer you a nice amount of comfort. The only real downside to these liners is the rather patchy touchscreen support and thus, they won't be an ideal choice for you if you depend on touch-sensitive screens a lot.
Pros
Lightweight
Offer a great amount of grip
Compatible with touchscreens
Breathable and well resistant to water
Pretty warm by themselves
Cons
Build quality could be better
Touchscreen responsiveness not the best
---
How to pick the best glove liners
What to look for when buying glove liners
Glove Liner Material
The main thing which separates one glove liner from another is the material it's built from and will have the biggest impact on comfort, usability, warmth, and durability.
Glove liners are usually made from one of the three materials: silk, wool, or polyester. If you want the warmest ones possible, go for those made from wool, especially if they are made from the famous merino wool.
If you want liners that are thin, lightweight and feel very comfortable, the silk ones will be your best choice. They are the least durable ones too, so keep that in mind as well.
Then there's the ones made from synthetic materials, most notably polyester. They are the most common out of all three and offer the most balanced characteristics. They are always a good choice if you're unsure if you specifically want the ones made from silk or wool.
What is the purpose of glove liners?
Their main purpose is to provide your hands with additional warmth if your standard gloves don't do a good enough job. They are a great choice for those winter months when you're outside to fulfill your astrophotography needs and trying to capture the Orion Nebula or the breathtaking Pleiades star cluster.
They also work well as spare gloves for those days where low temperature is not an issue, and you just want something light and less cumbersome to protect your hands while you're riding a bicycle or doing some camping or mountain climbing.
Do glove liners work?
They certainly do, if you pick the right ones for the job. It's essential that you do your research and know exactly what you're looking for, just as with any other purchases with photography. Ensure that you are well aware of the environment you're planning to spend time in and that you're familiar with temperature, moisture, rainfall, or any other factors before buying any glove liners.
Underestimating your target location and getting glove liners that are too thin or even too warm will ruin your experience and the effectiveness of liners themselves. Also, if you're used to working with touchscreen devices, make sure to look for ones that are compatible with them since it is unlikely that you would want to use them in cold conditions with your bare hands.
Quick Recap Of The Best Glove Liners
Conclusion
Now that you know everything that you need to know about glove liners, their purpose and their main aspects, the time has come to choose which ones will find their way onto your shutter happy hands and get you through all those demanding winter months.
We stand by the Smartwool Merino Wool Liner Gloves when it comes to the best ones to keep your hands functioning well because of their warm merino wool material, wind resistance and lightweight construction. Still, we encourage you to take a good look at the rest of the liners on our list and make your own best choice.