Kids tend to be inquisitive creatures—it's a big world out there when you're a kid, and an even bigger universe. Rather than your child chasing Pokemon, why not get them a telescope to fuel their passion for discovery—you never know, it might be a way of spending more valuable time with your son or daughter?
Encouraging your child to look at the skies above through a telescope like the Orion StarBlast which is our first choice, can help expand their minds and maybe ignite a lifelong passion.
Choosing the best telescope for kids can be a difficult task, but this buyer's guide and review of five of the best children's telescopes should make it easier.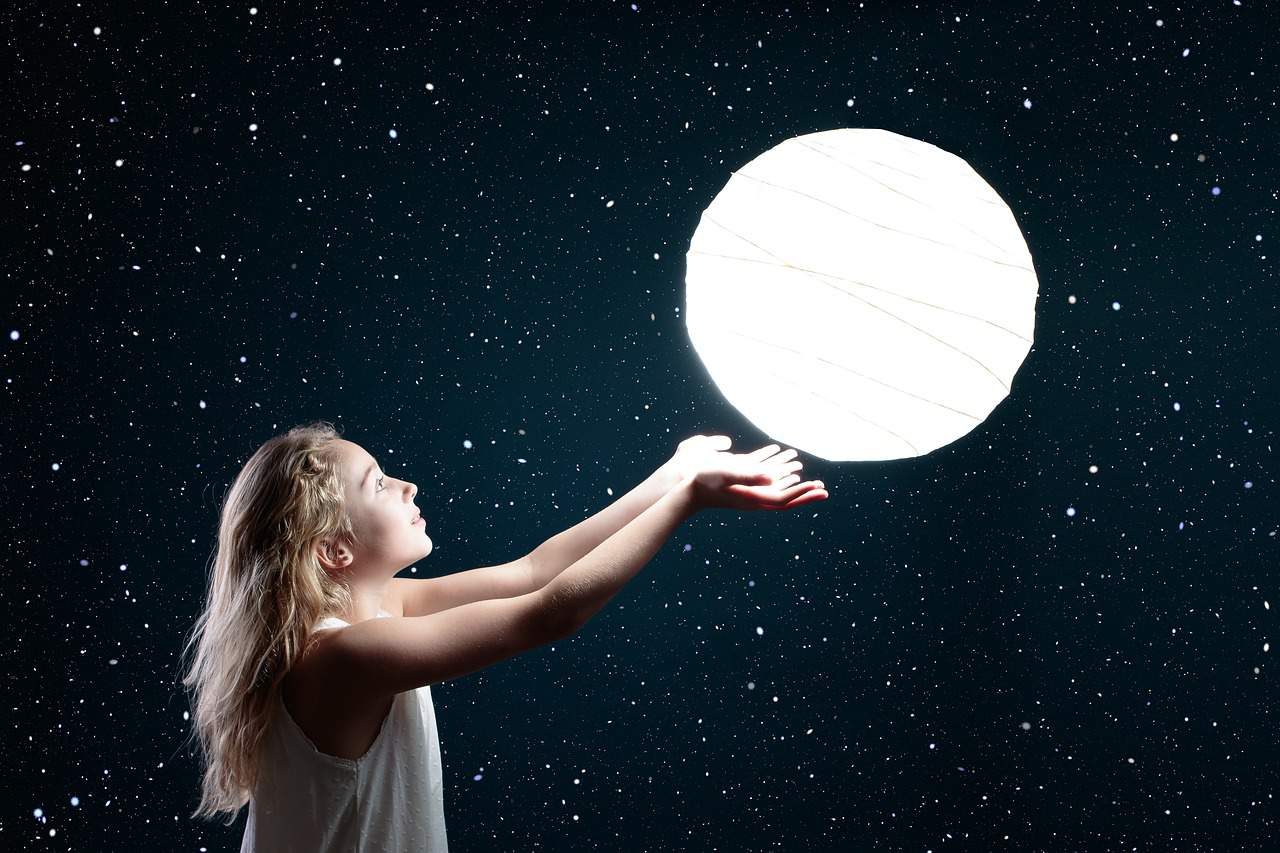 Our Best Telescope For Kids At A Glance
The 5 Best Telescopes for Kids
With so many telescopes on the market, it can be hard to decide which to choose. When looking for a children's telescope, in general, I would say stay away from toy store models. You can get many budget beginner's telescopes which will offer a more rewarding experience for your child.
Here are, in my opinion, five of the best telescopes to get your child started in stargazing and astronomy.
---
1. Orion StarBlast Astro Reflector Telescope
Best Overall
The Orion StarBlast is a great telescope for anybody looking for a high-quality portable scope, both beginners and kids alike. Weighing only 13 pounds, it is quite compact, very easy to set up and just as simple to transport.
A large bonus with this telescope is that it arrives fully assembled—there's no tricky tripod to attach it to or lenses that need fixing. A reflector telescope, it has a sturdy build quality which can withstand most knocks, and a swivel base which is firmly bolted on.
A generous 114mm primary mirror and the quality optics allow for crisp images with plenty of detail., You can easily scan the craters of the Moon's surface and spot the many rings of Saturn. You could even see Jupiter and many of its moons.
In darker, more remote locations, this telescope could be used to find galaxies and more distant nebulae. A fast f/4 focal range provides detailed views and a wide field of vision for clusters and more of the night sky. The Starry Night software which is provided is a great way to increase your kids' interest and knowledge of astronomy.
Two Explorer Kellner eyepieces of 17mm and 6mm are included to start your child off, and an EZ Finder II scope for locating those celestial objects. Once your child has started, you may want to add additional lenses or an Orion Barlow lens for 2x magnification.
Pros
Compact and portable.
Arrives fully assembled and ready to use.
Excellent 114mm aperture for more image detail.
The fast focal length allows for a wide field of view.
Quality optics included and many more available from Orion—a telescope that can last your child many years.
Starry Night software is a great way for kids to learn about the universe.
Tabletop stand for beginners or intermediate astronomers.
Scopefinder included is useful for kids who may not be aware of where celestial objects are.
Cons
Focus at the edges of the image may drop off.
No onboard motor, or facility to fit one, means astrophotography would be difficult with this scope.
At the top end of the price range for a beginner's scope, compared to some other models we have looked at.
Summary
The Orion StarBlast may be one of the most expensive telescopes I looked at but offers excellent value for a high-quality scope your kids will use for years. It's the sort of telescope you may end up stealing off your son or daughter for those astronomy club outings without any shame.
The extra lenses you can fit to the eyepiece ensure this telescope is one that your children will keep hold of and use throughout their entire astronomy adventure. It's built to last and comes from one of the best-known brands in the astronomical telescope market.
---
2. Celestron 21061 Inspire 70AZ Refractor Telescope
Best Refractor Telescope For Kids
Coming from the other big name in astronomical telescopes, the Celestron Inspire 70AZ is another great choice for a child's telescope. This model combines quality optics with ease of use at an extremely affordable price point. Refractor telescopes tend to be easy to use and the sealed tube design is ideal for outdoor use.
An optical tube of 36 inches long uses an objective lens with a diameter of 70mm for detailed views of the night sky above. What I really liked about this telescope was the built-in erect image diagonal which means the images appear the right way up—much easier for kids to understand and can be used for terrestrial viewing as well.
The Celestron includes two 1.25-inch eyepieces of 20mm and 10mm, with a Starpointer red dot finderscope for locating celestial objects. It's much easier for the child to point the telescope in the right direction and focus it before looking at greater magnification.
With this telescope, a child will be able to enjoy close-up views of the Moon, the rings of Saturn and gaze at Jupiter and its many moons. High-quality optics provide crystal clear sharp images and, in darker sky conditions, they may even be lucky enough to spot distant galaxies or nebulae.
The Inspire 70AZ comes with an Altazimuth tripod with easy pan and tilt controls and a deluxe tray for holding any accessories. It's lightweight, portable and easy to set up, although smaller children may need a hand. The package I looked at also includes a smartphone mount for taking photos with their precious phones.
Pros
Affordable, compact and relatively portable.
Good image quality, with lenses which are fully coated for less light leakage.
Adjustable tripod with a large handle and accessory tray built in.
Easy to assemble with no tools required.
Free Starry Night software and app for a phone, Celestron's SkyPortal for iOS and Android.
The 90-degree image correcting prism ensures all images are the correct way up.
A wide range of eyepieces is available for a child to experiment with.
Easy to use with a red dot scope finder.
Cons
Smartphone bracket is the lens cap which turns into an adapter and can tricky to maneuver.
Plastic parts feel a little flimsy—telescope has been designed for low cost and lightweight.
Tripod can wobble a little—not great for astrophotography.
Summary
The Celestron Inspire 70AZ Refractor telescope is a solid choice for the whole family to enjoy astronomy. The ease of use and versatility of the telescope makes it suitable for kids of all ages. The only issue for some younger kids, especially small children under 10 years old, may be the height of the tripod.
It's nice that it can also be used for terrestrial viewing and this is the ideal space gift for the young astronomer who may also enjoy bird-watching or other outdoor pursuits too. It's actually one of the most popular beginner's telescopes on the market and is very child-friendly.
---
3. Twinstar 60mm Compact Kids (Pink)
Best Pink Telescope
If we're still allowed to say it in these PC days, most little girls still love the color pink, and this telescope from Twinstar is a pretty decent scope too. When buying a child's telescope, don't leave your daughter out—astronomy is for girls too. Who knows, maybe even mommy will join you on the next stargazing expedition.
Although we have chosen this telescope for its color, it is a full-featured refractor telescope which is very easy to use. A 60mm achromatic objective lens with a 300mm focal length offers outstanding views of the lunar surface, Saturn's rings and plenty of deep space objects.
The telescope comes with everything needed for use, including an altazimuth full-sized tripod and a selection of eyepieces. Using the 6mm and 20mm eyepieces can offer from 15x to 50x magnification, with a 2x Barlow lens doubling the magnification.
A viewfinder on the side of the scope allows for easier locating of objects before viewing under higher magnification of the eyepiece. When closeby terrestrial objects are observed, they will be upside down, which can be a great way of teaching kids how optics work.
Pros
Pink color may be more appealing to girls, but also available in traditional black.
Super lightweight with aluminum Altazimuth tripod for portability.
Closed tube design of a refractor is more suited for outdoor use.
The adjustable full-sized tripod allows the telescope to grow with your child.
Easy to assemble in under 5 minutes, with a step-by-step color photo assembly guide online.
Easy to use, just assemble, point and view.
Interchangeable eyepieces for better magnification.
Finderscope is ideal for kids or beginners.
Includes a kids pack of a Moon map, Ultimate Factivity Collection space book and Glow-in-the-dark star stickers.
Affordable.
Cons
Construction quality isn't too great—too much plastic and may not be suitable for more boisterous younger kids.
Tripod is quite flimsy and too short for taller users.
Focus can be difficult with very sensitive focusing control and no clear instructions provided.
A beginner's telescope only—won't offer enough for more advanced, for example, teen astronomers. Probably best for 8 to 10-year-olds.
Summary
Although the cons make it sound like I really didn't rate this pink telescope, for a young girl who loves science and the color pink, it's an ideal gift. It's an affordable introduction to astronomy for those middle school years, with some stunning views of the moon and other nearby objects possible.
Just don't expect too much from the telescope as your daughter grows. As she gets more experienced or interested in the celestial objects, the telescope may quickly disappoint. Basically, a great starter scope at a hard to beat price.
---
4. Celestron FirstScope
Best Budget Kids Telescope
As the name suggests, this scope has been designed as a first telescope for beginners or kids. For children who are that little bit older, maybe seven years older or upwards this is an ideal introduction to the wonders of the universe. It's also a great introduction to one of the major brands of the astronomy world, Celestron.
The Celestron FirstScope is a Dobsonian-type of reflector telescope with a Galileo inspired design. The barrel is emblazoned with the names of famous astronomers, to act as a history lesson as well as a star-gazing experience. It's a compact and attractive telescope, which any child would be proud to have in their bedroom.
Lightweight and easy to transport, it's ideal for kids of just about any age, although smaller children may struggle with the height when placed on a counter. It arrives already assembled—you just swivel the barrel, point, and view. A rotating base allows for quick adjustment of the direction.
The 76mm optical tube allows for enough light to be gathered to view some of the best celestial objects, like the Orion Nebula or even the rings of Saturn. With two eyepieces included, 20mm and 4mm, the telescope offers magnification up to 75x.
A Stargazing and Astronomical guide, which is included, offers useful information about the equipment, astronomical terms, and star charts. Further accessories are available, including a accessory kit with two more eyepieces, a finderscope, and a 2.5x Barlow lens to increase the magnification.
Pros
An affordable entry level scope from market leader, Celestron.
Lightweight and very portable.
Stylish design can inspire younger astronomers for more discovery.
Solid construction with a stable base is very child-friendly.
Easy to use for all ages.
Good image quality, with 76mm tube collecting plenty of light.
Two eyepieces for more magnification options.
The telescope is securely bolted to a swivel base for easy adjustment and extra stability.
Can be used straight out of the box.
Cons
Not best suited for outdoor use, with an open tube design.
Younger children, especially toddlers, may need a helping hand when it is table mounted.
No facility for tripod mounting, so a solid table top is essential.
The spherical primary mirror may fail to deliver sharp images when higher magnification is used.
No finderscope.
Summary
Forget the kids, I know many people who have bought this for themselves when first starting out in astronomy. Although it may have some minor flaws, most can be corrected by purchasing some higher quality lenses.
Portable and easy to use, it's suitable for kids of all ages, including big kids like me. Quality optics at an affordable price make this one of my favorite compact tabletop Dobsonians—and it's tough enough to deal with kids too.
---
5. GeoSafari Jr Kids Talking Telescope
Best Toddler Telescope
Normally I wouldn't recommend a toy telescope for kids, but this Educational Insights Talking Telescope is ideal for very young children. It even comes pre-loaded with information from NASA to start them off on their astronomical adventure.
This is the kind of educational toy that toddlers will love, with its bright colors and a level of interaction which actually talks to them—I wish they'd had these when I was younger! This telescope kit comes with 20 slides, eight of which are space-related and include high-quality images from NASA.
An interactive quiz option is easily accessed by pressing large buttons, so your child can test their new knowledge of space in a gameplay manner. The telescope kit supports STEM learning, with hands-on experience of a scientific tool. The GeoSafari JR. also features slides about animals and wildlife, to keep young minds interested.
When the child is ready to explore using a telescope, a 3x magnification scope can be detached for observing the real world. It may not provide great views of the solar system, but for looking at the moon and setting the stage for celestial exploration, it's ideal.
Pros
Loaded with information from NASA.
200 facts and games to keep younger minds occupied—you might even learn something yourself!
Interactive and encourages learning.
Robust and less likely to be broken.
Tabletop mounted for ease of use.
The telescope can be removed for observing real-life phenomena.
The telescope doesn't need to be focused to see nearby objects.
Lightweight and portable—they can take to a friend's house or preschool.
Headphone jack so kids can play with it quietly.
Cons
Small parts and slides make it unsuitable for children under 3 years old, due to potential choking hazards.
No additional slides are available for purchase—only eight of the 20 are space related.
Children will quickly outgrow the telescope—kids over 6 years old may demand more.
Summary
If you have a couple of toddlers with inquisitive minds, this is a great kid's telescope for introducing them to the big night sky. While daddy uses his big telescope, little Johnny can be by his side with his own mini-scope.
Kids as young as three may enjoy this tool, but once they start middle school they will soon be wanting more. A great gift that can be passed down to the next toddler.
---
What to Look for in the Best Telescope for Kids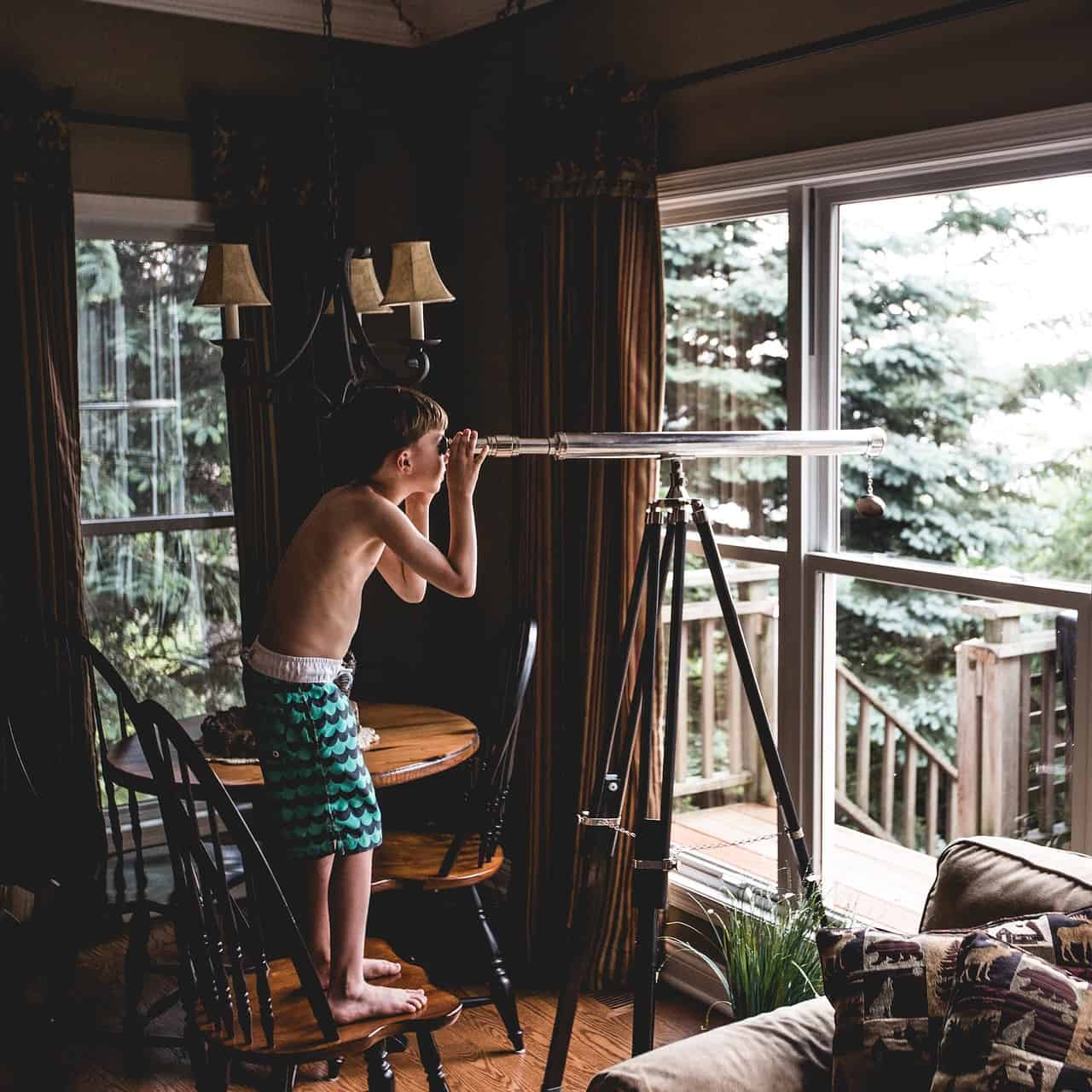 We have already looked in detail in many other of our other guides on this site what to look for in the best telescope. Our best telescope buyer's guide explains the difference between the three principal types of telescopes and the most important features. How do these relate to picking the best telescope for kids?
Note: Most lenses, focal lengths or anything optical will be in metric and millimeters but the physical dimensions will often be in inches. Confusing, yes? I will try to stick with just the mm figures where possible, after all, we talk about 35mm camera lenses not x inches lenses.
Perhaps the most important factor is the age of the child. What might be the best telescope for a five-year-old won't necessarily be the same for an 11 or 12-year-old. To be honest, once you get into those teen years, your child will be able to cope with most full-sized and featured adult scopes.
For most kids over the age of six, I wouldn't recommend choosing a toy telescope, the poor images they offer will often frustrate your child. Likewise, choosing an expensive and over-complicated telescope that your child cannot use may lead to them quickly lose interest.
The following short YouTube clip may be something you can sneak onto their phone or tablet, to awaken their interest more.
Which Type of Telescope is Best for Kids?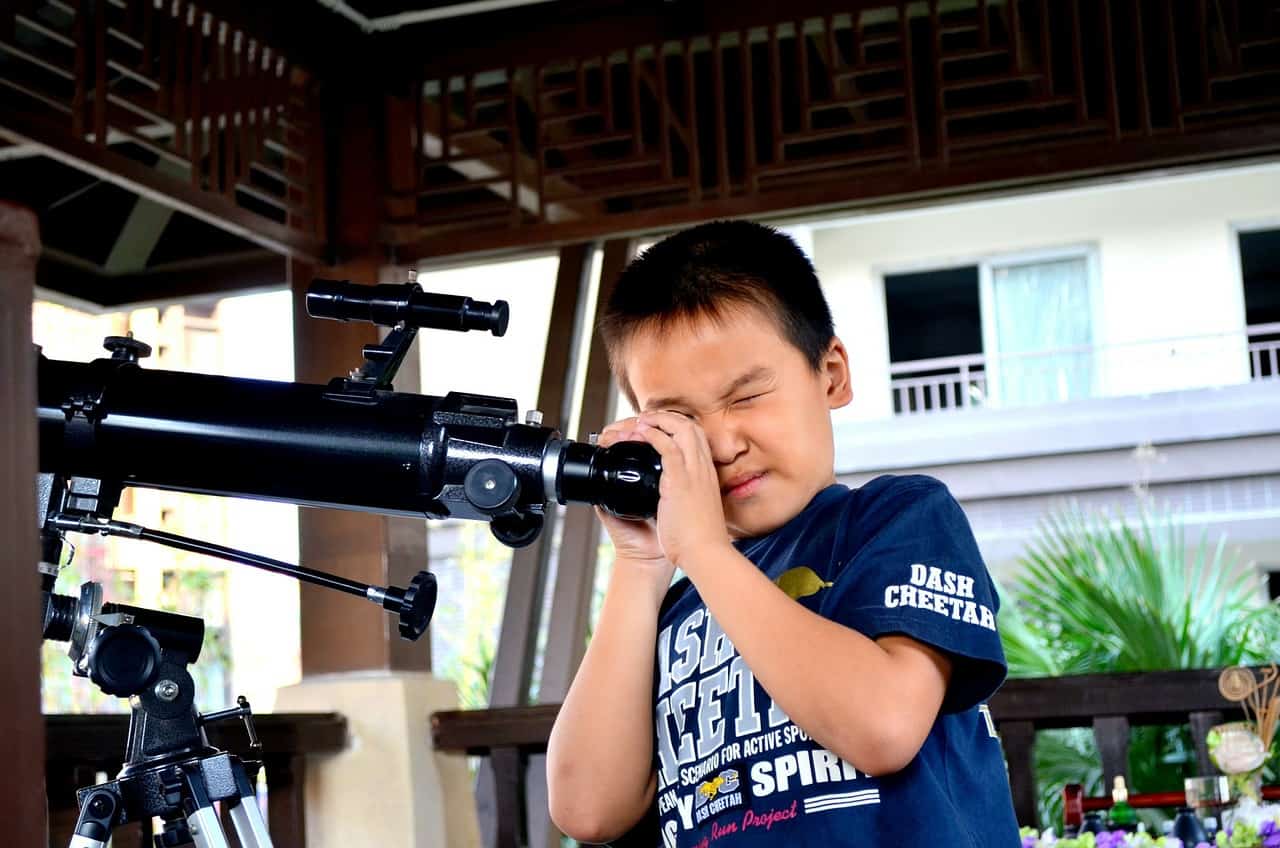 In the reviews, I looked for telescopes which were easy to use, durable, compact and maybe portable at a modest budget. Another important element was the fun factor. I'm not talking Superman plastic toy telescopes, but an appearance which will appeal to kids.
Younger children may be attracted to bright colors of the stars or something they can show off to their friends. Size and portability can be even more important as you don't want something too heavy for your child to handle. Tabletop scopes are ideal for those kids who like to lie out in the backyard watching the stars.
Refractor scopes with their closed tube design will tend to be more durable, with fewer parts exposed and breakable. A sturdy tripod and refractor scope is ideal for taking around to a friends house or on camping trips. Who knows, they may even want to join dad on one of his stargazing trips!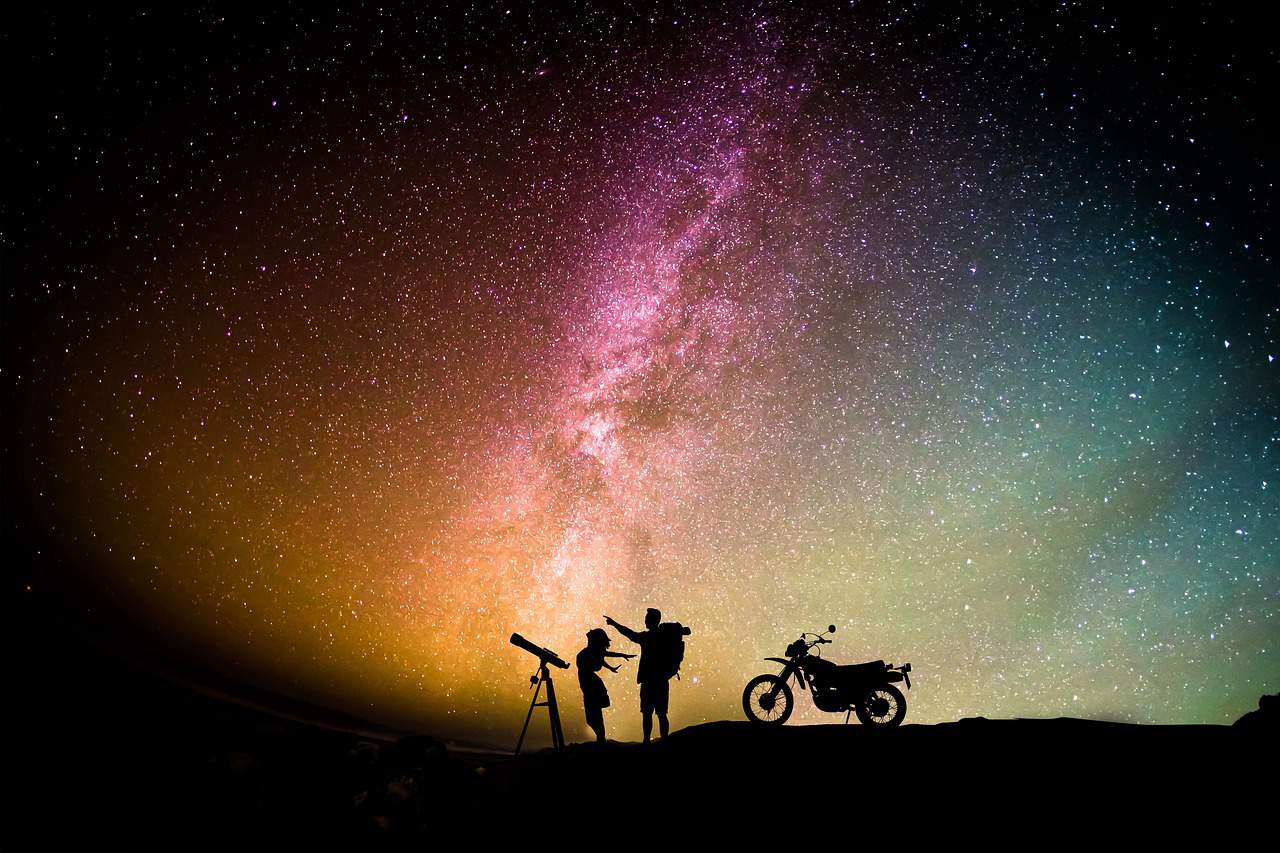 Refractor vs Reflector
Reflector telescopes will only be suitable for viewing celestial objects, while refractor telescopes can view both land or the night sky. Reflector scopes may take up less space and will generally give you a better view for your bucks if your child is only interested in astronomy.
Reflector telescopes will need more maintenance, with collimation of the mirrors needed and careful cleaning of the primary mirror. Refractor telescopes will tend to be slim and long, with a sealed tube design which needs very little maintenance or aftercare. Kids can also use them for their many other outdoor pursuits.
The eyepiece of a refractor will be more traditionally found at the end of the tube and be easier to access for smaller kids. By comparison, the eyepiece of a reflector or Newtonian can often be found on the top of a wide tube, which the child may struggle to reach unassisted.
Compound telescopes will offer the best of both worlds, with mirrors and a sealed tube. The problem with compound telescopes, though, is that they can be much more expensive.
A compound telescope is better suited to astrophotography rather than a kid's first telescope. They may have more power but the images will be dimmer, due to mirrors getting in the way of the light.
To Compute or Not to Compute
There are many premium rated telescopes available that feature computerized systems and motors, which will find and track objects in the sky. Although manufacturers will state how easy they are to use, they are normally too challenging for younger children.
I haven't recommended any of these in the reviews as it is often better for the child to manually learn the geography of the night sky first. It's the difference between teaching your child the times table or just buying them a calculator from the off—even if you do want to play with their new computerized scope.
The Cost of a Child's Telescope
You may be reluctant to invest too much cash in a telescope for your child, especially if you are unsure whether they are going to stick with it. Although some cheaper refractors may suffer from chromatic aberration, you will find kids are not too picky about it.
The main things you will want to concentrate on when buying a telescope for your child are the lens quality and the size of the aperture. If they need more magnification, you can buy additional eyepieces later on.
For a first telescope for a child, it's recommended you look for something between $100 and $200—some less expensive reflectors around $50 can be ideal for older kids. If they stick with it, they will probably need to upgrade in a few years anyhow.
Final Thoughts
If you are a keen astronomer and want to encourage that interest in your kids, catching them while they're young is best. You don't need to spend a ton of money for the best child's telescope but, hopefully, it's a gift they will treasure for many years.
The Orion 10015 StarBlast Astro Reflector telescope is the kind of telescope I wish I had as a beginner. For kids, 8 years and upwards, who are ready to embark on a celestial adventure, it's a great telescope. It's compact, simple to transport and has a generous aperture of 114mm for capturing more of that night sky light and celestial images.
Toy telescopes might be great for toddlers, but please don't buy one for your older kids. You can get a very good real telescope for less than 200 bucks and it's something that will last their entire astronomy career as a GoTo scope, if looked after.
Astronomy is a passion you may want to share with your kids, and isn't that what child-rearing is all about? It's better than chasing Pokemon!