Astrophotography would be so much easier if the Earth didn't keep rotating. Anybody who has ever taken that "perfect shot" just to find a blurred moon or lots of little tails on the stars like illuminated tadpoles will know what I am talking about!
The failure to compensate for the movement of the night sky is why so many amateur astronomers will need an equatorial mount to view celestial images. When considering astrophotography, even the slightest tracking accuracy error will be "exposed" in your shots.
Whether you are just starting out or looking to upgrade we've got you covered, with this buyer's guide to the best telescope mounts for astrophotography. So you'll have more time observing rather than adjusting… and that's what it's all about.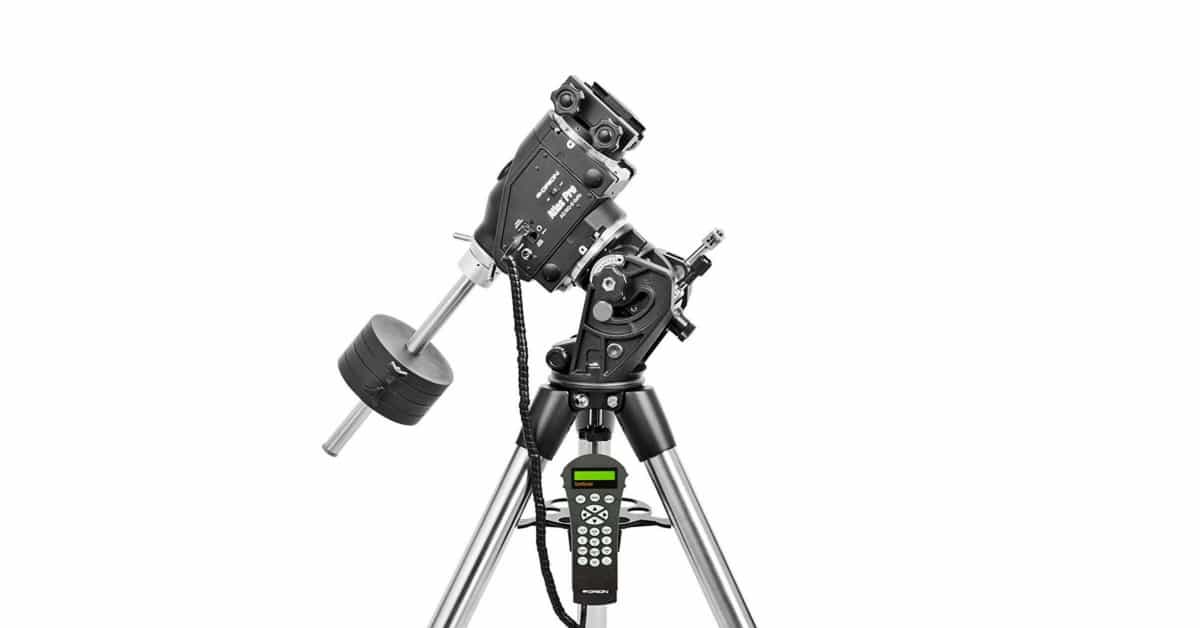 Our Best Telescope Mounts At A Glance
BEST OVERALL
Celestron CGX Computerized German Equatorial Mount and...
RUNNER UP
Orion 10010 Atlas Pro AZ/EQ-G Computerized GoTo...
BUDGET
Orion AstroView EQ Mount & EQ-3M Motor Drive Kit
BEGINNERS
Celestron Advanced VX Computerized Mount
PORTABLE
Orion 9055 Min-EQ Tabletop Equatorial Telescope Mount
BEST OVERALL
Celestron CGX Computerized German Equatorial Mount and...
RUNNER UP
Orion 10010 Atlas Pro AZ/EQ-G Computerized GoTo...
BUDGET
Orion AstroView EQ Mount & EQ-3M Motor Drive Kit
BEGINNERS
Celestron Advanced VX Computerized Mount
PORTABLE
Orion 9055 Min-EQ Tabletop Equatorial Telescope Mount
The Best Telescope Mounts for Astrophotography
With so many different mounts available, it can be hard to know which is best for your telescope. Don't be too shocked by the cost of some; nobody said astrophotography is going to be cheap.
You may see computerized GoTo telescopes selling for less than a good mount, but most will use the AZ mounts which are not optimized for astrophotography. A good astrophotography mount will often make the difference between a lifelong hobby and a load of equipment sat in the cupboard gathering dust.
Here are my favorite five telescope mounts for astrophotography that you can buy in ​2023.
---
1. Orion 10010 Atlas Pro AZ/EQ-G Computerized GoTo Telescope Mount
Best Overall
​Carrying a 44-pound payload, this upgraded Orion Atlas mount supports four pounds more than the popular original Atlas EQ mount. It also weighs less too, at only 46.7 pounds, nearly three pounds lighter than its predecessor. What's not to like, other than the high price?
This mount comes as standard with an upgraded belt-driven motor drive, which can locate over 42,000 celestial objects with more accuracy. What I really liked was the optical encoders which allow you to align the scope and when moved and pointed in a different direction, the mount still knows exactly where it is without need for adjustment.
Pros
Generous 44-pound payload capacity.
Can also be controlled from an illuminated handset, your PC or via a mobile phone with additional Wi-Fi kit.
Three-in-one mount which can be used as AZ mount for casual viewing too, or terrestrial objects.
Smooth yet robust latitude adjustment for polar alignment and includes polar scope.
Cons
Handheld control is not as intuitive as using a computer or phone app.
Less economical than many other models.
---
2. Celestron CGX Computerized German Equatorial Mount and Tripod
Best German Equatorial Mount
​The other big name in astronomy, Celestron, makes what is one of the best German Equatorial mounts, which boasts a payload capacity of 55 pounds. That extra weight of a telescope is going to need something to balance it on the polar axis, which is why German EQ mounts feature counterweights at the opposite end.
This is one robust mount with a large, more stable tripod than many other mounts, and a high torque belt drive motor system. A NextStar computer handheld controller has a 40,000-object database that controls the telescope and a motorized focuser. The CGX mount also includes all-new Polar alignment software with easy-to-use alignment knobs.
Pros
A motorized EQ mount with a huge 55-pound payload capacity.
Spring-loaded worm gears make it one of the quietest telescope mounts in operation.
Internally-routed cables for a tidier and safer appearance.
Latitude range of 3 to 65 degrees, with sliding mount head, is wider than other EQ mounts.
Excellent Celestron GoTo software, including polar alignment.
Stable tripod, but invest in rubber vibration dampening pad.
Cons
A serious financial investment, but one which should last.
Heavy, with a mount head of 44 pounds and counterweights of 11 pounds each.
Can be a struggle to hoist the head on to the tripod.
---
3. Orion AstroView EQ Mount & EQ-3M Motor Drive Kit
Budget Astrophotography Mount
​Another equatorial mount from Orion, this isn't actually the cheapest mount they make. That honor falls to the Orion EQ1 equatorial telescope mount, but that has a rather modest payload capacity of 7 pounds that you will soon outgrow and it doesn't include a motor as standard.
Instead, allowing for up to 12 pounds of payload for your telescope and camera equipment, this mount is ideal for smaller refractors. It's not a computerized GoTo system but rather features a tracking motor, which keeps your scope focused on the object you initially pointed it at.
Pros
An inexpensive and lightweight option for beginners. Great for carrying from the car to set up mid-field.
12 pounds payload should be enough for most 80mm refractors.
Precision EQ-3M mini-motor for automatic tracking of celestial objects.
Removable 8-inch dove plate for quick attachment of a telescope without any tools.
Electronic handheld controller is easy to use, with eight speeds and pause controls.
Cons
12-pound payload capacity can limit which scopes or cameras you use.
No GoTo software, which can make long exposure astrophotography more difficult.
Only an entry-level mount.
---
4. Celestron Advanced VX Mount
Best For Beginners
​The Celestron Advanced VX Mount ups the game by supporting a generous 30-pound payload, way over the Orion Astroview's meager 12 pounds. It still comes in at a good price, however, and is the ideal beginner tripod for newbie astrophotographers who may have, or intend to upgrade to, a heavier telescope.
Weighing in at 47 pounds, it's considerably heavier than similarly-priced mounts, but it supports that heavier payload. It does, however, also include a polar scope, and Celestron's excellent NextStar controller, which makes it great value.
An updated industrial design offers more stability and less flexure, making it ideal for astrophotography.
Pros
The 30-pound capacity should be more than enough for beginner and intermediate astronomers.
German EQ design with counterweights for more balance.
Integer gears with programmable periodic error correction to prevent tracking errors.
A wide range of latitude from 7 to 77 degrees.
Improved electronics in the Celestron NextStar+ hand control, with increased memory for future expansions.
New improved motor housings offer imaging across the meridian without interference.
Includes polar scope and All-Star polar alignment.
Cons
The supplied counterweights at 11 pounds and with 5-inch diameter can be too large for some smaller scopes.
Can be difficult to set up, and regular recalibration of the GoTo software is needed.
---
5. Orion Min-EQ Tabletop Equatorial Mount
Most Portable Equatorial Mount
​Normally I wouldn't recommend going anywhere near a small mount like this one. It only supports telescopes up to 7 pounds and doesn't feature any GoTo software. However, at only 10 pounds in weight and 14 inches in height, it's a great mount to throw in a backpack.
This tabletop tripod features a rugged metal EQ-1 equatorial mount, with a petite tripod with thread on legs. It would be a terrific addition for wide-field astrophotography on any overnight camping trips, and you can even buy a motor drive for it too. Just make sure your telescope isn't too big.
Pros
Inexpensive, even with an additional motor kit.
Lightweight and compact, yet sturdy.
Dual slow-motion control cables for manual tracking and latitude adjustment.
A single, 4.8-pound counterweight is included for balance.
Ultraportable and ideal for camping trips.
Cons
Very limited payload capacity—may be better with a DSLR camera rather than a telescope.
Manual tracking knob will need turning every 30 seconds—long exposures will need the additional motor drive.
Needs a firm surface, very difficult, nigh on impossible to attach to any other tripod.
---
Which Type of Mount is the Best Telescope Mount for Astrophotography?
When you first start looking at mounts for your telescope and astrophotography you will often encounter terms like equatorial or altazimuth. These simply refer to the two most common types of mounts available, but which is the best mount for astrophotography?
Most seasoned astrophotographers will recommend equatorial mounts for astrophotography, but why? Surely anything with a computer that points and moves the telescope for you is good? I found this hard to understand when first starting out as finding who makes the best telescopes was an easier task, so let's take a look at the different mounts.
Altazimuth or Non-Equatorial Mounts
The most simple type of non-equatorial mount is the altazimuth mount, which allows movement in two axes and pointing in any direction. The azimuth axis allows the telescope to move horizontally, while the altitude enables the scope to move vertically.
Perfect for viewing the night skies and planets above, you will often find camera tripods use this type of mount too. They allow for easy aiming of your scope, a steady viewing experience and are comfortable to use. It's a simple system which allows for pointing your telescope in any direction and is well suited to casual stargazing.
Computerized altazimuth mounts are used by many of the popular GoTo telescopes which can follow the stars as the Earth rotates. Objects will stay in the center of the eyepiece for constant observation. However, the geometries involved will cause the rest of the field of view to rotate, which can be a problem for long exposure shots.
Equatorial Mounts for Astrophotography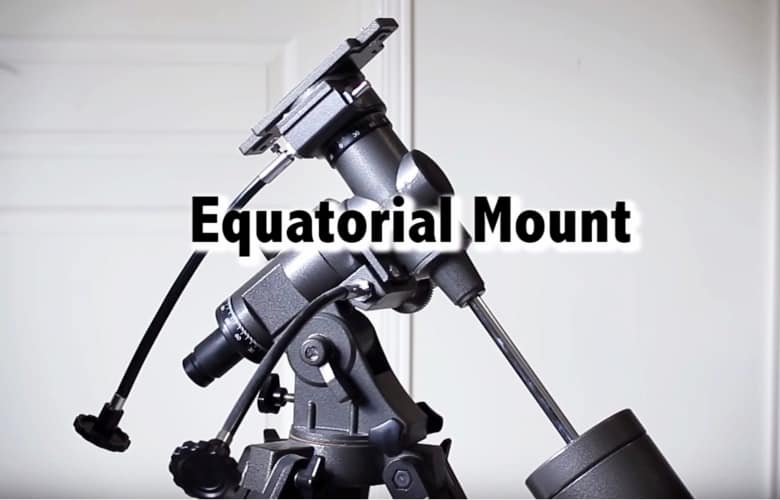 ​Equatorial mounts are designed to compensate for the rotation of the Earth and to track the motion of stars and other celestial bodies. The Earth performs a full rotation every 23 hours, 56 minutes and 4.09 seconds, but fortunately, most celestial objects you will be observing are so far away that this movement is barely noticeable to the human eye.
When it comes to astrophotography, especially long exposure shots, that movement may leave a motion blur, which will appear as star trails.
Equatorial mounts will use a polar axis, or right ascension axis, which is aligned to the same axis of rotation as the Earth. In combination with a declination axis running parallel to the polar axis, you can point your scope at any part of the sky. Once locked on to an object you want to observe only the polar axis will turn to track the object.
Once an equatorial mount is polar aligned, the mounted telescope can be aimed using setting circles on both axes. Motorized drives on both axes allow for the accurate positioning of the scope, while the polar or right ascension (RA) axis will follow the spin of the globe for tracking an object.
Sound confusing? The following YouTube video explains in more detail how an equatorial mount works.
​The Advantages of Equatorial Mounts for Astrophotography
Although you can point an altazimuth mount at any part of the sky, you are going to have to move it both horizontally and vertically to track. This will cause the field of view to rotate in the eyepiece as you track the star. Altazimuth mounts can be ideal for casual stargazing, but will be too inaccurate for astrophotography.
Setting circles on an equatorial mount will allow for the user to manually position the scope using a coordinate system. Pretty much like zip codes, as long as you know the coordinates of the object you wish to view, you can easily find the object.
You can track a target manually by turning the right RA knob, although equatorial mounts come into their own with motors. Motors on one or both axes will allow for tracking a star without repositioning the scope every time.
You could easily watch your target for several minutes or hours without making any adjustments—ideal for long exposure astrophotography. Some altazimuth mounts may have motorized mounts for star tracking, but the image will rotate in your eyepiece.
Plan for the Future When Buying a Mount
When you are choosing your first mount for astrophotography, you should always plan for the future. Cheap equatorial mounts may be able to hold your current telescope and equipment stable, but what about your next telescope?
Astrophotography can be addictive and you may regularly find yourself upgrading to a larger, more powerful scope. My wife is constantly grumbling every time a new telescope arrives, so at least I'm not having to justify a new mount too.
More expensive and better quality mounts will have a greater payload capacity, and you should always aim for one with a least double the weight of your equipment. If a rated payload is 30 pounds, does that include the counterweights too, or just your camera and telescope?
Quick recap: The 5 Best Rated Telescope Mounts For Astrophotography For 2023
Conclusions
You may be disappointed that all our reviews have come from just two brands, Celestron and Orion. However, they are the two major players when it comes to astronomy equipment and tend to make the best mounts for astrophotography.
As we stated earlier, astrophotography is not a cheap hobby. If you buy a cheap equatorial mount, you will only be disappointed with the results and it may put you off your new hobby.
In my opinion, the Orion 10010 Atlas Pro AZ/EQ-G Computerized GoTo Telescope Mount is the best telescope mount for astrophotography you can buy. It's stable, accurate and includes compatibility with Orion's EQMod software, a personal favorite of many astrophotography buffs. It's pretty cool that you can use it as an AZ mount too.