The Celestron PowerTank Lithium Pro, while at its core being a versatile high-capacity power bank, is more suited to the needs of astrophotographers and astronomy enthusiasts before anyone else, especially if you own a computerized telescope that requires power to operate. 
It will allow you to enjoy more than one night of uninterrupted star watching with your telescope while also charging your other electronic devices like a smartphone or a flashlight, thanks to its dual USB ports.
There's also a built-in LED light inside the Celestron PowerTank, which also brings the red light feature, which is very important to have for any astrophotographer, so their night vision isn't affected while they're observing their surroundings. 
If you want to learn about every cool feature the Celestron PowerTank Lithium Pro brings to the table, but you also want to know how it operates and is it the right choice for your astronomy needs, just keep on scrolling.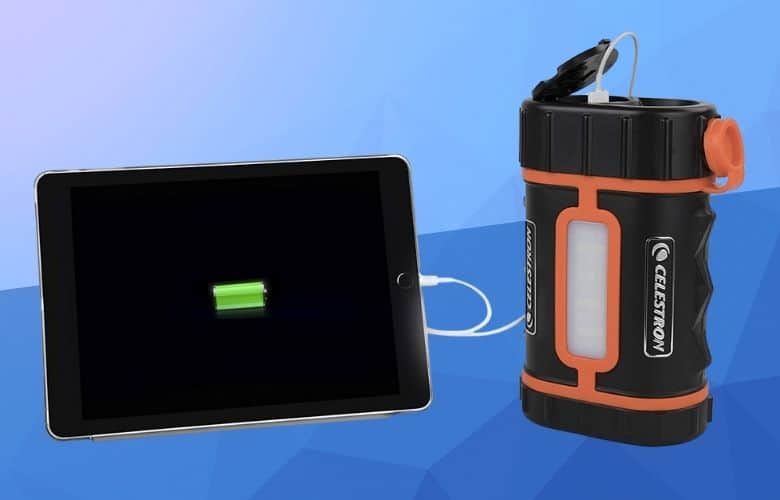 Celestron PowerTank Lithium Pro
Voltage: 12 Volts | Capacity: 158.74 Wh | Battery Life: 17 hours | Battery Type: Lithium-Iron Phosphate | Charge Time: 6 hours | Lifespan: 2000 charge cycles | Weight: 4.5 pounds | Dimensions: 6 x 4 x 8.5 inches | Lighting Color: white and red | Number Of USB Ports: 2
Pros
Excellent capacity
Dust and water-resistant 
Long battery life
Has a red light feature
Lightweight and easy to carry around
Capable of charging many different electronic devices
Long life span
Cons
Long charging time
USB charging can stop at lower power levels
---
Celestron PowerTank Lithium Pro Buying Guide
Features & benefits
Large capacity battery
The 158 Wh integrated battery capacity allows the Celestron PowerTank Lithium Pro to power any computerized telescope with a 12V port for up to 17 hours, meaning more than one night of stargazing on one single charge. 
It also gives you a lot of room to charge your other devices, like your smartphone or camping lantern, while also retaining enough juice to power your telescope for at least one night. It's entirely up to you to decide how to distribute the available battery capacity. 
On top of such impressive capacity, the integrated battery also uses eco-friendly Lithium iron phosphate chemistry and is capable of up to 2000 charging cycles, meaning you can drain it to 0% and charge it to 100% 2000 times. So, it will last you even longer if you don't empty it to zero every time. 
Dual "red and white" flashlights
Being a flashlight is not a primary function of this battery tank; it's useful to have when you're in the dark, and you want to quickly make some precise adjustments to the position of your telescope or some of the settings on your camera.
This is why it's important that the red light feature is included, since it will allow you to preserve your night vision, meaning that it will be a much less jarring change for your eyes to adjust to the dark once again after you turn off the light than it would be with a more traditional white light. 
However, the included white LED light will certainly offer more intensity, so it's a better choice for lighting more distant subjects or finding your way around your surroundings or your campsite. 
Wide variety of power ports
The Celestron PowerTank Lithium Pro has five different ports. There are two 12V tip positive connectors and two USB ports. All of them are used for charging different types of devices. There's also a 16V power port, which is only used for charging the PowerTank with the supplied charger. 
The first 12V DC port provides 5A of power and is used to power your computerized telescope, while the second one provides 10A and is meant to be plugged in your car's cigarette lighter output and charge the PowerTank itself.
The included USB ports also provide different amounts of power. One is a 5V quick charge port and is perfect for giving more juice to your smartphone or a tablet, while the other one also sits at 5V (at 2.1A), which is handier for recharging a flashlight or a bluetooth speaker if you like to listen to music while observing the night sky. 
As a bonus, Celestron also includes four different adapter power plugs in the package, so you can always recharge the battery itself from a wall outlet no matter what country you find yourself in. 
Resistance and durability
Another benefit of getting a telescope power source like the Celestron PowerTank Lithium Pro is that it will be able to resist dust and water, as well as survive any accidental drops thanks to its tough and tightly assembled outer shell. 
Its LiFePO4 battery is also more resistant to higher temperatures than other types of batteries and won't be a fire hazard if accidentally punctured.
Portability 
Thanks to its low weight of only 4.5 pounds and compact size, the PowerTank Lithium Pro will easily fit in any backpack or carrying case, so you'll be able to have it with you wherever you go. It also won't be too heavy for your tripod if you decide to attach it to one of its legs, which you can, thanks to the inclusion of pretty strong velcro straps. 
Ease of use 
Another great thing about the Celestron PowerTank Lithium Pro is that it's dead simple to use. All the built-in ports are easily accessible; you just need to uncover the protective covers and plug in the cable of your choice. 
There are two buttons available and are located at the top of the battery. The first one is the  Power/Status button, and besides turning on the battery, it will also show you how much juice is left in the tank, all with the help of four status LEDs. The second Red/White button is used to turn on the flashlight function and switch between available lighting colors. 
Compatible devices
Thanks to its many different ports and their universal nature, the Celestron PowerTank Lithium Pro is compatible with most USB rechargeable electronic devices and telescopes with standard power ports. 
To connect the battery to your telescope, you'll need one with a 12V DC power port, which most computerized telescopes on the market should have. 
The included USB ports will allow you to charge additional lighting sources like flashlights and lanterns, smartphones and tablets, a GPS unit, or even your camera if it supports USB charging. 
Celestron alternatives to the PowerTank Lithium Pro
Celestron – PowerTank Lithium
This is a more portable and affordable alternative, but also one with a smaller capacity 84.4 Wh battery. Otherwise, it has all the same features, like the red and white light function, excellent protection from the elements, and ease of use. 
Celestron – PowerTank 12
The Celestron PowerTank has the same 84.4 Wh capacity as the PowerTank Lithium, but an entirely different form factor. It's heavier and bulkier and focuses more on the flashlight aspect, rather than being made to fit on a leg of a tripod.
It also has one additional 12V cigarette lighter port and a useful handle on the top so it can be easier to carry and easier to use as a flashlight. It does lose the water and dust resistance of the PowerTank Lithium models, so it's not an ideal choice for more extreme environments. 
Celestron – PowerTank 17
The Celestron PowerTank 17 is an upgraded model of the PoweTank 12. It brings a larger 204 Wh battery, a built-in AM/FM radio to help you stay up to date with weather forecasts and the news, and also a siren SOS function, thanks to the speaker unit found above the LED light. 
Conclusion
The Celestron PowerTank Lithium Pro is one of the best telescope batteries on the market. It's all due to the combination of high capacity, red light function, easy-to-use controls, water and dust protection, and lightweight and portable body that can easily be attached to any tripod. 
As a bonus, it also includes two USB ports. Thus, besides providing power to your computerized telescope, it can also perform double duty as a power bank and charge your smartphone or a dedicated GPS device.
It's a great example of a telescope battery that's capable of powering a telescope for a very long time and has all the features necessary to help you help make your life easier while you're spending time outside and stargazing, but can also easily be stored everywhere, without you ever having to worry about its ability to stay in great working condition and retaining its charge.