Whether your camera equipment is a hobby or a livelihood, it is an investment that you want to keep safe. Even if you get caught off guard in a sudden rainstorm, waterproof camera bags will keep your gear dry and in working order.
In this article, we created a list of the best waterproof camera bags out on the market. Our favorite happens to be the Lowepro DryZone 200 Backpack, so keep reading to find out what makes it so unique.
Our Top Waterproof Camera Bags At A Glance
List Of The Best Waterproof Camera Bags to Buy
Lowepro DryZone 200 Backpack
Best overall waterproof camera bag
No products found.
Brand: Lowepro | Interior Dimensions: 12 x 5.9 x 16.9 inches | Exterior Dimensions: 14.6 x 11.4 x 19.1 inches | Number of Compartments: 8 | Weight: 6.94 pounds
The Lowepro DryZone 200 Backpack claims to be the world's first waterproof, soft-sided camera backpack. The watertight design keeps everything inside completely dry, no matter the amount of water. An inner drypod and patented zipper technology further keep moisture away from your equipment.
Inside the inner drypod, there are several compartments for storing your camera, lenses, flash, batteries, and everything else you'll need for taking nighttime photos. There's also a zippered pouch for items that don't need to be as secure but still want to keep dry.
The outside of the Lowepro DryZone 200 has two mesh pockets on the outside of the pack for items you need to grab quickly. The mesh design lets you see what you're reaching for while acting as a drain for any water that collects inside the pockets.
This backpack also has a "tuck-away" tripod holder that extends from the bottom of the bag. This holder helps keep the weight of the tripod off your back. Bungee cords can then be used to hold the tripod in place.
The Lowepro DryZone 200 further has customizable straps and lumbar support to maximize comfort as you wear it. This support comes at the cost of the backpack being quite heavy.
Pros
100% waterproof design
Several internal compartments for storage
Patented zipper technology
Two mesh easy-access pockets
Tripod holder
Cons
---
Endurax Waterproof Camera Backpack
Second best overall waterproof camera bag
Brand: Endurax | Interior Dimensions: 10.5 x 6 x 6 inches | Exterior Dimensions: 12 x 7.5 x 17 inches | Number of Compartments: 4 | Weight: 2.86 pounds
The Endurax Waterproof Camera Backpack has a lot of cool features that really make it stand out as a camera backpack.
The main area of the backpack contains several areas for storing essential accessories. There's a slot for a laptop, mesh pockets for a phone and tablet, places to put important documents, and even a place to keep a water bottle if you get thirsty shooting starscapes.
Underneath all that storage is a removable shoulder bag designed specifically for your camera and supplies. This rectangular bag zips securely in place so you can transport everything as one unit. You can also carry just the camera bag on its own.
The camera shoulder bag comes with customizable dividers so you can securely place your camera, lenses, batteries, cords, and the other tools you need to bring.
The entire backpack is made with a waterproof polyester material to keep everything you're bringing is safe from the elements. This fabric is reinforced to be durable, and robust zippers keep moisture out at opening points.
The bag also comes with external straps to hold a tripod in place on one side. It's unlikely you'll be able to fit a tripod inside, but this still removes the need to carry a tripod separately.
Pros
Removable camera shoulder bag with customizable dividers
Storage for essentials like phone, tablet, personal items
Waterproof polyester
External attachment for a tripod
Cons
Limited options to expand the backpack to fit on your back
---
Pelican 1200 Case With Foam
Most durable waterproof camera bag
Brand: Pelican | Interior Dimensions: 9.25 x 7.12 x 4.12 inches | Number of Compartments: 1 | Exterior Dimensions: 10.62 x 9.68 x 4.87 inches | Weight: 2.87 pounds
The Pelican 1200 Case is for those who need a camera case that can take a beating. The hard shell is not only waterproof but also dustproof and crushproof. Whatever you throw at it, the Pelican 1200 should have no trouble.
The case uses O-rings to seal the interior of the case from water and dust. Furthermore, there's an automatic pressure equalization valve designed to balance exterior and interior pressure, keeping water out. This works well in rain and dew-soaked nights hunting for photo ops.
A latch on either side of the handle keeps the seal intact while the case is closed. These latches are easy to open so that you can get to your gear quickly. They feature a double-throw design to lock everything down tight when not in use.
Looking internally, the Pelican 1200 comes with a thick layer of foam that covers the volume of the case. You'll need to remove small pieces of foam to carve out a place for your camera and accessories to sit. Foam covering the lid will keep your gear in place inside the case.
The case is small enough to not be bulky but will hold a camera and a lens or two. The Pelican 1200 is certainly a lightweight way to protect your gear at under three pounds while empty.
Pros
Extremely durable
Waterproof, dustproof, and crushproof
Double-throw latches and O-rings for a solid seal
Lightweight
Cons
Have to cut out the foam yourself
A little on the small side
---
S-ZONE Waterproof Canvas Leather Camera Bag
Best waterproof camera bag for on the go
Brand: S-Zone | Interior Dimensions: 7 x 4 x 9 inches | Exterior Dimensions: 8 x 5 x 10 inches | Number of Compartments: 3 | Weight: 1 pound
The incredibly lightweight S-ZONE Waterproof Canvas Leather Camera Bag comes in at just one pound when empty of gear. This makes the S-ZONE bag versatile and perfect for using your camera for quick trips or smaller events.
Usable by men or women, the camera bag is also quite stylish to wear. It fits over the shoulder, and its small size makes it easy to take anywhere.
This camera bag is constructed from a waterproof canvas material to keep your belongings dry and safe. The faux leather trim and strong stitching further enhance this product's design.
Inside, two compartments allow for a camera and an extra lens. Another pocket in the front is an excellent place to store batteries, cables, memory cards, or a cell phone to glance at a star chart.
These compartments are padded with a soft cotton material to keep your components safe. The cotton is also designed to absorb shocks from a drop and vibrations that might otherwise scratch your gear.
Two quick-snap buckles keep the camera bag closed until you need to use it. The canvas material folds down over the zippered opening to keep water from getting inside.
If the smaller model doesn't fit your gear, there is a larger model available that can hold more (or larger) items.
Pros
Stylish design
Can be used for everyday use as a shoulder bag
Soft, durable cotton interior
Comes in two sizes
Very lightweight
Cons
Small interior compartments
A bit bulky
---
Peak Design Everyday Backpack 20L
Best expandable waterproof camera bag
Brand: Peak Design | Interior Dimensions: 16.5 x 11 x 5.5 inches | Exterior Dimensions: 18 x 12 x 6.75 inches | Number of Compartments: 3 | Weight: 4 pounds
The Peak Design Everyday Backpack lives up to its name as a backpack for any type of use. While it works well for astrophotography, don't be afraid to use it for travel or everyday use.
For bringing the gear you'll need to capture that celestial landscape, the Peak Design pack comes with flex-fold dividers for a seemingly infinite array of configurations. These dividers not only help compartmentalize but also keep gear accessible and off the floor of your bag.
Side compartments on either side of the backpack add even more storage options for things like cables or a cell phone. These side compartments are just as waterproof as the rest of the backpack to keep things dry.
The entire backpack is covered in a 400D nylon shell that is entirely waterproof. Premium exterior zippers seal backpack openings to keep water out.
This backpack has a maximum capacity of 20 liters but can be condensed down to 12 liters when you have less gear to carry. Reducing the volume helps keep the backpack from looking and feeling too bulky while on your back.
The Peak Design Everyday Backpack has comfort in mind as well. Padded shoulder straps keep the pressure off your shoulders. A sternum and waist strap help distribute the weight of the backpack to other parts of your body.
Pros
Very customizable flex-fold dividers
Waterproof 400D nylon shell
Expandable design
Several straps for a secure fit
Cons
Some users complain the backpack is not comfortable
Zippers can be hard to open
---
MOSISO Mirrorless Photography Camera Bag
Most easily accessible waterproof camera bag
Brand: Mosiso | Interior Dimensions: 16.54 x 11.42 x 5.5 inches | Exterior Dimensions: 17.5 x 11.7 x 8.2 inches | Number of Compartments: 11 | Weight: 3.39 pounds
The MOSISO Mirrorless Photography Camera Bag has a durable hard outer shell that is both waterproof and shockproof. Whether you drop this bag into a stream or on concrete, the MOSISO Mirrorless Photography Camera Bag should be able to handle it.
The front of the bag zips open and reveals the entire contents inside. Doing so provides easy access to all of your gear, conveniently laid out in several different compartments. There's ample storage for a camera, lenses, remote shutter, and anything else you'll need for long exposures.
Two additional pockets on the inside cover are usable for storing anything from cables to batteries or smartphones.
A handle on top of the bag makes it easy to carry by your side, but the MOSISO Mirrorless Photography Camera Bag also has two shoulder straps should you want to carry it that way.
One side of the bag has a tripod holder to help offset the weight should you wish to attach one. A strap on top of the pack further holds the tripod in place. The other side of the bag has a pocket for a water bottle.
Pros
Hard, durable exterior shell
Shockproof and waterproof
Easy access to all your gear inside the pack
Tripod holder
Cons
Zippers tend to break easily
---
Manfrotto MB PL-MTP-120 Backpack
Most customizable waterproof camera bag
Brand: Manfrotto | Interior Dimensions: 11.42 x 6.69 x 15.75 inches | Exterior Dimensions: 12.99 x 10.63 x 17.32 inches | Number of Compartments: 9 | Weight: 3.92 pounds
The Manfrotto MB PL-MTP-120 Backpack comes with several interchangeable dividers that allow you to organize your setup in any way you choose. You're not locked into a particular camera or lens size with this backpack.
Several access points make it easy to get to your gear in a flash. There's no need to dig through and displace layers of fragile equipment to get to the component you need. The bag also comes with a special compartment for a laptop or other electronic device.
The backpack itself has a special water-resistant coating but also comes with a rain protector that folds out to block any rain from getting inside. On the other side of the rain protector is a silver lining that offers UV protection on hot days.
The outside of the pack features external connections to attach a tripod to. This way, you don't have to carry your tripod or bring a second bag along with you.
While large enough for most cameras and your favorite accessories, the Manfrotto MB PL-MTP-120 Backpack is light to transport around at just four pounds. It also meets standard requirements for use as a carry-on item.
Pros
External tripod attachment
Interchangeable dividers for custom organization
Rain and sun protector
Several access points for gear
Cons
More towards the heavy side of backpacks
Not waterproof without the shell
---
Waterproof Camera Bag Buying Guide
How Much Gear Do You Need To Carry?
When picking out a waterproof camera bag, this is the main question you need to ask yourself. Take a look at all the gear you'll need to bring for an astrophotography trip and build a backpack around that.
Plan for your camera, lenses, batteries, smartphone, and any other accessory you rely on to get great shots. Don't forget to consider a way to attach your tripod so you don't have to carry it separately.
Keep in mind the length of lenses both attached and removed from your camera. You want to be efficient with the space your gear takes up so you can minimize the size of the bag you need.
How Will You Carry Your Gear?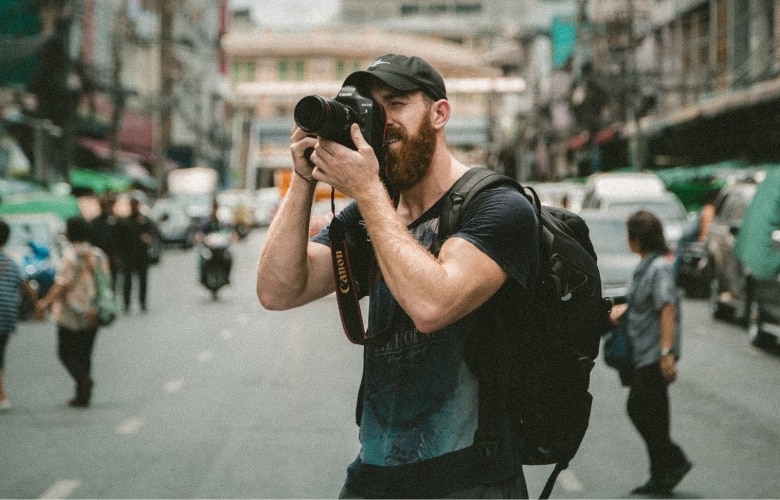 Keep in mind that you still need to get your pack out to the place you're going to snap photos from. To this end, there are many types of camera bags. Small pouches and waist belts work for smaller point-and-shoot cameras but are not big enough for a DSLR and your extra gear.
The best bags for astrophotographers are shoulder bags, backpacks, and hard cases. That being said, hard cases are best used for more extreme conditions where you really need to be careful about damaging your equipment.
There are subtle differences between shoulder bags and backpacks, with the main one being how you wear them – over one shoulder versus on both shoulders. Backpacks tend to be a little bit bigger and can hold more things.
Function Versus Form
Waterproof camera bags like the Pelican 1200 are all about getting the job done. They do a fantastic job of protecting your equipment but lose points if fashion is concerned.
Maybe fashion isn't a selling point if you're out by yourself late at night snapping pics of the sky, but who knows. Many waterproof bags are made from canvas or faux leather that's pleasing to the eye.
Durability
A waterproof camera bag does little good if it can't stand up to whatever conditions you're going to be shooting in. For extreme or rocky hikes, having a hard shell on your backpack can spell the difference between working and broken gear.
Light walks from the city don't require anything so extreme, and you can likely get away with canvas or nylon design. These packs will still protect your things from the elements but are less durable in the event of a drop or a misstep.
Extra Features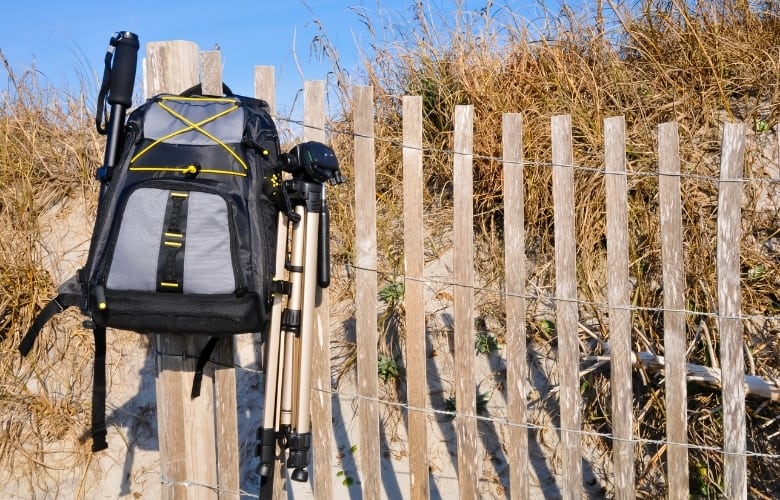 A good waterproof camera bag is going to keep your things dry while providing other features that make your life easier on a late night shooting starscapes.
It's unlikely a tripod will be able to fit inside your pack, so it may be wise to find a backpack with a tripod holder that helps distribute the weight of that tripod. Long exposures require the use of a tripod, and strapping it to your backpack frees up your arms for other things.
Easy access points help you get to items you need in a pinch, minimizing any sort of slowdown when that shot is in view. These points are not always waterproof but can be a lifesaver when you need a flashlight in a hurry.
Conclusion
With all its features, the Lowepro DryZone 200 Backpack wins out as the best overall waterproof camera bag.
This backpack is so waterproof that it actually floats on water. Once inside the sealed drypod, this pack has the ability to carry quite a bit of gear in multiple compartments. Your equipment will stay firmly in place no matter where you find yourself while hunting for the perfect photo.
The DryZone 200 makes it easy to attach a tripod or other large pieces of gear to the outside of the pack. Even though it's a bit heavy, customizable straps and lumbar support will help you carry this pack as long as need be.
If this waterproof camera bag doesn't sound like your cup of tea, there's a good chance one of these other models will have just what you need.