The Celestron Powerseeker range of telescopes is specially designed for aspiring astronomers. This 127mm aperture Newtonian reflector is the top model in that range and a popular telescope for beginner to intermediate astronomers.
Coming from Celestron, an award-winning brand with over 50 years of experience in the telescope market, you can be assured of the quality. Our Celestron 127EQ review looks at what, if any, compromises they have made to produce this scope at such a desirable price.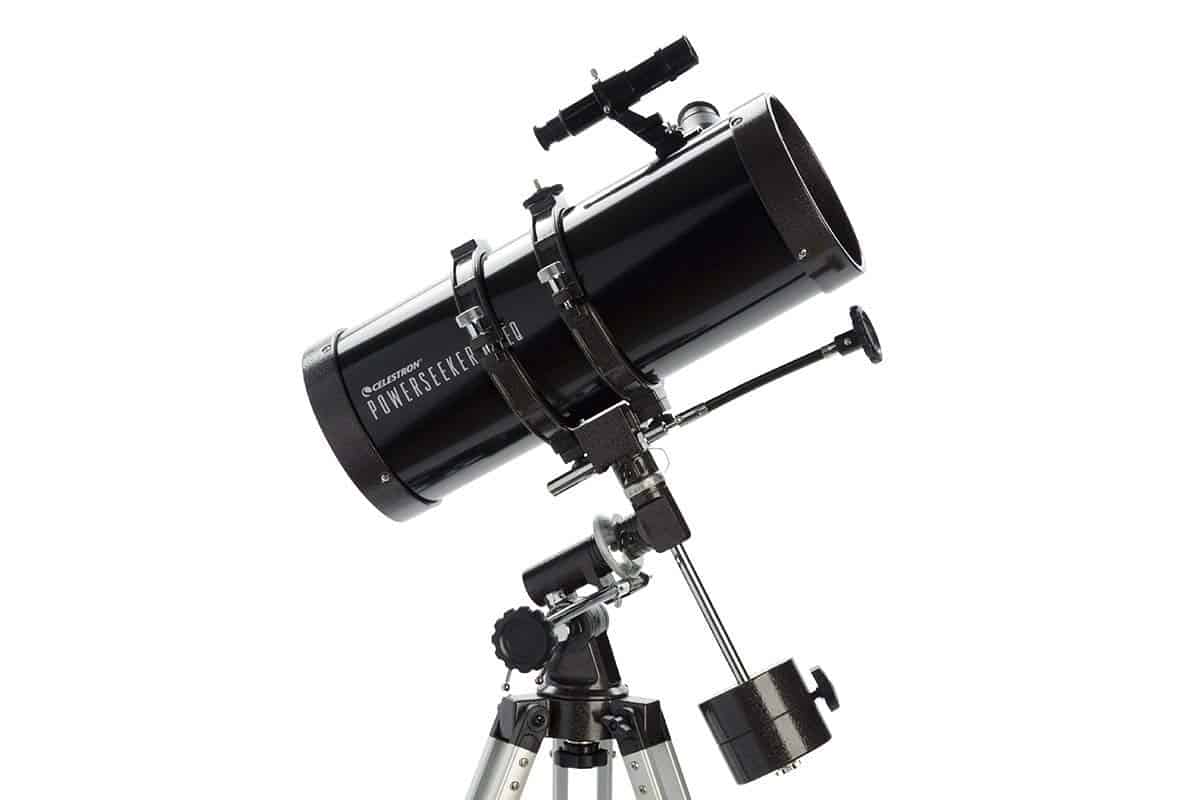 Celestron PowerSeeker 127 EQ Telescope Review
Optical Design: Newtonian Reflector | Aperture: 127mm (5 inches) | Focal Length: 1000mm (39 inches) | Focal Ratio: f/7.87 | Eyepieces Included: 20mm (50x Magnification), 4mm (250x Magnification), 3x Barlow Lens | Highest Useful Magnification: 250x | Lowest Useful Magnification: 18x | Limiting Stellar Magnitude: 13 | Finderscope: 5×24 | Mount: Aluminum German Equatorial | Optical Tube Length: 508mm (20 inches.) | Dimensions: 33 x 17 x 11 inches. | Weight (Fully Assembled): 21.38 pounds.
First Impressions and What's In the Box
The first thing which strikes you when you receive your new Celestron PowerSeeker telescope kit is how easy it is to set up. A no-tools-required assembly just involves attaching the telescope tube to a preassembled tripod and equatorial mount. You can be using this telescope within minutes of unpackaging it.
The beauty of a Newtonian telescope is the longer focal lengths which can be offered in much shorter tube sizes—1000mm focal length in a tube which is only 20 inches (508mm) long . You could easily fit this telescope and tripod in the trunk of a car and still have room for your other equipment, or maybe a late night picnic.
Everything you need to get started is included, with two eyepieces and a 3x Barlow lens for different magnification options. A lightweight but sturdy aluminum tripod is equipped with an equatorial mount featuring slow motion controls for better tracking of the stars.
As a bonus, you receive a copy of Starry Night astronomy software with a database of over 10,000 celestial objects.
Pros
Unbeatable value for money.
Largest aperture of all the Celestron PowerSeeker scopes.
Large 5-inch primary mirror.
HQ optics with multi-coatings for more vivid images.
High levels of contrast.
Lightweight and compact, with a short 20-inch tube.
Ultra-portable and easy to carry around.
The included Barlow lens adds more magnification options to your eyepiece collection.
Easy to assemble with no tools needed.
Beginner friendly.
2-year warranty from Celestron.
Cons
The open tube design will require more care with the mirror exposed to the air and dust.
Collimation can be tricky to master for beginners.
The 4mm eyepiece and Barlow lens will be far too powerful if used together.
You may need to upgrade the eyepieces over time—a 12mm or 15mm Plossl would be a good start.
The slow motion controls can be difficult to operate on the mount and cause vibrations resulting in distorted images.
Wobbly tripod—cheaper plastic parts on the tripod may not be the sturdiest.
Unstable locking screws could cause your scope to slip—it is fragile and extra care should be taken.
---
The Optics of the Celestron Powerseeker 127EQ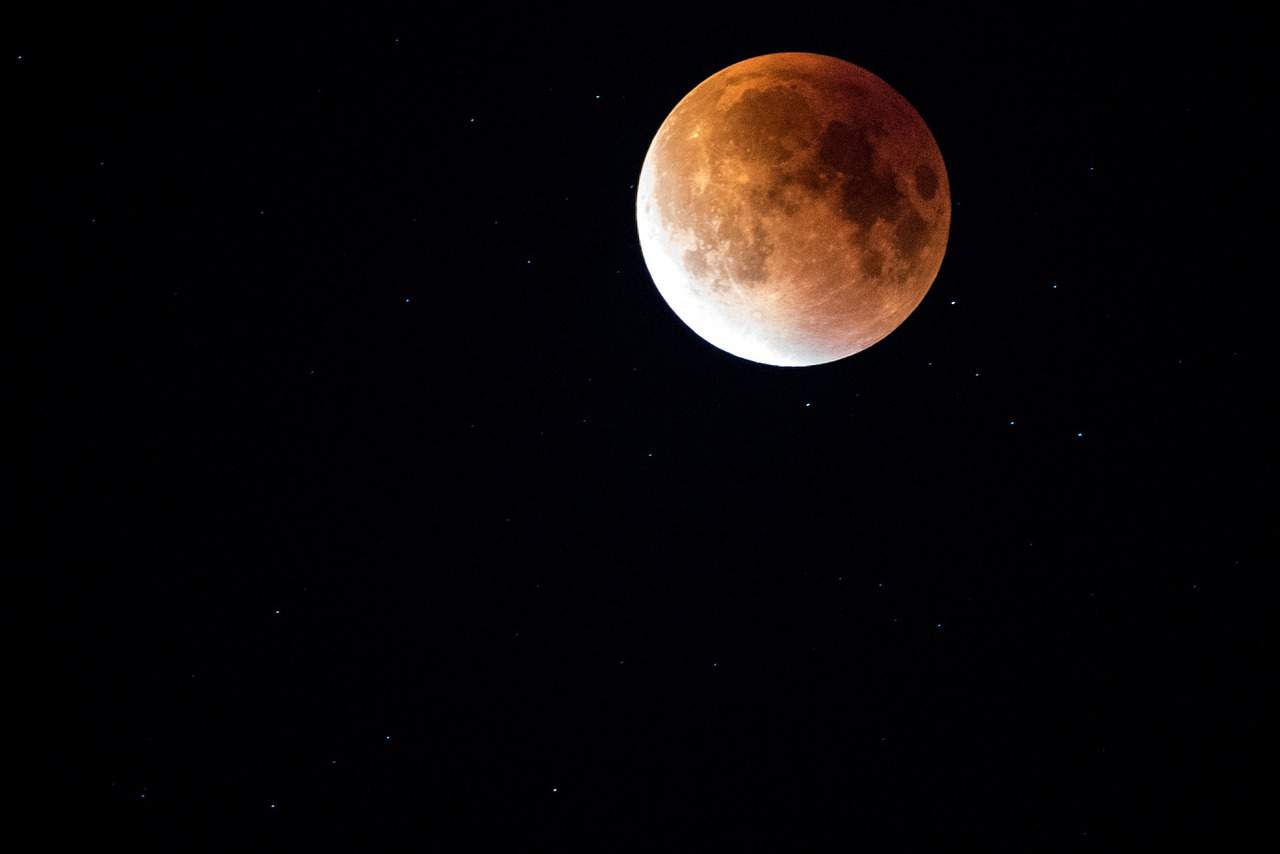 ​This beginner telescope is a Newtonian reflector, which means it uses mirrors to gather the light of the skies, and reflects it for viewing. With mirrors being much less expensive to produce than glass lenses, reflector telescopes offer more value in terms of inches of aperture.
The Good
The 127mm aperture—hence the 127 in the name—is one of the largest apertures you will find on a starter scope. It's the ideal size for starter or intermediate astronomers. It allows for close-up detailed images of the moon as well as the brighter planets, star clusters, and nebulae.
The largest aperture in the world is no good if it doesn't have good quality optics. Fortunately, Celestron hasn't skimped in this area, with all the optical components being made from glass and fully coated with high transmission aluminum for extra clarity and brightness.
The Bad
At this price, compromises had to be made, and one such compromise is the use of a spherical mirror rather than a parabolic mirror. Optical aberrations tend to be more common with spherical mirrors. This telescope does, however, feature an erect image diagonal for the right way up images, which prevents some aberration.
You will still experience some distortion in the Celestron PowerSeeker 127 EQ images, like coma-tails on stars at the edge of your view. However, if you have never really looked through a telescope of this power before, it's unlikely to spoil your enjoyment of that first planet or galaxy.
Like all reflectors though, the PowerSeeker 127 EQ will need collimating (mirrors realigning), which Celestron provides very little information about. For beginners, this process can be quite scary, but with practice and the right tools, you will soon be collimating your telescope like a seasoned professional.
The YouTube video below is a good place to start if you want to know more about collimating a reflector scope.
​How Much Magnification Can You Use with the Celestron PowerSeeker 127?
Celestron proudly boasts that this scope allows you to see 329 times more light than with the naked human eye. All that extra light is of no use without an eyepiece to focus it and some magnification for more distant objects, or more detail of planetary surfaces.
That 5-inch mirror is not be sniffed at and, when used with the included 4mm eyepiece, it can offer magnification as high as 250x. Celestron actually quotes a highest useful magnification of 300x but that will need an additional eyepiece. You can find a calculator to work out the highest useful magnification of your scope here.
A larger 20mm eyepiece, which is provided, offers a more useful magnification level of 50x and the 3x Barlow can increase that to 150x. Just don't use the Barlow lens with the smaller 4mm eyepiece—a magnification of 750x will be too powerful and not show you anything at all.
If you're considering an additional eyepiece, something like a 15mm Plossi would be a good option. This provides you with 66x magnification, or 198 when coupled with the Barlow. Experienced astronomers will rarely use the higher magnification and you will get the best results below 150x. Higher levels are normally only used for brighter objects, like the moon.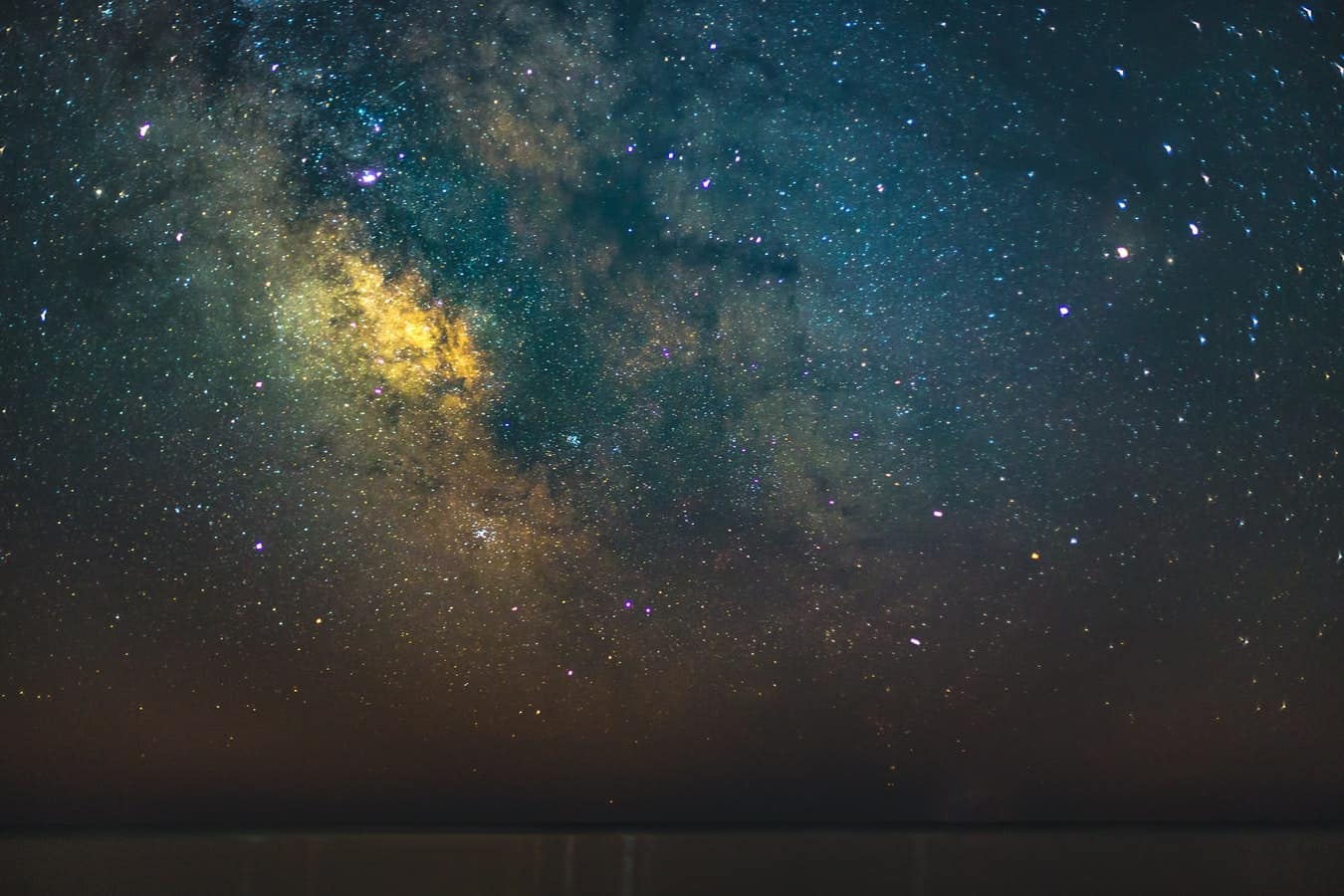 What Can You See With the Powerseeker 127 EQ Telescope?
When used under a dark sky, you should expect to see objects all the way down to a magnitude of 13 with this telescope. All the 110 objects which were famously recorded in the Messier catalog by French astronomer Charles Messier will be visible. Start with the brightest objects and then move on to the dimmer celestial images.
Under the darkest of skies, Celestron 127EQ images can include:
Mercury and it's many phases.
Detailed views of the lunar surface, including craters, with some of the smallest being only three miles across.
Martian ice caps and the shading of Mars when at its nearest point to Earth.
Jupiter, complete with the largest of cloud belts and moons transiting the planet including their shadows.
More distant planets, like Uranus and Neptune, will appear as discs rather than just points of light.
And much more, including some of the brighter objects from the New General Catalog (NGC), although with limited detail.
That Starry Night software included, the "TheSky" level 1, is a planetarium suite that can help you locate and identify many of those objects. A 5×24 finderscope, which you attach to the main scope, will also help locate celestial objects, especially at higher magnifications.
The Mount of the Celestron PowerSeeker 127 EQ
If you're a seasoned astronomer, you will have already figured out what the "EQ" stands for in this product name. For beginners, it refers to the equatorial mount which enables you to track stars and compensate for the Earth's rotation.
Once you find the object you have been looking for, you only need to move the left/right axis of the mount to keep it in your eyepiece. By comparison, an alt-azimuth tripod will constantly need moving both up and down, as well as left/right, to track an object or star.
That equatorial movement relies on the mount being polar aligned to the celestial pole star for accurate tracking. This can be quite confusing to a beginner astronomer, but we have found a brief YouTube video, which shows how to set up an "EQ" mount.
Can the Celestron PowerSeeker 127 EQ Telescope Be Used for Astrophotography?
Setting up an equatorial mount for casual viewing only has to be "about right". For astrophotography though you will need it spot on for the best results. Remember this PowerSeeker 127EQ is all about a beginner scope, not the best telescope for astrophotography, here is our complete list of recommended telescopes if you are looking for an alternative.
If you're looking at the best mount for astrophotography. (See our guide here for more details.), the mount alone will often cost nearly three to four times as much as this starter scope. Astrophotography mounts will also need a better tripod.
The Tripod of the Celestron PowerSeeker 127—A Compromise too Far?
Before we start criticizing the tripod too much, it's worth considering the low price you will pay for this telescope kit. The aluminum tripod is lightweight and relatively sturdy which will help keep the telescope image steady at higher magnifications. It even includes an accessory tray to store your additional extras.
Unfortunately, the tripod can be wobbly on uneven surfaces, and the mount doesn't dampen out all the vibrations. The locking screws on the Polar axis (left/right) and declination axis (up/down) can also be unstable, which can make your scope slip.
Finally, the heavy counterweight which is included can often interfere with the knob you use to adjust the angle of the scope. The counterweight may move the knob back to its original position without you even realizing it. Not deal breakers for newbie astronomers, but more intermediate users may want a better tripod and mount.
Our Verdict
In summary of our Celestron PowerSeeker 127 EQ review, this is an ideal scope for beginners. The low price you can often find this PowerSeeker telescope at also makes it a great choice for more intermediate astronomers—where else will you find a telescope with 5-inch aperture, 1000mm focal length, and EQ mount at this price?
The Celestron 127 EQ reflector with 250x magnification can be used for detailed lunar scenes as well as distant objects, like Jupiter, Mars or Venus. At lower magnification levels, it will offer a wide field of view for celestial images like the Lagoon nebula or the Orion nebula.
We hope this PowerSeeker 127 EQ review has helped you make your mind up whether this is the right starter scope for you. If you have any stories to share or questions to ask, please leave a comment below—we will answer all queries the best we can!