Guiding scopes are small telescopes that are typically used to improve the tracking performances of equatorial mounts when doing astrophotography with long focal telescopes.
Usually, guiding scopes are as useful as they are boring, but while the Sky-Watcher Evoguide 50ED is a guiding scope, it is an exciting one!
In fact, it is so exciting that we will need two articles to cover this, and here is why: the Evoguide is probably the only guiding scope out there that uses ED glass.
Can you feel those outrageous thoughts already popping into your mind? Is this guiding scope a valid budget alternative to something like, say, the highly regarded William Optic Redcat?
Let's find out.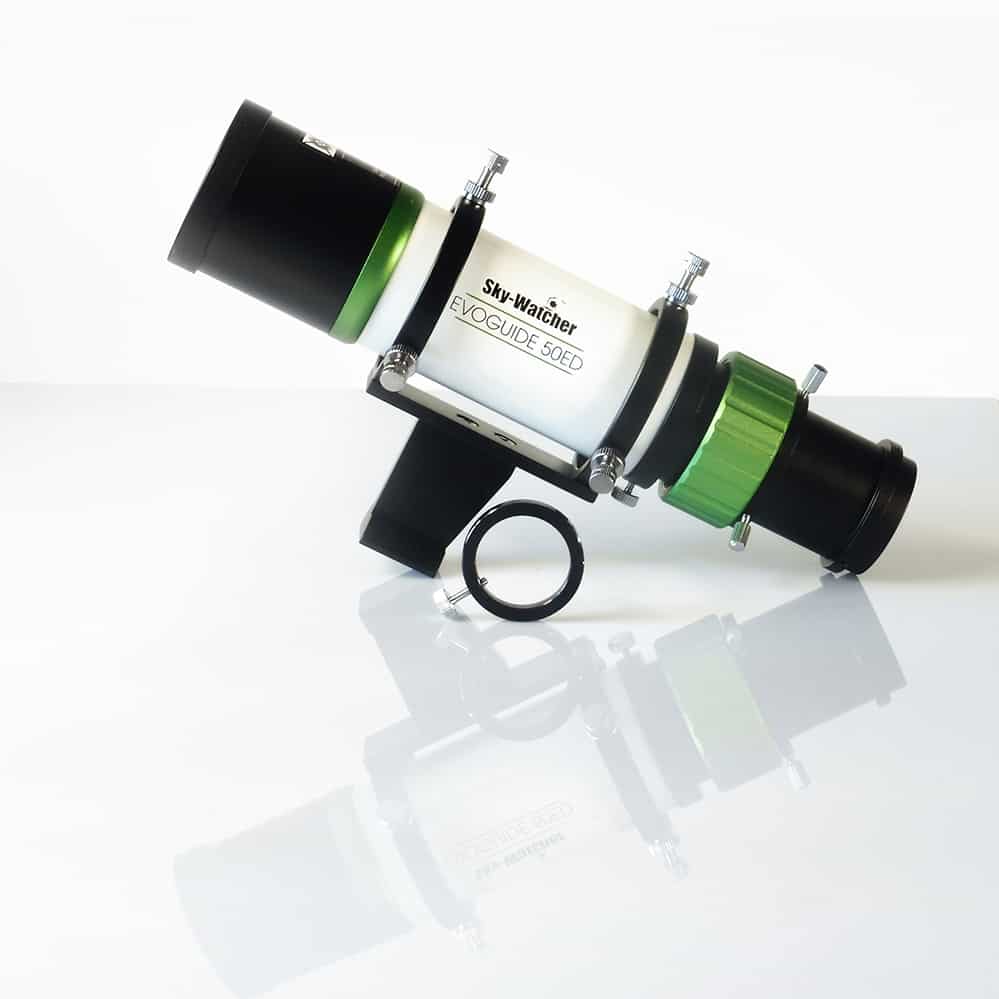 Sky-Watcher Evoguide 50ED Review
Lens diameter: 50mm | Focal length: 242mm | Aperture ratio: f/4.8 | Back focus: 20mm (60 with the 40mm extension tube removed) | Connection ( to eyepiece): 1.25″ | Draw Tube Travel: 18mm | Focusing Type: Helical | Connector (at camera end): T2 | Eyepieces changeable: Yes | Max Usable Magnification: x100 | Oblique viewing position: No | Reticule: No | Illuminated: No | Prism rail: Yes | Shoe: Yes | Weight: 865g | Diameter: 60mm | Length: 220 – 260mm
Pros
Apochromatic doublet with 2 Ohara ED glass lenses, one of which is a S-FPL53
Affordable
Great looking
Lightweight
Multipurpose
Comes with a complete set of accessories
High building quality
Easy to use
Cons
Can't focus with a diagonal and an eyepiece for visual observations
Loose front cap
Will induce dangerous thoughts
---
Hands-On With The Evoguide 50ED
Building Quality And Look
First of all, the scope is extremely well-made with its well-painted aluminum body: the only plastic piece is the rear dust cap.
Even the front cap is in aluminum, but I wish it had a tighter fit. Most often than not, in fact, I found the cap somewhere in the bag or, worse. Most of the time I am on my knee while looking for it in tall grass with a red light… grrr.
Then, it is quite a sexy scope, with the slick black-green-white color scheme used in all the latest Sky-Watcher products: wouldn' this be a beauty if mounted on your Sky-Watcher Skymax 180PRO or 150 PDS telescope?
Size And Weight
Measuring only 260mm in length and weighing about 865gr, the Evoguide 50ED is compact and lightweight enough to be suitable for most setups, being able to properly guide telescopes with a focal length up to 1000mm.
It is larger than my ZWO 30/F4 MiniScope, but this is not a deal-breaker, particularly if you need to guide big telescopes.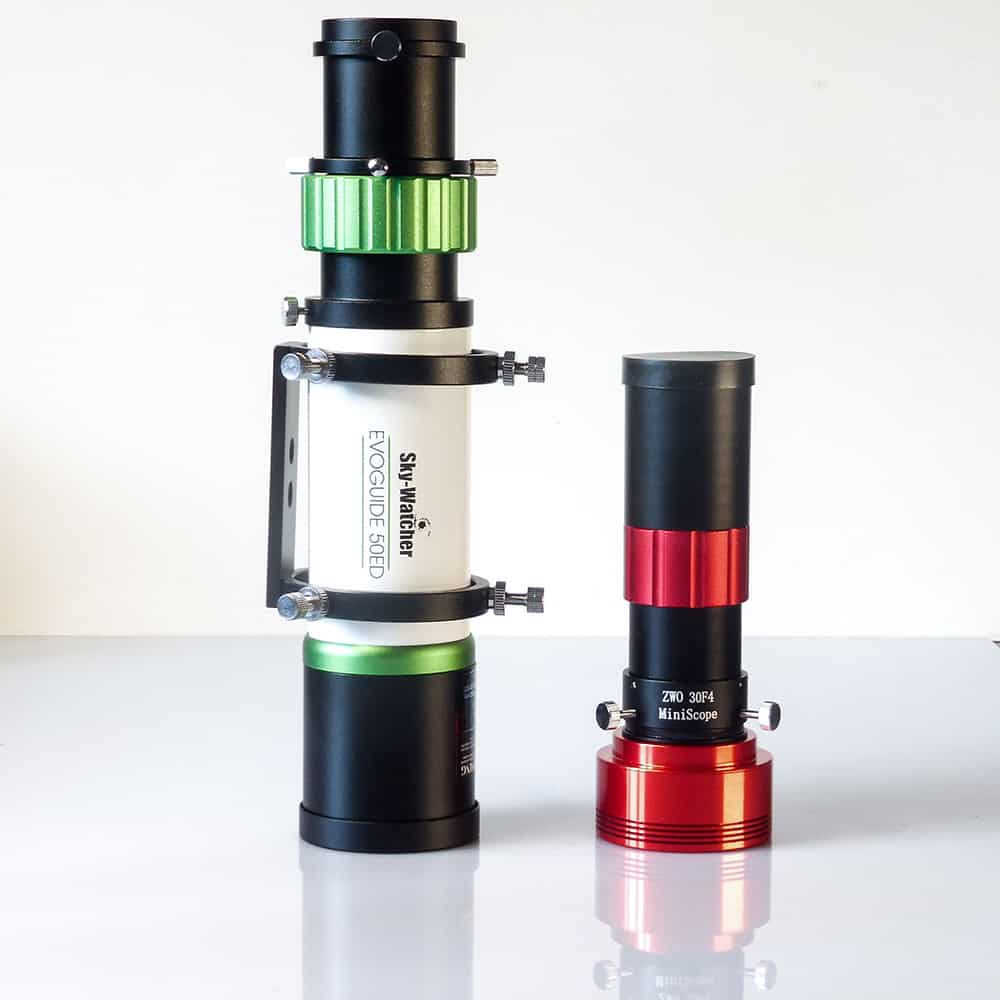 Delivered Accessories
The Evoguide is delivered with all you need to guide (guiding camera excluded) and more.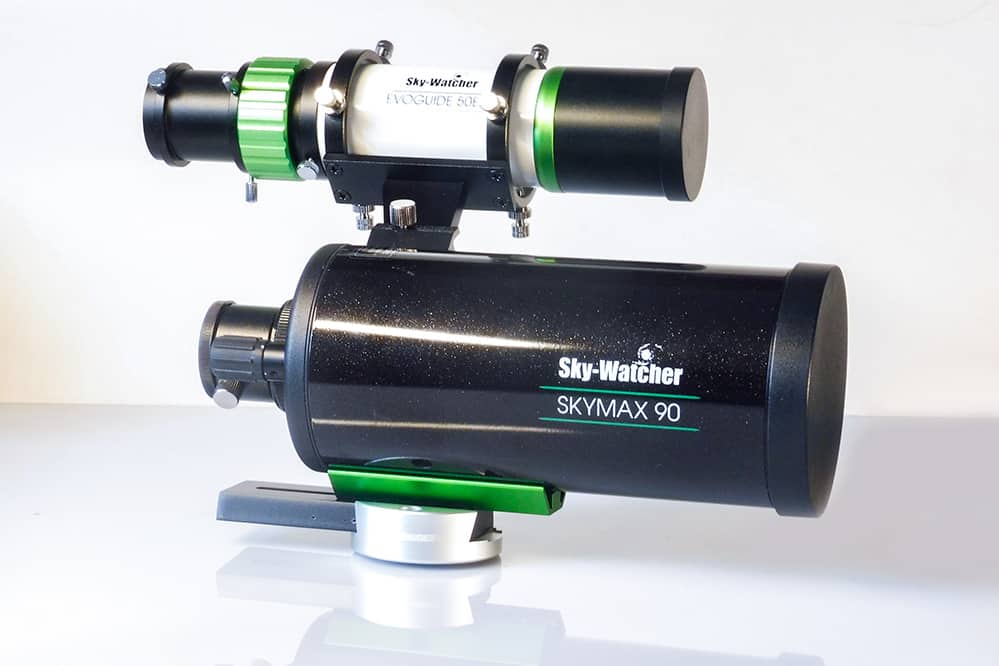 In the box you will find:
The mounting rings with collimation screws with nylon tips
A mini vixen style foot
A prism rail
A 1.25" stop ring for 1.25" eyepieces
A 40mm extension tube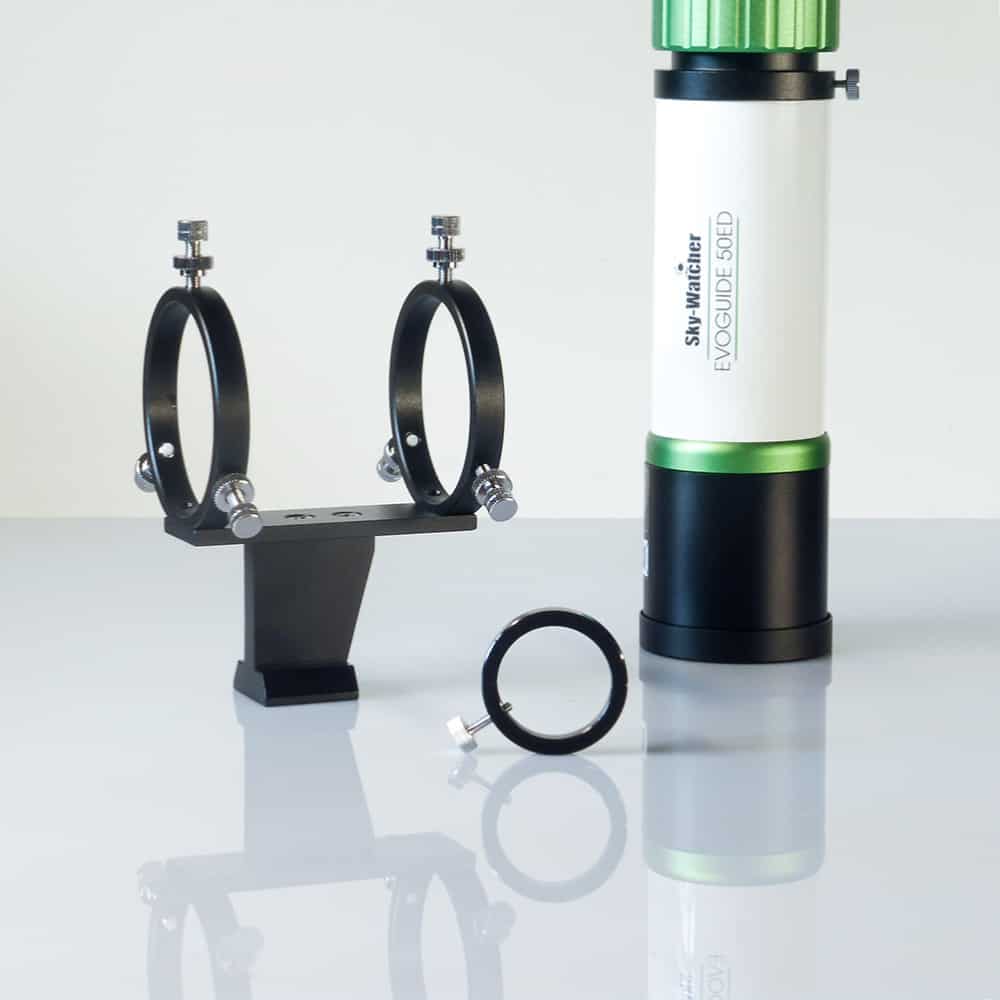 The mounting rings and foot are in aluminum and the collimation thumbscrews have a knot to keep record of how much the screws must be screwed in to realign the Evoguide to the desired direction with respect to the imaging scope.
This reduces the amount of fiddling you have to do in the dark to set up your guiding.
The collimation screws also have a nylon tip so as not to scratch the Evoguide.
The prims rail is included in the latest version of the Evoguide, and it is the only difference from the previous one.
The prism rail makes it easy to use the Evoguide as a spotting scope, and for this use, you will also find in the box a 1.25" stop ring: fit that on a 1.25" eyepiece to be sure you will achieve focus.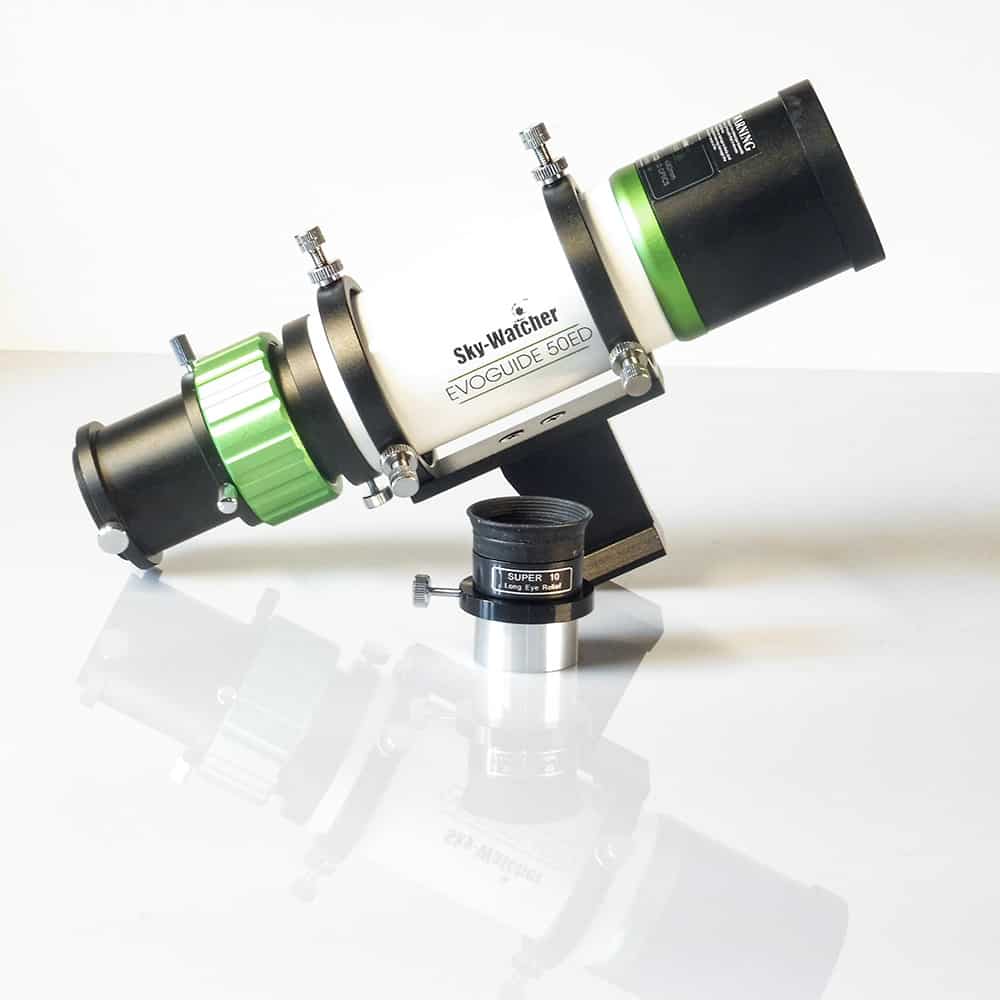 Focusing
The Evoguide features a smooth and precise helical focusing mechanism. The large focusing ring is smooth to operate, easy to grab and rotate even with thick winter gloves.
The small pitch in the thread of the helical focuser allows for precise focusing, but if you have to do big corrections, you can find yourself rotating that ring for quite some time.
Aside from being smooth to operate and precise in focusing, another big plus of the focuser is that the camera does not rotate while focusing. I have a helical focuser on my heritage 130P flextube and everything is rotating with it, and I know this would be quite a pain.
If we really want to find a defect in the focusing mechanism, I could mention there is a very small lag when reversing the focusing direction, but it is more anecdotic than a real minus.
Camera And Eyepiece Connections
You can connect the camera to the Evoguide either by directly screwing it on the standard T2 thread at the back of the instrument, or by inserting it as an eyepiece by using a 1.25" nose piece mounted on the camera.
Either way, it is easy to use 1.25" filters with the Evoguide. In particular, IR cut filters are needed to improve guiding with guiding cameras that have a clear glass in front of their sensor.
If you don't filter the far IR, you will have to deal with bloated stars that can reduce the guiding precision.
The Evoguide is shipped with a 40mm extension tube, and when mounted it will leave you with a back focus of just 20mm. Only good enough for a classic guiding camera, such as the ZWO ASI120MM.
With the 40mm extension tube removed, the available backfocus is 60mm, enough for a DSLR camera.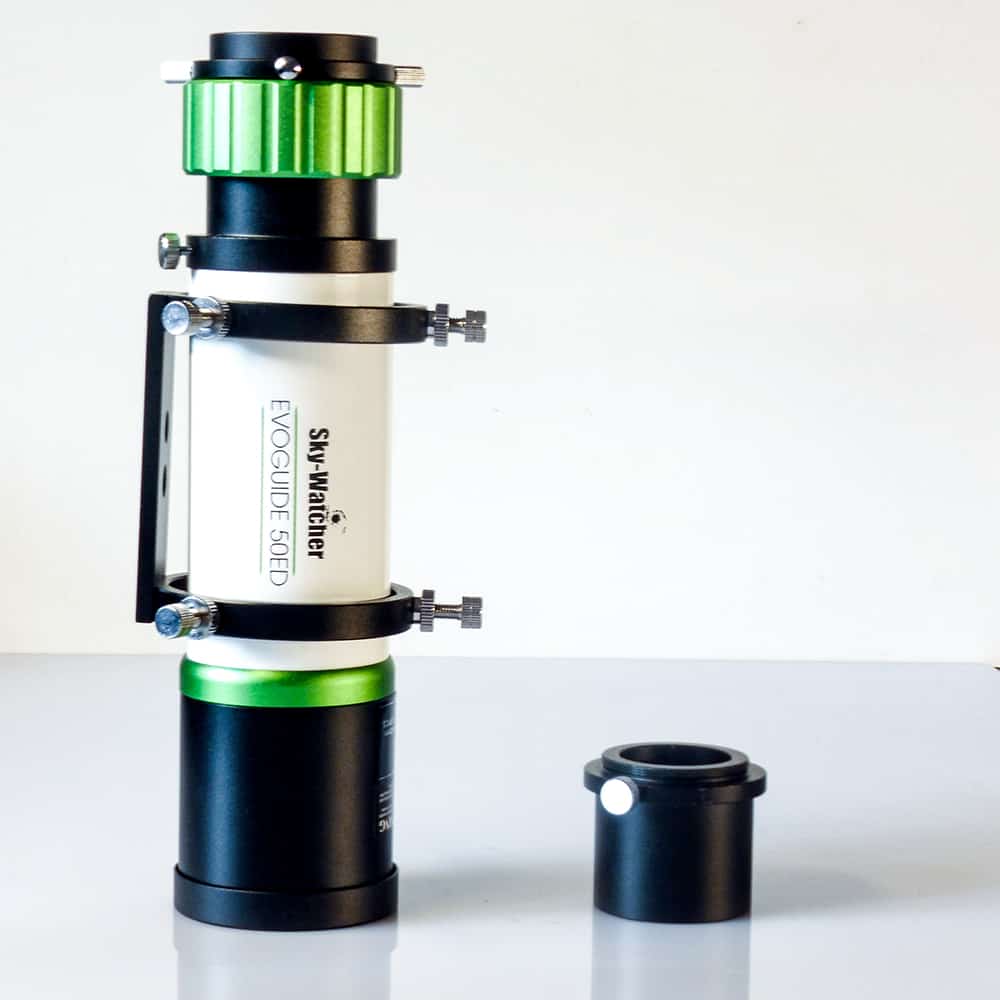 To mount your DSLR or mirrorless camera, simply remove the extension tube and replace it with your own T2-camera adapter, as in the photo below.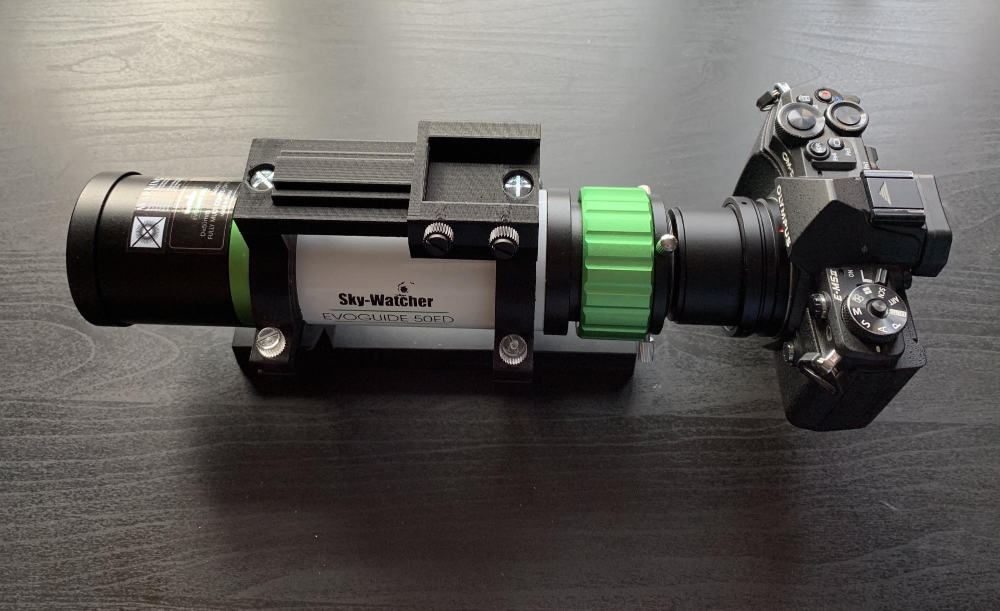 What Is The Evoguide 50ED Intended For?
As said, the Sky-Watcher Evoguide 50 ED is primarily intended as a guiding scope that has the rather unique feature of using ED glass to produce tighter stars for better guiding performances.
With a 242mm focal length, when coupled with a classic guiding camera such as the ZWO ASI224MC, it provides an optical resolution of 3.2 "/px, and can be used to successfully guide long focal telescopes, up to 1000mm in focal length.
But this is not the only use of this exciting guiding scope.
A Guiding Scope, A Finder Scope, A spotting Scope, A Grab & Go Telescope And A Telephoto Lens: 5 devices in 1
The Evoguide can take 1.25" eyepieces, meaning you can turn this guiding scope into a finder scope to help you frame the target with larger telescopes, a spotting scope for daylight observations, and into a decent and extremely portable grab & go telescope for observing the Moon and the planets. For wide-field DSO observations, pop in a 32mm Plossl eyepiece for a staggering 6.6º field of view.
Mind, though, that you will not be able to achieve focus with a diagonal and the eyepiece. Instead, you have to use the "straight-through" configuration shown in the image below, with the stop ring fitted on the eyepiece.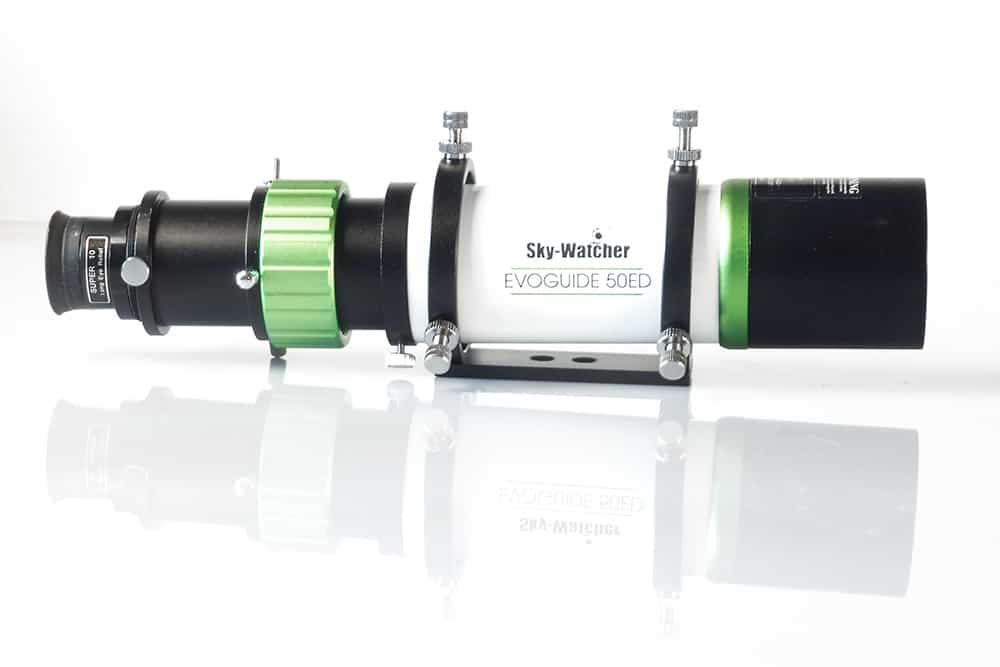 This means the Evoguide is not the most comfortable spotting scope you could get, but for an occasional use is not a big problem.
The view on the Moon is excellent, crisp and bright. With a barlow lens 2x and a short focal eyepiece, you can see a good deal of details on the lunar surface and you can even enjoy a nice view of Jupiter and Saturn.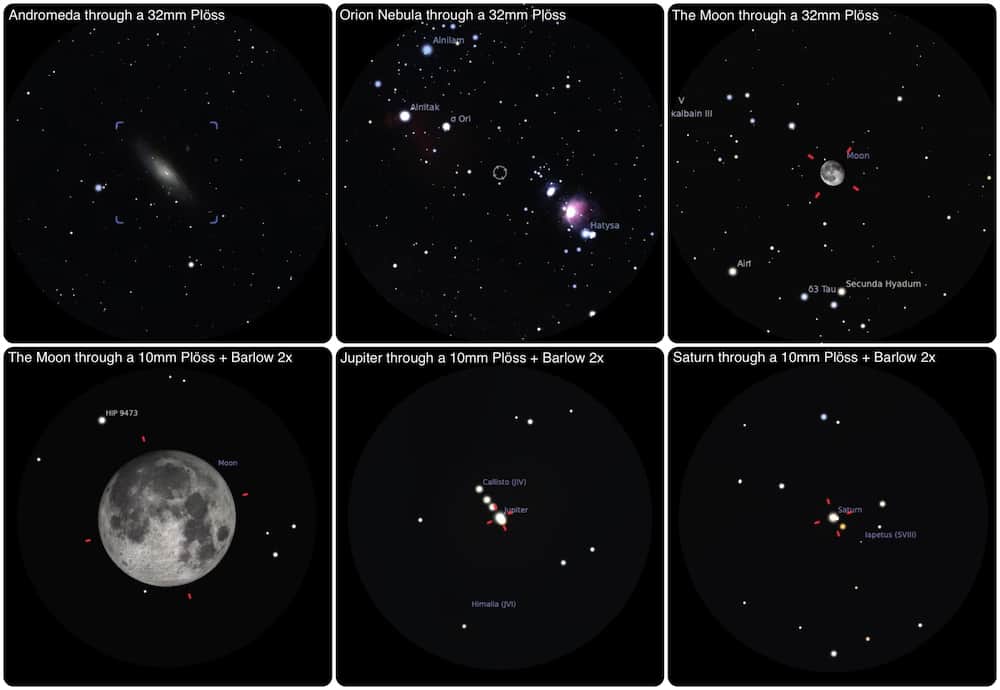 Granted, the Evoguide is not a 20" dobsonian telescope, but it is a brilliant occasional Grab & Go telescope.
Thanks to the generous backfocus, it is easy to connect a DSLR or mirrorless camera and use it as a daylight telephoto lens.
There are better and easier to use alternatives in the photographic world, but the image quality is rather good. Particularly if you have in-camera optical stabilization.
The strong field curvature typical of guiding scopes is only visible at the edge of the frame in the form of a soft image.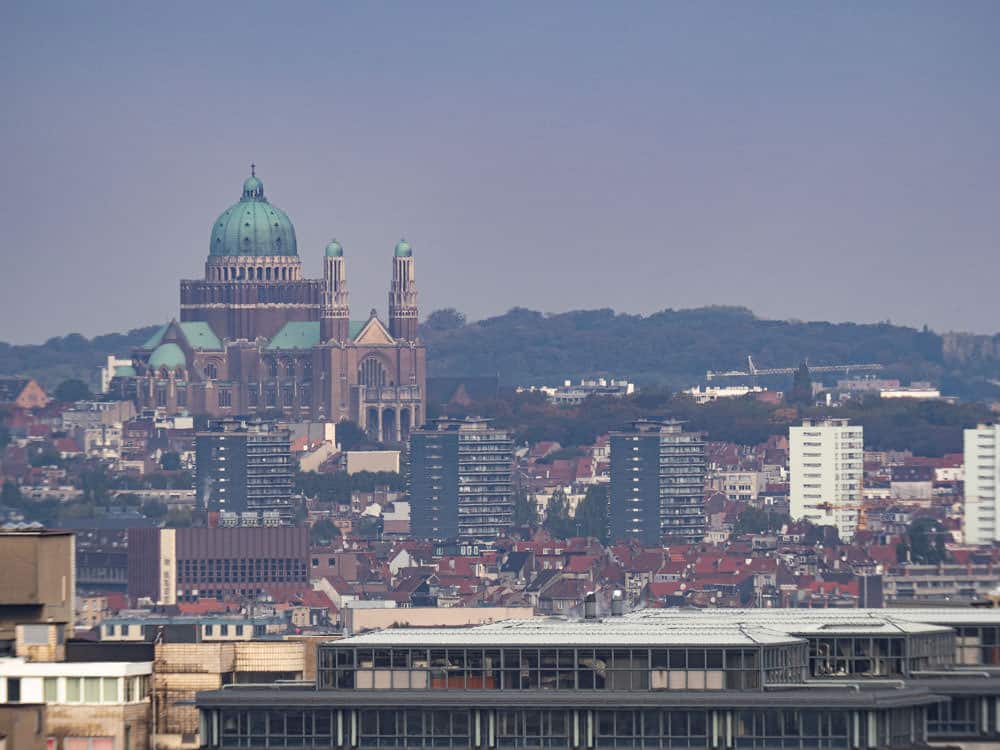 Alternative Sky-Watcher Scopes To The EvoGuide 50ED
As a guiding scope, there are many alternatives out there.
Good guiding scopes with apertures from 30mm to 60mm are available in the catalog of many major brands: Orion, ZWO, TS, William Optics, etc., but none of them is an apochromatic doublet with Ohara ED glass as the Sky-Watcher Evoguide.
If you are not interested in the other possible uses of the Evoguide, then you can settle for a "classic" guiding scope, even if the ED glass in the Evoguide is supposed to improve guiding performances by producing tighter stars with no chromatic aberration.
Orion 60mm Guide Scope
At half the price of the Evoguide, the Orion 60mm Guide Scope is an affordable 60/240 f/4 guiding scope.
It features a 10mm helical focuser for precise focusing, without camera rotation, coupled with a telescopic drawtube. It is also shipped complete with mounting rings with collimation screws on a dovetail bar.
The scope has good reviews on Amazon, though some complain about a rather cheap construction, but optically it seems to be good enough for guiding, but do not expect to excel in any other use you may think of.
Tecnosky Sharp Guide 50 V2 Mini Guide Scope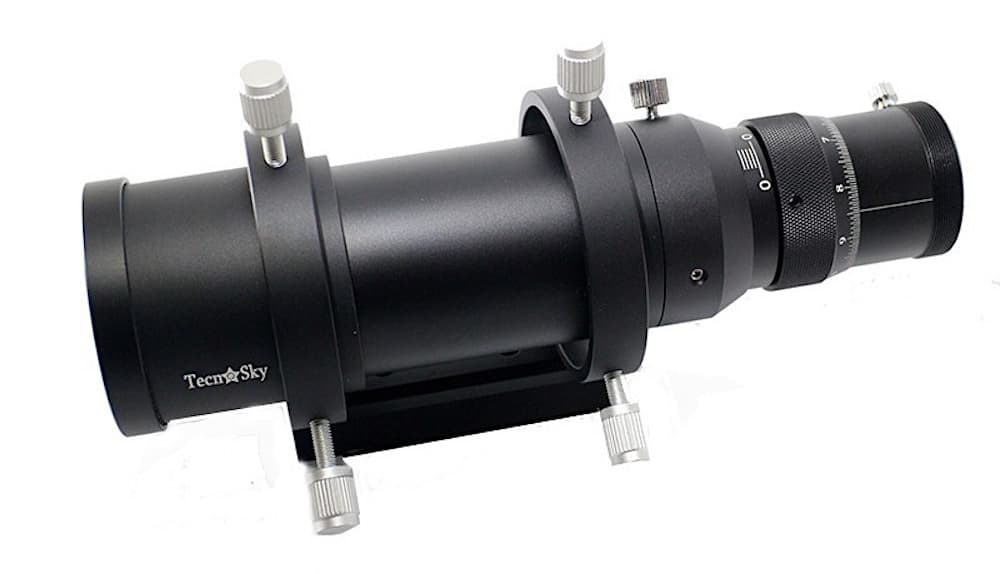 Tecnosky is a well known Italian brand for telescopes, and the Sharp Guide 50 is a nice and affordable guiding scope.
With an aperture of 50mm and a focal length of 160mm, it has a fast f/3.2 focal ratio and can be used to guide telescopes up to 1000mm in focal length.
It comes complete with a dovetail bar and mounting rings with collimation screws and dovetail bar.
It is made of aluminum, and it offers a double-precision helical focuser (fine and rough) that does not rotate the camera while focusing.
Sky-Watcher Evoguide 50ED: Things To Consider Before Buying One
If you are looking for a great guiding scope, just go for it. If you are here to use it as an imaging scope, keep reading.
When The Evoguide was announced, it stirred quite an interest, particularly among astrophotographers on a budget like me. This "ED" at the end of the name floods our minds with a horde of outrageous and dangerous thoughts.
This is an APO refractor, a doublet nonetheless. With two ED Ohara glass lenses and one of those is a S-FPL53! This MUST be a good imaging scope too, mustn't it?
Sure, probably will not be the best imaging scope out there, but for the money… it must be a valid budget alternative to, say, the highly regarded but costly William Optics RedCat.
If this is your train of thoughts, stop here and slowly put your credit card back into your wallet.
Yes, you can take some nice images of the Moon and the Sun with your camera and even of Jupiter if you have a planetary camera.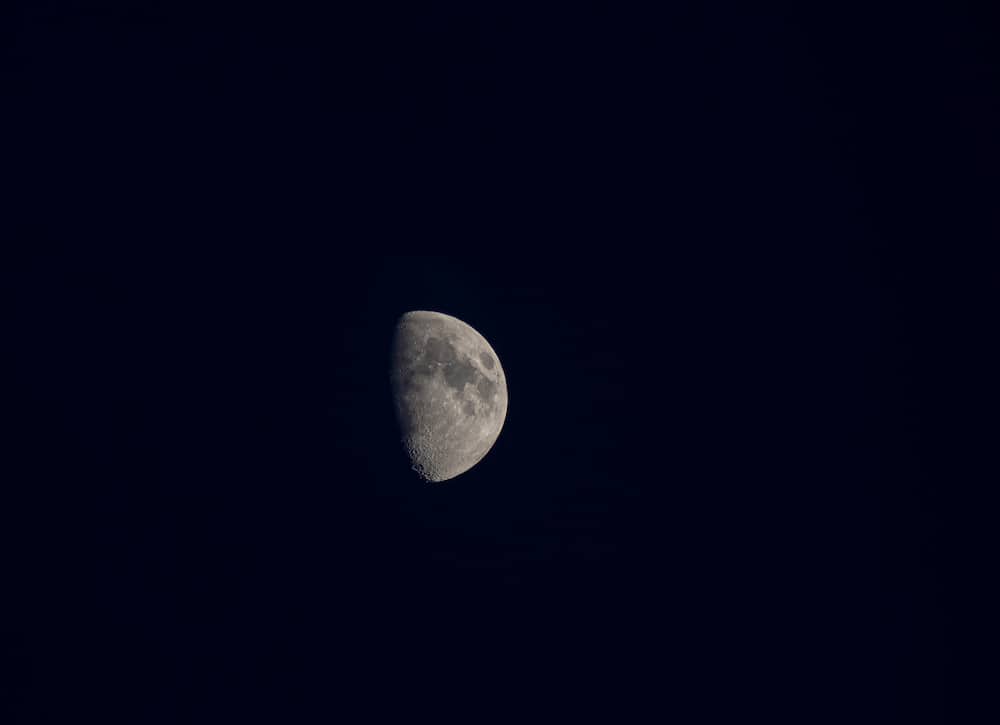 That's nice, but we both know this is not what you are here for, don't we?
The answer to your questions is YES! The Evoguide is capable of delivering great wide-field, deep-sky astrophotography images.
But with the right equipment!
Imaging deep sky with the Evoguide is not for everyone and there are many more things to consider before you invest in this guiding scope for this purpose, other than the ED glass it uses.
And this is why we have a second article to show you how to get the most out of the Evoguide and to tell you whether it is the right choice for you or not.
You can find it here: Evoguide 50ED vs RedCat 51 for wide-field astrophotography.
In the meanwhile, here is my video review with a few extra bits of info.
Conclusion
The Sky-Watcher Evoguide 50ED is a very nice guiding scope that can also be used as a telephoto lens for daylight photography, spotting scope for daylight observation, finder scope to help you frame the target with larger telescopes, and also a decent grab & go little telescope for Moon and wide-field observation.
But the Evoguide is also one of the most intriguing new entries in the astrophotography market: a guiding scope that is also an apochromatic doublet was previously unheard of.
To that, add an aperture and a focal length that are just right for making it a serious imaging scope for wide-field astrophotography and your mind will run wild, particularly if you are a beginner astrophotographer on a tight budget. But more on this in the next article.
Say what? Is it cruel of me to leave you like this? Well… ok! Enjoy this blurred image I have prepared to give you a sneak peek into what the Evoguide can do when it is not busy guiding 😉