Every fan of astronomy or science fiction out there likes to have a part of the universe in their own home. No matter if it's a poster of all the constellations, a prop from the newest movie or a model of the solar system, those things are always there to remind you of your passion.
There is one cool gadget available that will bring more immersion to you or your kid's room, and they're called star projectors (home planetariums by some people). These are devices capable of projecting everything from the starry skies to planetary bodies and can be either realistic and educational or mood enhancers.
The best star projector out there is the Encalife Atmosphere and should be your first choice if your budget allows it. Still, there are others that serve a different purpose and any one of them could be a more interesting proposition for your own needs.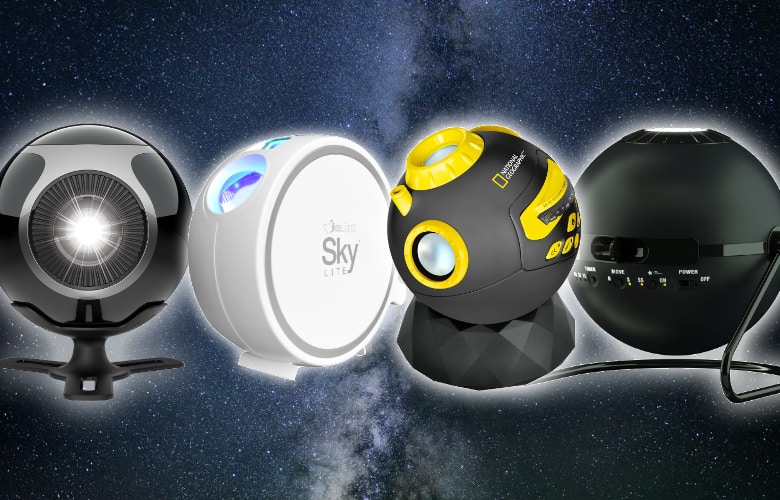 List of the best star projectors
---
1. Encalife Atmosphere "Smart" Star Projector
Best "smart controlled" star projector
Dimensions: 10.47 x 7.76 x 3.11 inches | Weight: 1.92 pounds
One of the new entries to our list is the Atmosphere star projector by Encalife and it deservedly earns our top pick. One of the best bits about the "Atmosphere" is it is voice controllable by either Google Assistant or Alexa voice control once setup (which only takes a few minutes to do), allowing you to control just about all the settings just by voice. This alone sets it apart from most other star projectors.
Alternatively, you can install the Smart Life app on your phone (both iOS and Android compatible) and control everything from the palm of your hand. So if you want to change the nebula colors and brightness to one of the available 16.7 million colors from the color wheel on the mobile app, you can. If you want to program and save different combinations of star speeds and nebula speeds and colors, you can do that.
Finally, while the design of the actual unit won't determine how good or bad it is, it does look modern and it's compact enough to sit nicely on your bedside table or elsewhere in your room. Allowing you 4 adjustable angles, so you can either project the image on the wall or ceiling.
A sleep timer and an on/off scheduler can also be set via the phone app, which I found to be pretty useful. Overall, the Atmosphere by Encalife deserves its top spot on the list. This will definitely turn your room into a nebula and starry-night filled sky with its rich and bright colors and a plethora of adjustments that you can make via the mobile phone app.
Pros
Speed of the stars and nebula can be independently controlled
iOS/Android smart app: controllable from your phone
Can be controlled by Google Assistant and Alexa voice control
Extremely quiet during use
Programmable on/off and sleep timer (stays on for up to 12 hours)
Cons
Not real stars and constellations, more a repeating pattern
Doesn't have any built-in speaker, so won't play any music
---
2. Encalife Ambience Galaxy & Star Projector (With Speaker)
Second best star projector
Dimensions: 6.65 x 6.61 x 5.31 inches | Weight: 1.76 pounds
If you're looking for a star projector that can also play music via its built-in bluetooth speaker then the Ambience from Encalife could very well be what you're after. Compact enough that you can set it up practically anywhere around the house and turn your room into a galactic wonderland.
The Ambience star projector comes with 21 adjustable lighting modes. It has 4 primary colors (blue, white, red, and green), and they can be combined together via the remote control to create up to 21 different color modes, giving you plenty of color options, so you never get bored.
With a quick bluetooth setup on your phone or other music device, you can also play any music you want through its built-in speaker. So you can set the mood or relax with music while watching the light show on your ceiling.
Pros
Built-in bluetooth speaker, control the volume and music from your phone
Remote control included
Sleep timer can be set up to 4 hours
Cons
Projected images are not true star constellations
Color range could have been better
---
3. Sega Homestar Original Black
Best realistic star projector
Dimensions: 6.57 x 6.26 x 5.94 inches | Weight: 1.76 pounds
The Sega Homestar Original is one of the most powerful home planetarium systems on the market. It's capable of projecting a total of 60,000 stars on any kind of flat plain white surface with the help of an ultra-bright 3-watt white LED technology and adjustable angle and focus.
Just turn off all the lights in your room, and you'll be amazed at how realistic its projection looks like. For some additional immersion, there's also a shooting star function that makes shooting stars appear while the night sky rotates. As a bonus, Sega also includes a 17 x 26-inch double-sided poster of the northern and southern hemisphere.
The main selling point of Sega Homestar Original has to be its interchangeable discs. They will allow you to quickly change the Homestars projector image to other astronomy objects like the Solar System, Galaxies, Disappearing Continents, and much more. There are more than 30 discs to choose from, and they are available at a reasonable price.
Pros
Great projection quality
Has a built-in timer function
Many interchangeable discs to choose from
Two interchangeable discs included in the package
The Shooting Star function is a neat bonus
Cons
Takes some time to set it up
High price point
---
4. National Geographic Astro Planetarium Multimedia
By a company we all know… National Geographic
Dimensions: 6.3 x 6.3 x 7.48 inches | Weight: 1.36 pounds
We all know and love National Geographic for their excellent documentaries, but who would have thought that they'd step into the realm of home star projectors and make a very powerful one in the process. If you're looking for a ton of features at a reasonable price, you should seriously consider the Astro Planetarium Multimedia for your next gadget.
Firstly, it brings accurate projections of celestial bodies from two different interchangeable discs. They won't look as colorful or as flashy as those on more mood oriented projectors, but they will help you improve your knowledge about the night sky and all the shiny things that it holds, making you feel warm inside while you're gazing at them.
There's also a built-in FM radio and a 3.5mm AUX connector, so you could find the right relaxing music while you're enjoying the projections on your ceiling or your wall. There's also a plethora of buttons and settings available, including those that will help you rotate the projection, activate the shooting star feature, turn on the timer or adjust the audio playback.
Pros
Can be powered either by AAA batteries or via a power plug
Includes posters to help you learn about constellations
Has a built-in FM radio and a 3.5mm jack
Provides accurate projections of up to 16,000 celestial bodies
Easy to operate thanks to its illuminated buttons
Cons
Not very quiet
The rounded shape of the projection itself is not an ideal solution
---
5. BlissLights Sky Lite
Best compact star projector
Dimensions: 9.3 x 8.1 x 3 inches | Weight: 1.65 pounds
If you need a very compact and reasonably priced star projector, then the BlissLights Sky Lite will be a very good option for you. Thanks to its miniature size, you will be able to place it just about anywhere in your room, and it will also look fairly inconspicuous on your shelf or table thanks to its clean and stylish design.
This particular device projects a blue nebula cloud with rotating multi-colored stars and is powerful enough to cover your entire wall with its nebula effect and the rest of the room with all the small start points. It provides a very soothing experience and any space you put it in will instantly come to life.
It's also easy to use and set up thanks to its simple control scheme and offers brightness adjustment and the necessary controls to start and stop the rotating motion. You will also have the option to enable only the star or the nebula effect if for some reason you don't want the projector to display them at the same time.
Pros
Good value for money
Compact dimensions make it fit anywhere
Offers brightness adjustment and a choice of different effects
Simple to operate
Comes in three different colors
Cons
No adjustable stand
Makes some noise while in use
---
6. Smithsonian Optics Room Planetarium
Best kids star projector
Dimensions: 10 x 7 x 10 inches | Weight: 1.85 pounds
The Smithsonian Optics Room Planetarium is a perfect star projector for kids and teenagers to help them learn about the mysteries of the universe. It's simple to use, doesn't cost much money, and won't take much space no matter where you decide to place it.
It's powered by standard AAA batteries so that you can take it anywhere with you. We do advise you to purchase rechargeable ones to make your life a little easier. The device itself can project high-resolution images of everything from the night sky to different planets, moons, nebulae, and more. The night sky also rotates for even more immersion.
There's also a built-in timer and auto power-off feature to help you keep those batteries lasting longer while you're asleep or away from home. While the Smithsonian Optics Room Planetarium won't wow you if you're an adult and it isn't as advanced as the more expensive projectors, your children will appreciate what it has to offer and be very happy with it.
Pros
Low price point
Can be powered by standard AAA batteries
Capable of projecting over 50 different image combinations
Very easy to use
Built-in timer with auto power-off function
Cons
The projection quality is not the greatest
Not advanced enough to be appreciated by adults
---
7. Uncle Milton Death Star Planetarium Pro
Best star projector for Star Wars fans
Dimensions: 5.5 x 5.5 x 7 inches | Weight: 1.37 pounds
One of the most unique star projectors in this article has to be the Uncle Milton Death Star Planetarium. It was just a matter of time before some company came to the idea of combining the Star Wars universe with ours and created a home planetarium capable of projecting celestial bodies from both of them.
So, this particular star projector will certainly appeal to you if you like astronomy in general, besides being a fan of the Star Wars franchise. It's also not too expensive and looks like the familiar Death Star from the movies, making it a great decoration in every Sci-Fi fan's room. It's also powered via USB so that you can connect it almost anywhere.
You can either choose to project up to 10,000 stars from our own universe or celestial bodies from Star Wars, including some of the famous scenes from the movies. Very bright LED light is also included to make sure that the projections are as vivid as possible, and automatic image rotation is here to make everything feel more dynamic.
Pros
Good value for money
Small dimensions, low weight, and unique design
Offers a look at the Earth's night sky and the planetary bodies from Star Wars universe
Easy to power thanks to the included USB cable
Includes three different replaceable discs
Cons
The design won't be to everyone's liking
Offers only averagely sharp projections
---
8. Twilight Stars Projector
Best mood enhancer star projector
Dimensions: 9.4 x 10.9 x 12.3 inches | Weight: 3.5 pounds
The Twilight Stars Projector is yet another fun and simple to use device that will appeal both to adults and children. It uses a powerful green laser and some holographic technology to create a projection consisting of green stars and blue clouds, and you can be sure that it will look attractive no matter the wall it's being displayed on.
It's not an accurate portrayal of the night sky, but it still looks nice thanks to the powerful light sources and quality made optics. The projection is fully adjustable thanks to the brightness knob found on the side of the star projector and the star projector itself is easy to operate. Just plug it into your power socket and it's good to go.
The device is also quite stable thanks to its large base and lightweight plastic construction. It is also silent during operation and will allow you to fully relax while you're lying down and enjoying its light show. There's also a built-in timer function, so the projector doesn't waste unnecessary power while you're sleeping.
Pros
Provides bright and detailed projection
Fully adjustable
Powerful enough to fill larger rooms
Has a built-in timer function
Silent in operation
Cons
The projection itself could look more realistic
Only works on a timer and can't be turned on permanently
---
9. Omegon Star Theater Pro Planetarium
Best value for money star projector
Dimensions: 9.21 x 8.98 x 6.61 inches | Weight: 2.02 pounds
If you want a sleek looking device that will project realistic images of stars, then the Omegon Star Theater Planetarium may be the right choice for you. It might just be the most beautiful looking star projector in our article and will surely act as a nice decoration on your shelf or night cabinet even when it's not powered on.
When it is powered on, it will be capable of displaying up to 10,000 different stars or the Earth, the Sun, and the Moon, all depending on which of the included discs you've decided to use. It also has an adjustable projection distance that goes from 5.9 to 267.7 inches, so you'll be able to display it on almost any empty space in your house.
The projector is also simple to operate, with just four buttons on its back, and is easy to power thanks to its USB interface. This means that it will work even when plugged into an external battery bank or a USB port on your computer. This also means it has low power consumption, but you can always use its Sleeptime function if you want it to consume even less. 
Pros
Can be powered via USB
Realistic and bright projection of up to 10,000 stars
Offers projection distance adjustment
Easy to use
Includes two star discs
Cons
Could offer more detailed projections
No brightness adjustment
---
Star, Planet, and Galaxy Projector Buying guide
What to look for when buying a star projector
Can additional discs be purchased?
Depending on the type of star projector, some of them may offer user interchangeable discs. These are used to expand the range of celestial objects that the projectors can display and can either come bundled or available as a separate purchase. 
All of them can display the starry skies by themselves, but the additional discs will also allow them to project the Earth, Sun, the Moon, different planets, cosmos, auroras, galaxies and nebulae. These are the most flexible star projectors out there. 
How bright is the display
This isn't the easiest thing to figure out when looking at the product specifications since not all manufacturers are upfront about how bright their star projectors are. Your safest bet is to look at the online reviews before making your purchasing decision.
If there isn't a good enough review available for the projector you're interested in, you should build your expectations around its type and price. Cheaper ones, especially those targeted at younger audiences usually don't offer very bright displays, and the same can be said for those that don't go for realism and are just meant to change your room's mood.
Mains powered or battery
Some star projectors can only be powered by plugging them directly into the mains socket, some only on AAA batteries and some on both. There are also ones that can be powered via USB and can be plugged into the mains socket as well as external battery banks or any kind of USB 2.0 or 3.0 port on your PC.
Can a timer be set?
This function is shared between almost all star projectors out there, no matter their type and price point. It simply allows you to decide how long the projector will work before powering off, which makes sense because you wouldn't want it to work and waste power while you're asleep or during the day.
Real adult astronomy guide or kids light show
As we've mentioned before, there are many different types of star projectors. The most affordable ones usually come in two varieties, accurate ones meant for kids or those that only imitate stars and space phenomena around them just to give your room a new look.
Either of those will still keep you or the kids entertained, but there is always the manual way of sticking the stars to the wall and ceiling to keep the kids occupied.
The real adult star projectors meant to serve as astronomy guides are usually the more expensive ones and tend to offer brighter, sharper, and more detailed projections. They can also offer additional discs to expand their functionality, as well as more options when it comes to fine tuning their projections.
Quick Recap Of Our Top Star Projectors
Conclusion
So, if you've ever dreamed about having the space itself in your own room or you're fascinated about its colors and different celestial bodies, or you want your kids to upgrade their knowledge in a more fun and visual way, star projectors will surely help you achieve those goals.
The Encalife Atmosphere is the most impressive star projector out there because of its great image quality and the easy to use voice activation. It's a great choice without hitting your budget too hard.