It's a well-known fact that tripods are a necessary piece of photography gear for many people, especially those dabbling in astrophotography. Keeping them in perfect condition is mandatory if getting sharp photos is something you're after.
This is where tripod bags and cases come into play. Not only will they provide excellent protection for your tripod, but they will also allow you to carry it with more ease and even couple it with some smaller accessories so you can have more space in your backpack for other gear.
The Manfrotto MB MBAG100PN Padded 100cm Tripod Bag is the one you should be after if you want the ultimate tripod bag. Still, we recommend that you look at our list in its entirety and check our buying guide before making your final purchasing decision.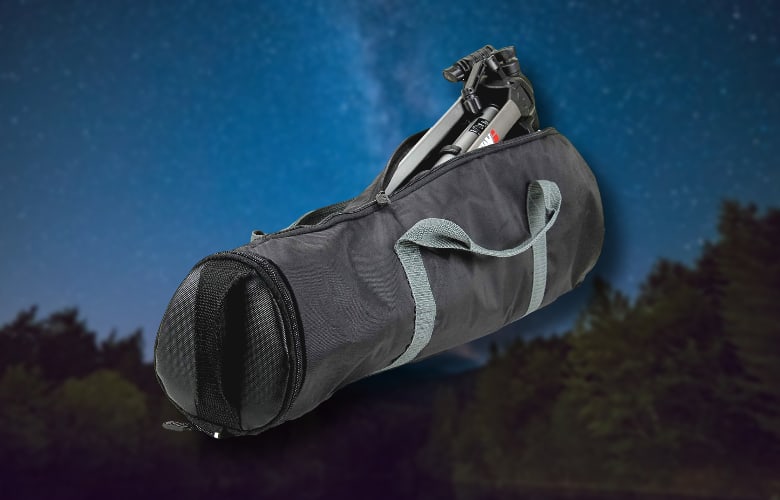 Our Best Tripod Bags & Cases At A Glance
List of the best tripod bags and cases
---
1. Manfrotto Padded Tripod Bag (100cm)
Best tripod bag
Brand: Manfrotto | Dimensions: 40 x 10 x 10 inches | Weight: 1 pounds
Manfrotto certainly enjoys an outstanding reputation among photographers when it comes to their gear and accessories. Thus it's no wonder that their MB MBAG100PN Tripod Bag is sitting on top of our list as the best tripod bag on the market.
Being made from water repellent synthetic fabric, it's capable of withstanding any scratches or possible tearing. Still, the most important thing about its design is the addition of padding in the right places, so you don't accidentally damage the tripod's head or feet.
The bag itself has a lot of storage room and is capable of holding even the bigger and bulkier professional tripods and also allows for easy access to them with one zipper on the top and one large zipper going across the entire bag. There's also an additional pocket inside for your smaller accessories like cables or a secondary tripod head plate.
Pros
Excellent construction
Offers a lot of storage space
Water-resistant
Padded for additional protection
Has an additional inner pocket
Cons
A little pricer than your average tripod bag
---
2. Pelican 1740 Case With Foam
Best tripod case
Brand: Pelican | Dimensions: 44.16 x 16.09 x 14 inches | Weight: 27 pounds
If you're looking for maximum protection for your tripod, lights, or any other larger photo gear and portability and weight isn't something that concerns you, then you should definitely invest in a tripod case like the Pelican 1740 Case With Foam.
Compared to tripod bags, tripod cases are generally noticeably more expensive, but at the same time, much more durable and capable of withstanding all kinds of potential dangers. So, the Pelican 1740 is not only weather-resistant but also crushproof and resistant to extremely high and low temperatures.
Not only is this case very rugged, but it also offers an incredible amount of storage room. It can hold any type of tripod and any accessories that go with them. They will all be neatly protected while laying on the foam insert that comes bundled with it.
Pros
Extremely rugged construction
A lot of storage room
Includes a foam insert
Water and dustproof
Resistant to very high and low temperatures
Cons
Very expensive
Not easy to carry around due to its weight
---
3. Neewer Tripod Carrying Case (with Strap)
Second best tripod bag
Brand: Neewer | Dimensions: 18 x 12.2 x 6.5 inches | Weight: 2.49 pounds
The Neewer Carrying Case is the second best tripod bag on the market and is a great alternative choice to any photographer who values having a lot of storage space and nice build quality but wants to save some money for other photography gear on their wishlist.
While the Neewer Case isn't the most portable tripod bag out there, the fact you could fit even the longest and the biggest tripods out there inside of it, at its price point, is quite impressive, especially when you take into account that it also includes two zippered pockets for any of your accessories.
It's also dust and shockproof, as well as moisture-resistant, so you can be sure that your tripod will remain in excellent working shape even if you're not the most gentle person when it comes to handling your gear or you're working in harsher weather environments.
Pros
Good value for money
Capable of holding pro level tripods
Has two large additional pockets
Weather and shockproof
Offers two padded inner compartments
Cons
May be too big for some photographers
The built-in zippers could be more durable
---
4. HPRC 6300W Series Wheeled Hard Case for Tripods
Second best tripod case
Brand: HPRC | Dimensions: 38.07 x 13.19 x 11.22 inches | Weight: 11.8 pounds
If you're attracted to the added ruggedness and solid design of a tripod case when compared to a tripod bag, but you still like the idea of having something that's not too bulky and relatively easy to carry around, then you should check out the HPRC 6300W Hard Case.
Like all the other tripod cases, it features a hard shell design, which, aside from providing a tight seal to protect your tripod from dust and water, also allows for great shock and crush resistance. So, no matter the harshness of the environments you find yourself in, your tripod will always stay in great condition.
The HPRC 6300W is also easy to use and easy to carry around, thanks to having a total of three handles and even a built-in set of wheels. So, either roll it on a flat surface to ease some burden from your arms or grab it by one of its handles, whatever is more comfortable to you.
Pros
Excellent build quality
Water-resistant
Quite portable for a tripod case
Resistant to extreme temperatures
Has built-in wheels
Cons
Far from being the most affordable tripod case out there
No inner foam padding
---
5. USA Gear Padded Tripod Bag
Best lightweight tripod bag
Brand: USA Gear | Dimensions: 26.5 x 7.25 x 6.25 inches | Weight: 0.6 pounds
The USA Gear Padded Tripod Bag was created to be suitable for any photographer who wants a tripod bag that's as lightweight as possible but still has a decent amount of storage space without spending too much money to obtain it.
While some durability had to be sacrificed for this bag to achieve its low weight of only 0.6 pounds, USA Gear has still managed to make it waterproof and put some padding inside of it to provide at least some level of shock protection.
What's also interesting about this bag is how it tries to solve the lesser amount of storage space issue with most lightweight tripod bags. It's capable of expanding its length for up to 14 inches and thus allowing you to place an even longer tripod when you deem it necessary, otherwise remaining in its more portable form.
Pros
Very affordable price point
Lightweight and portable construction
Expandable storage room
Water-resistant
Includes a large pocket for smaller accessories
Cons
Not suitable for bigger professional tripods
Doesn't provide a lot of shock protection
---
6. Bailuoni Tripod Bag
Best budget tripod bag
Brand: Bailuoni | Dimensions: 18 x 7.7 x 3.7 inches | Weight: 0.9 pounds
The Bailuoni Tripod Bag is a great option for anyone on a tighter budget looking for a functional, easy to use and decently durable bag to fit their smaller and normal sized tripods. It's also a good choice if you're a beginner photographer.
The first thing you should know is that the Bailuoni Tripod Bag is available in a total of six different sizes, from 19.7 to 29.5 inches long, so that it can hold many types of tripods from monopods to mid-range ones. It also has an interior zipper pocket for your smaller accessories like cleaning cloths or additional battery packs.
It's also impressive to see water resistance at such a low price point, as well as a foam padded interior, meaning that you won't have to worry too much about accidentally damaging your tripod while carrying it around with you. There are also two ways to carry this bag, either by its handle or using the included shoulder strap.
Pros
Lightweight design
Compelling price tag
Comes in many different sizes
Good build quality for its price
Waterproof
Cons
Not an ideal choice for more pro-oriented tripods
Not as durable as other more expensive tripod bags
---
7. Neewer Padded Carrying Bag
Best value for money tripod bag
Brand: Neewer | Dimensions: 17.52 x 14.17 x 2.36 inches | Weight: 1.72 pounds
The Neewer Padded Carrying Bag is one of those tripod bags that manages to bring a set of nicely balanced features and specifications at a price that's perfectly reasonable and doesn't feel like you're paying more than the real worth of the entire package.
It offers enough storage space to hold any consumer tripod or a monopod and even many bigger enthusiast tripod models. Your tripod will also be nicely protected from the elements and any accidental shock damage, thanks to the resistant and robust nylon material the bag is made from.
There's also a decently big zippered accessory pocket on one side, so you can store your cables or cleaning cloths. The bag itself comes with a padded handle as well as a shoulder strap, so you aren't out of options when it comes to carrying it in a way that's most comfortable to you.
Pros
Great value for money
Capable of holding a majority of tripods on the market
Offers a good level of protection
Easy to use and to carry
Includes accessory pockets
Cons
Not ideal for smaller tripods or monopods due to its larger dimensions
Average durability
---
Tripod bag and case buying guide
What to consider when buying a tripod bag
Size (match the size of your tripod)
As is the case with all types of photography bags and hard cases, the ones meant for tripods also come in many different shapes and sizes. 
You should have two things in mind at all times, the length and the width of your tripod. If you're using a simple tripod head and a traditional tripod, then you should only worry about getting a bag that's long enough. More expensive tripods tend to have more complex mechanisms and will also require more storage space when it comes to width. 
Padded protection
Getting a tripod bag with added padding is always a great choice if you want more protection for your tripod. The padding inside the bag will provide additional shock and drop protection and prevent the tripod from moving too much while it's in the bag. The best tripod cases also feature foam inserts, which are even thicker than the regular padding.
Suitable for traveling
All the tripod cases and bags on the market offer carrying handles as the most common method of carrying them around. This is perfectly fine for more budget-oriented tripods, which tend to be lightweight and easy to transport.
However, bags suited for bigger and heavier enthusiast and professional tripods also offer shoulder straps as an additional, more comfortable carrying option. Lastly, since tripod cases tend to be the heaviest, they can also include built-in wheels so you can roll them across flat surfaces and save your strength for your other gear and accessories. 
Conclusion
So, now that you're aware of all the best options available on the market when it comes to protecting your tripod from any accidental drops or the effects of the elements and also carrying it more comfortable while you're finding the right spot to take that perfect night sky photo, you are ready to decide which one is the right for you.
If you're only interested in getting the best protection for your tripod without sacrificing portability too much, as well as excellent durability and enough space for your accessories, then the Manfrotto MB MBAG100PN Padded 100cm Tripod Bag is the right bag for you. Otherwise, one of the other tripod bags and cases on our list may be just what you're looking for.